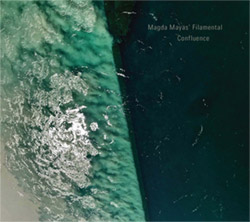 For this project, Mayas uses as a kind of structural basis the confluence of two Swiss rivers of different character, the Rhône and the Arve, specifically utilizing twelve photographs as a score, emphasizing both similarities and variations in aspects such as color, speed of flow and terrain, both natural and manmade. To this end, she assembled a stellar cast under the name Filamental, leaning heavily on strings, a longtime desire of hers: Angharad Davies (violin), Anthea Caddy (cello), Aimée Theriot (cello), Rhodri Davies (harp), Zeena Parkins (harp), Michael Thieke (clarinet), Christine Abdelnour (alto saxophone) and Mayas herself on piano. The result is splendid.
One of the lovely aspects is the manner in which the music connotes the flow of a river and the interaction of two streams in such a subtle way, without overt riparian references. The almost 50-minute work is episodic but the transitions between sections occur without the listener's being aware; you suddenly realize that you're in a different "place", though how you arrived there is something of a mystery, very similar to being wafted on a gentle tide. There is a fairly consistent contrast of timbres and pitches, between softly expressed highs and lows, astringent tones (few do this better than violinist Davies) and liquid, globular ones. On a more macro level, some areas are more forgiving than others; smooth patches are balanced by turbulent ones. Additionally, as befitting the eternal "sameness" of a river, there are iterative elements placed throughout, often understated but occasionally brought to the fore. About nine minutes in, for instance, we hear a repeated sequence of (I think), strummed piano strings followed by a steady, diminishing series of harp plucks; given the context, lovingly reminiscent of of quiet wavelets lapping at the river's banks. Later on, toward the end of the work, a repeated, muffled, low piano note is struck, an eight to ten note sequence gradually fading away, calmly surging beneath lighter, flitting sounds, river detritus, insects, boats, all floating above — very moving.
Mayas' idea is one that could have easily been swamped by a more banal programmatic approach or overly woozy, naturalistic tendencies. Here, however, the rigor of the instrumentalists and their wonderfully imaginative but restrained attack complement the composer's intentions in a wonderful, deep, enchanting way, making for a superb, constantly unfurling realization. Highly recommended.
Comments and Feedback: