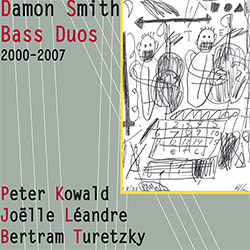 This is wonderful! Here's one of the best, and earliest, Balance Point Acoustics discs back in the catalog in combination with another excellent session and one up-to-now unreleased . All are duos featring the incomparable Damon Smith, who rises to the challenges posed by some venerable company indeed!
Smith's duo with the late and lamented Peter Kowald was originally released as Mirrors Broken but No Dust, and the first BPA title is a scorcher! The first two tracks are a concert performance, and the rest are billed as reflections. The first reflection slams into existence as a battering ram of pizzicato back and forth that transitions into something like its polar opposite, as sweetly sliding low-register tones guide the music toward oblivion. The seventh shows just how attuned to bow timbre both musicians are throughout, and it's difficult to believe that there are only two, so gargantuan is the buzz and thrum before it settles down into gorgeous drone. What is truly amazing is the flexibility of Smith's art, whose full effect is palpable when he and Turetzky launch into the snarls and scorpion breaths of "Vulturegrip." Even beyond that, and there's plenty of industro-splatter to be heard here, there's the strangely contextualized and somewhat unexpected beauty of "Wood Song," an exquisite miniature offered in anticipation of "Slickensides"' return to the visceral. The disc is a lexicon of extended techniques, rendering those gorgeous moments of conventional playing all the more poignant. Recorded in 2007, Thoughtbeetle, as it was initially released, was a CDR edition that sold out quickly, so its return is also welcome.
Then, there is the 2002 duo session with Léandre that was almost refused the light of day. They were working closely together when Léandre received news of Peter Kowald's death, a devastating blow that kept both artists from completing work on the session. It has been given the title House without Roots and is dedicated to Kowald. To get a flavor for the session, dig into the piquant middle-register explorations of "Flowers without venom" or the glissandi-infused pointillism of the obviously referential "Mirrors without Dust." Each player also gets solo space, and the high-register humanity of Smith's "Time Dries Up" is particularly touching, especially in the context of his liner notes.
The duo is a very difficult combination in which to play. It can be like being nearly naked at the most awkward moments, a kind of vulnerability that can also lead to special revelations. That is certainly the case on all three of these excellently recorded discs. They're a welcome rear view into a very important phase of Smith's emerging art in the company of those who, in a very real sense, brought him along. Remastered by Weasel Walter, the discs sound better than ever!
Comments and Feedback: