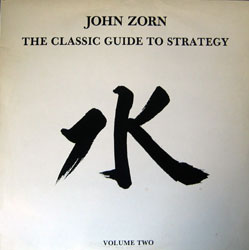 For a man of considerable stature, well over 6 feet tall and with a deep voice that can penetrate through anything else going on in a room, my Uncle Roger has a way of quietly flying below any other activity. His jokes bounce off the floor, catching you unawares when you didn't realize he'd spoken, and on Christmas he tends to hand out unwrapped items after everyone else is done exchanging gifts.
So it was on the Christmas of 1986 when, with a low and slightly perverse laugh, he handed me a copy of an album called The Classic Guide to Strategy Volume Two. I was essentially an avant rock listener, or as avant as you could get in central Illinois, listening to the Butthole Surfers and Sonic Youth and thinking my college roommates and I more or less had the world of jazz covered with a few John Coltrane, Charles Mingus and Henry Threadgill records between us. But here was a record that, from the outset, I could figure nothing. Although the artist was clearly not Japanese, or at least he didn't use a Japanese name, the black-and-white cover was emblazoned with a large Japanese character. The seven songs seemed to be named after Japanese people, or at least the titles seemed Japanese and were accompanied by photos of Japanese people. (I still don't know who all of the people are for which the songs are named, but certainly came to know Kondo Toshinori, Togawa Jun and Mori Ikue (as they are listed) after moving to New York seven years later). The record jacket contained precious little information: it was recorded in 1985, produced by Ned Rothenberg (who, I later learned, is a brilliant saxophonist and who ran the label - recently restarted as "Animul," the previous name in reverse). The character on the front cover meant "water" and was from something called A Book of Five Rings. The performer played alto saxophone, clarinet and bird calls.
I took it home, and my roommates and I listened to it. One of them dismissed it fairlyreadily, the other shared my fascination. We took to listening to it every afternoon. We didn't know what to think, but I don't think we liked it. One thing was certain: we'd never heard anything like it.
Contained in the grooves of the LP (it was, of course, an LP, and I still have my copy) was a variety of noises with long spaces between them. Sometimes Zorn was definitely playing the game calls (we were glad to have the cover confirm that those things that sounded like ducks were supposed to sound like ducks). Other times he seemed to have his saxophone submerged in water (he did, in fact). Most of the time we didn't know what he was doing. Even seeing someone play saxophone was uncommon; the instrument was generally heard in Normal, Illinois, in only the most standard of jazz or blues settings; "extended technique" was not in the parlance, and on this record Zorn challenges even customary understandings of "outside" playing.
The two volumes of The Classic Guide to Strategy set out Zorn's vocabulary in the way that only a young visionary might. Coming 17 years after Anthony Braxton's For Alto, the first solo saxophone recording to be commercially released, it is no less a challenge to what is, and isn't, jazz, improvised music or, perhaps, music at all. The Tzadik reissue retains the two side-long pieces from Volume 1, but drops one track from Volume Two for the cd reissue - an economically reasonable decision but still a little unfortunate since, if Zorn himself isn't going to put out the whole of the work, who will?
But moreover, when will he put out the other three volumes? In the notes to the reissue, he says that five volumes were planned, but never recorded. Perhaps a little love and understanding at the time would have helped him along. Make no mistake: this is not easy listening even today. In 1985, when the first volume was released (also on Lumina), Milo Fine wrote in Cadence magazine that Zorn's work was "overconceptualized" and that his music comes off as "occasionally enjoyable, but mostly cluttered, cute, self-consciously avant and derivative." He did, however, call Volume One "Zorn's strongest document to date" and said that "there appears to be a genuine glimmer of a spirit with something to say ... on the second side there are about 4 brilliant brief sections." (The same issue asked for readers' opinions as to whether or not they should start selling compact discs.)
Certainly Zorn couldn't have realized all the directions he would go as a composer and a bandleader in the coming years, but listening to it today many of the avenues he would explore can be heard: there's quotation, cartoon, noise, fragmented melodies and fast thematic shifts. There's also the pure physicality of his playing - the overblowing, the vocalizing and the shockingly human noises wrenched from his throat. But more than that, there is (something completely lost on me at the time) the pure virtuosity of his playing. The album shows a capacity to fully play his instrument. Like Derek Bailey, Cecil Taylor or William Parker, Zorn has complete command over his instrument; he is able to produce from it whatever he wants to, whatever he needs to. With all the directions he has flown in the 13 years since it was recorded, it's often overlooked that Zorn is a masterful saxophonist. But whether it's a Sonny Clark tribute or a screaming match with Yamantaka Eye, Zorn is able to play whatever has to be played. He's a composer, an organizer and a provocateur, but he is also a hell of a player.
Three years after that fateful Christmas, I was listening to an arts segment on the National Public Radio program Morning Edition about the cutting edge of "downtown" music. They played a high-octane version of the Batman theme and said it was by the band Naked City, led by the same guy who had made that record that had long since been retiredfrom rotation without ever winning my heart. I was surprised to learn that that New York artiste actually made music that was enjoyable, even fun. I went to the record store and bought the self-titled Naked City cd, and found a vinyl copy of a record called Spillaine as well. I wondered if that was the composer pictured on the cover of Spillaine. I still had no idea what the guy looked like, but dime-store novel narratives, punk Mancini covers and solo sax freak-outs? I knew there was something going on.
Comments and Feedback: