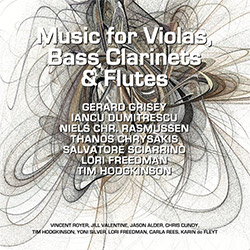 A selection of eight works by seven composers, all written within the past 40 years, featuring the titular instruments. Unlike similar compilations, the instrumentalists vary in addition to the composers. The bass clarinetists include Jason Alder, Tim Hodgkinson, Chris Cundy, Yoni Silver and Lori Freedman, the flutists, Karin de Fleyt and Carla Rees, with Vincent Royer and Jill Valentine in the viola chair. To this listener's ear, the release also broaches some questions with regard to extended techniques being used in service of an overarching idea rather than simply expositions of instrumental possibilities.
The first piece, and my personal favorite, is Gérard Grisey's "Nout" (1983) for solo contrabass clarinet (Alder). Intense, haunting and dirge-like, the low reed matches the writing perfectly in a manner that might well be thought of as "old-fashioned", but it absolutely works. The music calls for the tonalities and textures of the instrument, nothing is wasted or superfluous and the effect is deep and powerful; a superb performance. "Gestalten" (2018), by Niels Christian Rasmussen, is scored for bass clarinet and tape (Alder). Here, the instruments are well enough integrated into the music, but each element of the piece sounds a bit dated and bland, the bass clarinet part not so different from, say, a random Anthony Braxton exploration from the 70s and the bell-like tape sounding similarly reminiscent of work from the 60s-70s. Not bad, but not noteworthy.
Thanos Chrysakis' "Octet" (2018) uses the largest configuration of the date: two violas, three bass clarinets, a baritone saxophone sneaking in and two flutes. The 15-minute work is expansive, unfurling in irregular waves, richly arranged, erupting into dark billows led by the low reeds, subsiding into flute-laden hollows. Structurally not so interesting, but the free flow of colors is quite attractive, varied and more than capable of sustaining interest. "Hermes" (1984), by Salvatore Sciarrino is for solo flute (de Fleyt). It alternates higher, slightly overtoned pitches set against tougher, spitting phrases for a while, working subsequent variations off of this presence. Very well played but, for this listener, more an exposition of (somewhat) extended techniques and contrasts in tone and attack than a deeper musical idea.
Yoni Silver offers an improvisation on Iancu Dumitrescu's "Aura" (2013). Not knowing the original, I can't comment on any relationship, but on its own, Silver's performance is a strong, brooding one, elaborating various approaches from roaringly guttural to delicate, gauzy harmonics (and not so different from those explored by Braxton or Roscoe Mitchell) but, perhaps barely, maintaining an implied thematic line or sense of purpose that succeeds in tying things together. Just. Admittedly, I have a low degree of tolerance for free vocalise, so the fact that Freedman's "To the Bridge" (2014) begins with Shelly Hirsch-esque yowls didn't immediately ingratiate itself. Freedman's bass clarinet and clarinet playing is exceptional, though, mitigating matters somewhat. Again, the overall conception sounds not dissimilar from any number of works by the post-AACM school and there's an over-reliance on "new" sounds for their own sake, but the playing is strong enough that it comes close to compensating and there are some softer moments toward the end that are quite beautiful and moving.
Tim Hodgkinson's "Parautika" (2019), for two violas and three bass clarinets, establishes a kind of bed from which the instruments raise assorted howls, growls and expectorations. Again, apart from the relatively unique instrumentation, the basic music is quite similar to things heard in avant-jazz circles for decades. The disc closes with the second piece by Chrysakis, "Selva Oscura" (2017/18) for viola (Royer) and bass clarinet (Freedman). At nearly 15 minutes, it traverses substantial ground. Like other works here, it occasionally strays into an effect for effect's sake area but always pulls itself back into gripping, meaningful lines, music that transcends the technical. Very much a push and pull work in that sense, posing several good questions, excellently performed.
Comments and Feedback: