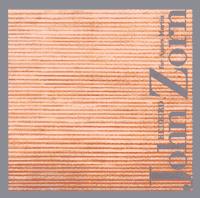 For all his hyperkinetic musical activity over the last few decades, some of Zorn's most beautiful moments have, for me, been those rare examples of stasis, when he reaches a territory and allows himself to observe instead of quickly disrupting it. Granted, those moments are few and far between, but things like the closing minutes of his string quartet Forbidden Fruit, the brief, lonesome surf guitar forays played by Ribot in Bar Khokba or even, in an odd way, the entirety of Leng T'Che with its obsessive exploration of one fearful emotion are among the examples of his music that have had the most staying power for me.
When 'Redbird' appeared, I was immediately heartened by the lovely Agnes Martin painting adorning its front cover. Not only was this a refreshing change from what I found to be the increasingly puerile and shock-for-shock's-sake illustrations more typically found on his releases, but for what it possibly promised regarding the music within. Happily, the artwork and music share a common sensibility.
The first of two pieces, 'Dark River' is a solo performance by Jim Pugliese on bass drum. It has, ostensibly, one zone of reference: the low rumble. But over the course of its nine minutes, Pugliese creates a palpable world wherein one never has any sense of sameness but instead a breathing pocket of reality. No steady rhythms, only mild fluctuations in volume, just a natural, billowing flow of deep, echoing booms achieving an almost wind-like quality at times. I have no idea how much of this is to the credit of Pugliese's own creativity or Zorn's score (I imagine a bit of both) but it's a trivial matter. It's also, presumably intentionally, an intriguing prologue to 'Redbird' proper, a processional of sorts, dark into medium light.
Zorn had cited Morton Feldman as an influence on many prior occasions but I was rarely, if ever, able to hear it in his actual music. That breathing quality, the ultra-slow rhythms as subtly irregular as they were organic, found little expression in the younger composer's work. Redbird is about as close as I've heard him get, and it's a ravishing achievement. I'm reminded very much of Feldman's orchestral work For Samuel Beckett in the sense the listener gets of having stumbled into an ongoing performance, a piece that began well before you hear the first note and continues well after the disc is over. Scored for harp, viola, cello and percussion, it also has an instrumental flavor akin to a number of Feldman's chamber works. Other influences make their presence known to be sure: one hears snatches of George Crumb and you can even pick up some sonorities in the strings that recall Ornette Coleman's 'The Skies of America'. There's also a plaintive, almost romantic aspect to some of the writing, something Feldman might abhor (though he, too, didn't sidestep it completely) but which, in my opinion, is a central part of Zorn's persona. The overall feeling is of being on a gentle seesaw, undulating back and forth, seeing almost the same view reappear time after time but always noticing some new detail, some different tinge. Eventually, it stops rather than ends.
It's been several years now since I've picked up a new Zorn release; although he'd occasionally explore similarly intriguing areas (as in Duras), too much of his recent work had struck me as treading water, and less and less interesting water at that. Although it's perhaps too much to ask of so restless a composer, I still wouldn't mind if, at least once in a while, he picked a plot of land and worked it, then worked it some more, then continued to work it. I'm fairly confident that I'd be pleasantly surprised at what he was able to grow.
Comments and Feedback: