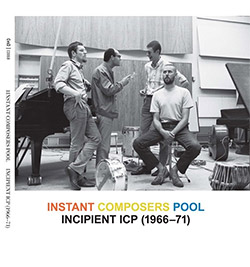 Incipient ICP (1966-1971), Corbett vs. Dempsey's recent Instant Composers Pool (ICP) archival release, is a wild one. It is comprised mostly of unreleased recordings, though a few tracks on the first disc were released in 2012's mammoth 50-CD box-set Instant Composers Pool and the first few on the second had been released on the exceedingly rare 1969 promo box-set The Dutch Jazz Scene. And, it is an invaluable document of some the most varied and compelling material performed by the ICP core of Misha Mengelberg, Willem Breuker, and Han Bennink, plus numerous guests (including Arjen Gorter, Frederic Rzewski, Manfred Schoof, Peter Bennink, and others circulating in the Amsterdam scene at the time) in the early years. I am not sure how much will be unexpected to those familiar with the group or, really, any of these musicians individually. Mengelberg is as concerted and unpredictable as ever. Bennink's percussion is restive and playful. Breuker already seems bent on developing his patented blend of circus music, sideways marches, Dolphy-esque climbs and plunges, and continental huff.
The two-disc Incipient ICP is more than another "long-lost tapes" release of a classic extended ensemble. These recording s are genuinely exciting. One can almost feel the sheer joy experienced in unanticipated turns, the swinging passages blended into breathy quiet into crashing cacophony, in the accidental discoveries of new routes from point A to B, or in that new and hitherto elusive point C. The music is also earnest, in that it is hell-bent on pushing accepted musical boundaries and merging hitherto separate musical forms into an amalgam of experimentalism. That sensation of elation in the process of discovery redounds to the listener. One hears the early stages of licks that Breuker later developed with his Kollektief, especially a brief joyful passage in Mengelberg piece, Die Berge schutzen die Heimat. (For what it is worth, I swear he played some version of this live when I finally caught the Kollektief live 15 years ago in the Netherlands, though my memory has deceived me before.) One hears the early relentlessness of Bennink, who shuns repeating rhythms once stumbled upon in favor of the next strange combination of blustery clatter. His skills, of course, have refined over the following half-century, but that obstinate curiosity was clearly there from the very beginning.
Given the timing, location, and sound, I want to read a Situationist esthetic into the ludicrousness of some of these pieces. The Dadaist/Fluxist impulse is certainly there, as are the jazz foundations, evident in cuts such as "Session No. I" (Mengelberg) and the delicious deconstruction of "September Song". And, of course, the American free jazz inspiration is unmistakable. Just listen to the group's take on Albert Ayler's "Angels" on the second disc, which is a true homage, or Breuker's biting "Viet-Cong". One also hears the seeds of classical minimalism in Mengelberg-penned pieces such as "Piano Distance" and the ofttimes absurdist juxtapositions that would become characteristic of the Dutch scene in tracks such as "HRRG II", "STCH Shuffle" (both by Mengelberg), the wonderfully cabaretic dirge "Trammermusik" and the folk-turned-phased-free-march of "Siep (Sybren Polet)" (both by Breuker).
Admittedly, the frenetic collision of unlike elements and styles has lost some of its luster over the following decades. However, just as the work that Painkiller and Naked City did fusing grind, metal, and free jazz still sounds much more convincing than the myriad derivatives that followed, so too does ICP still sound that much fresher and more robust. And maybe that is because it was fresh at the time, a veritable Misha-mash (yep) of sounds and melodies that was truly challenging players, listeners and society to reexamine their pretenses about art, order, society, and life. Indeed, one can hear that sense of wonder, possibility, and conviction with which Bennink, Breuker, Mengelberg and the rest of the Pool, five decades ago, approached a craft which was still in its infancy.
Corbett vs. Dempsey has released numerous pieces of the ICP and related archives as of late. Although I have not worked my way through all of them, each one I have heard has been a gem. Add this to the list and move it to the top.
Comments and Feedback: