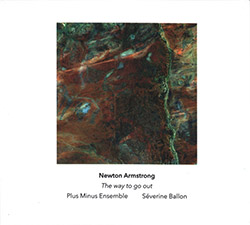 Years ago, the Another Timbre label acquired the enviable ability to unearth talented but lesser-known composers, then to record and release compositions by them which would be the envy of other labels. This skill soon made the label's output essential listening for devotees of contemporary composition, experimental or otherwise, and also attracted composers of such music to the label, thus perpetuating the high quality of its releases. The way to go out is a recent example of this; its composer, the Australian-born London resident Newton Armstrong, has released few previous albums, but is known as a member of Plus-Minus Ensemble in which he contributes electronics, and as a joint proprietor of the All That Dust label with pianist-conductor Mark Knoop and soprano vocalist Juliet Fraser.
Armstrong has said that his inspiration for the three compositions on The way to go out, which date from 2016 to 2019, was paintings by the Australian indigenous artist Warlimpirrnqa Tjapaltjarri which he saw at an exhibition in New York. The three pieces vary in length from just under twelve minutes to just over twenty-one, the album playing for forty-five minutes altogether. The two shorter pieces — performed by Plus Minus Ensemble, conducted by Knoop, but without Armstrong in the ensemble — were recorded in December 2018. Recorded in July 2019, "A line alongside itself", the longest piece was performed solo by French-born cellist Séverine Ballon, whose own solo album Inconnaissance had been issued by All That Dust in 2018.
Although composed over a four-year period, recorded at different times and featuring different players and instruments, the three pieces have an overarching similarity which unquestionably identifies them as sharing the same composer and inspiration. Armstrong says of the Tjapaltjarri paintings, "I began to study them closely, particularly the ways the lines coalesce into unstable, shimmering surfaces." Using new approaches to musical line, repetition and layering, some of which sound as if they owe a debt to his work with electronics and algorithms, Armstrong managed to convey that shimmering quality in all three pieces here. The end result is a coherent album which can be listened to repeatedly, either with one's full attention or as relaxing ambient music, and reveal fascinating new details time after time. In short, yet another winner from the label.
Comments and Feedback: