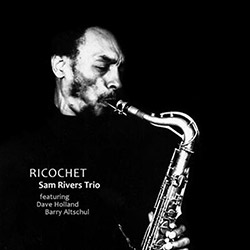 A spate of very welcome archival recordings by Sam Rivers have recently appeared, this being the latest. Throughout Rivers' career, he found himself smack-dab in the center of new developments. A brief stint with Miles Davis had him kicking the stall of modal pastoralism, and an almost as brief turn with Cecil Taylor's Unit found Rivers among like-minded revolutionaries. In the 1970's he and his wife founded Studio Rivbea, perhaps the best known of the loft jazz venues, where a series of live albums were recorded and (surprisingly) released.
In the '70's and '80's Rivers formed a series of trios and toured in earnest. Ricochet is Volume 3 of No Business Records' archival series, a live recording from January 1978 with Rivers very ably assisted by Dave Holland and Barry Altschul. They offer up one long improvisation, the favored modus for Rivers' trios of the time.
The starting gun is fired by Rivers on soprano, quickly flanked by the "rhythm section", who hurtle alongside neck and neck. Though this recording is admittedly a lo-fi audience capture, all three instruments can be heard clearly, with a tiny bit of distortion for good measure. Somewhere around the seven-minute mark Holland supplies a Latin-flavored figure and Altschul backs it up, causing Rivers to wax lyrically for a while, at times reminiscent of Coltrane with his smeared soprano looping. A brief turn at "fill-the-hole" leads to a nimble Holland solo with a beautiful thick, woody sound. You can hear his bandmates offering encouragement. A repeating set of notes heralds a return of the full band, with Rivers now on piano. An angular dance ensues before flurries of notes are thrown out in long runs with chord bombs detonated accordingly. The end of this section is particularly beautiful, with a propulsive drive that slowly unravels and then finds its footing almost immediately. Blues 'n' bossa nova maybe. Then solo piano into Cello bowing with percussion, and eventually some mighty soulful Tenorisms. The intensity of this final section really pushes the recorders abilities, but the distortion just adds to the insistence.
More please.
Comments and Feedback: