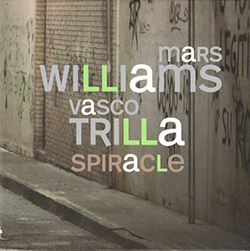 Intense stripped down improvisations by an American reedist and a Spanish drummer Spiracle's six tracks expand the potentially slender sonic coloration with add-ons from percussion and toy instruments. A first-time meeting for Chicago's Mars William, who leads his own bands and works with many American and European sound innovators and Barcelona's Vasco Trilla, who partners with other saxophonists such as Yedo Gibson, the session begins slowly then builds to a crescendo of multiphonic cries, clanks, screeches and scrapes. The duo's skill in tone modulation means that no matter how many guttural reed slurs or resonating ruffs are reached, the two never lose control of the material or allow it to sink into formless cacophony.
For instance, a track such as "Valve" retains its originality as reed mewling and rim shot resonation give way to what sounds like kalimba tremors and electronic-styled drones. After Williams' saxophone trills ascend to altissimo whistles framed by literal toy squeaks, Trilla's rolling percussion creates enough horizontal patterning to introduce and confirm a melodic continuum. With other prods such as dog-whistle altissimo and pressurized glossolia from the saxophonist or metallic claps and clips and bass drum resonation from the percussionist available, the duo continually creates so many startling and unforeseen textural sequences and deviation that there's almost as much tonal variety as would be created by a larger ensemble
This strategy is confirmed on the concluding "Haemolymph", as Williams' staccato snarls and dyspeptic cries investigate a collection of reed tone extensions at the same time as Trilla's reverberating thumps draw echoes from every part of his percussion arsenal and then some. Still the finale compresses the tune's jagged edges into a regularized drum pulse that cannily connects with the spreading reed narrative. In-the-moment sounds that never spiral out-of-control, Spiracle provides insight into the clairvoyant skills of two well-matched improvisers.
Comments and Feedback: