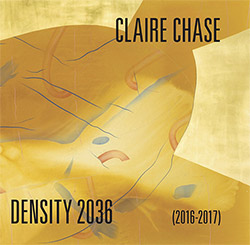 These are the first two volumes, comprising four discs, of a massive project conceived by flutist Chase to extend through the year 2036. She has commissioned many dozens of new works in honor of the 100th anniversary of the seminal modern flute composition by Edgard Varése, 'Density 21.5'.
While it's impossible to know, should the project last through its completion, what the range of composers will be, one presumably gets at least a taste of it here. I think of it as wide-ranging within a certain ambit, one that might be described, not entirely seriously, as the "Bang On A Can" esthetic, an organization with which Chase has collaborated. That is to say, a premium placed on complexity, professional dexterity and an at times ungainly blend of academicism and street influences as opposed to what one might think of as a post-Cage/Wandelweiserian approach more concerned with placement of sounds in space, interpretive freedom on the part of the performer and an de-emphasis on technique. That said, Chase also extends her requests to composers from the jazz lineage and genre-straddling ones like Pauline Oliveros, so it's quite possibly far too early to make any predictions. Incidentally, the works chosen are by no means only for solo flute, encompassing over-tracking, electronics and collaborations with other musicians.
CD 1 (2013-2014) opens with 'Pessoa' by Marcos Balter, for six bass flutes. It begins in lovely fashion, a solo bass flute echoing shakuhachi forms, spare and floating, joined midway through by a small choir of flutes offering appreciative commentary. Things grow complex, the flutes eddying and swirling, always gently — a beautiful work. 'Luciform', by Mario Diaz de Leon, for flute and electronics, is one of those problematic ones for this listener — an intricate dance between the flute and dizzying electronic effects that seem a bit dated and unnecessarily hurried and dense. Bravura, but more éclat than substance. This is followed by two works from Felipa Lara, 'Meditation and Calligraphy' for solo bass flute and 'Parábolas na Caverna' for solo amplified flute. The former offsets plangent tones, sometimes imbued with subtle overtones, and harsher, sharp breath attacks; a short, strong piece evoking an uneasy stroll. The second is an expansive piece, the amplification seeming only to serve as an audio-sharpener, the attacks varied, running through perhaps a few too many variations to maintain a consistent feeling, but the playing intense and heartfelt enough to compensate. Each of Lara's compositions is impressive in its own right. George Lewis has been working with electronic accompaniments to acoustic instruments for a good many decades by now and his 'Emergent' is an excellent showcase for his approach. Utilizing the software he developed to allow for a responsive accompaniment of a human instrumentalist, the work begins like a furious territorial squabble between songbirds, for its duration fluttering back and forth from this aerial encounter, to much lower, almost sub-aquatic burblings and more probing interactions. Again, quite impressive, both in performance and conception. Du Yun's intriguingly titled 'An Empty Garlic', for bass flute and electronics, has its ruffles but is also gentle and fairly melodic in parts, certainly somber, with Chase singing softly through the flute, almost a lament. The disc concludes with a very fine reading of the project's inspiration, Varése's 'Density 21.5', incisive and vibrant.
Dai Fujikura's 'Lila' begins the second disc (2015). Scored for solo flute, bass flute and contrabass flute, it's in sections that span tour-de-force playing, quietly contemplative work (very attractive and, again, echoing shakuhachi music) and a third that kind of fluidly slips between these poles while edging sideways into other areas. The following two pieces, Francesca Verunelli's 'The Famous Box Trick' and 'Limn', bu Nathan Davis, both employ bass flute and electronics, the latter also calling for contrabass flute. The Verunelli is fluttery and ethereal for a while, before plummeting earthward, then splaying out in a complex welter of buzzes, sizzles and drones. 'Limn' opens things out a bit, airy though full of activity, much of it semi-vocalized, spat or otherwise breathily rasped by Chase, the lower flute and electronics often providing a thick, underlying bed. Subtitled 'a monodrama for solo flute', Jason Eckhardt's 'The Silenced' is more a compendium of extended techniques all too commonly heard for decades. The late Pauline Oliveros wrote 'Intensity 21.5: Grace Chase' specifically for Claire Chase (Grace was her grandmother), scoring it for speaking flutist, percussion and her live effects processing program known as the Expanded Instrument System (here played by Levy Lorenzo). It's an expansive work, with multiple plies flung out into space. Many of these are vocalizations — sputtered, whispered, moaned, cackled — perhaps testing the receptiveness of many a listener for whom such extended vocal techniques can be perceived as overweening and even embarrassing. For this listener, the results were mixed: the pure sonic aspects, the contrast in "blocks" of sound were inherently enjoyable enough, luxurious even, to provide a counterweight to any discomfort afforded by the baroque vocal gymnastics.
Disc 3 (2016) contains five pieces, all involving the flute(s) in the company of other instruments or programs. Suzanne Farrin's 'The Stimulus of Loss', is written for glissando flute (on which the mouthpiece is capable of sliding) and Ondes Martenot. The instruments mesh beautifully and complementarily. The lines they trace are delicate and bending, flexing gently but with firm spines — a lovely work. In recent years, both Tyshawn Sorey and Vijay Iyer have been striving to bridge the divide between jazz and contemporary "classical" music, the latter especially in his monumental 'Pillars' from a couple years back. Here, Sorey performs in duo with Chase on 'Bertha's Lair', and indeed much of the time, it resembles a vigorous, if tightly controlled, improvisation. Heard either way, as a written work or improvised, the pair succeeds in producing an exciting, vibrant performance; one would hope to hear more of this collaboration. Iyer's 'Five Empty Chambers', uses pre-recorded music from Chase (contrabass, alto, C-flute, piccolo and ocarina) and, via computer, fashions a rhythmically complex and percussive work. It achieves a nice, spikiness and sizzle, but again is perhaps more effects-driven than substantial. 'Gama XV: Piece for Two Speaker Dresses', by Pauchi Sasaki, utilizes, in a way difficult for this listener to picture, "speaker dresses" (plus violin, vocals and electronics) which seem to be just that, speakers worn as dresses, their output processed by the composer. Whatever the particulars, the work is breezy and dreamy, somehow evoking George Crumb, very refreshing and immersive. The disc closes with a very complex work from Richard Beaudoin, 'Another Woman of Another Kind', scored for flute and eight voices (sung by Roomful of Teeth) with texts by Paul Griffiths. The approach to the vocals varies widely, from rhythmically shouted, to choral-like singing, quavering microtones, spoken numbers and much more, some of it self-referential. The performances are very strong and confrontational, effective in that sense, if the overall structure seems somewhat unwieldy; this listener went back and forth, drawn in at times, put off by its in-your-face insistence at others.
The entirety of the fourth disc (2017) is given over to Marcos Balter's 'Pan', an eight part suite for speaking/singing flutist and large ensemble (Chase overdubbing the ensemble parts, largely percussive). While it might take some doing to parse out the specifically Pan-related aspects, there is a sense of a kind of agitated idyll brought forth, a distant, mythical soundscape of panpipes, winds and soft chimes, interrupted by occasional violence. Balter's palette is varied, even touching on something close to minimalism in 'Pan, Echo'. The vocalizations, as is often the case, can sound a bit routine (in an extended technique sense; you've likely heard similar over the years), but the piece as a whole is cohesive and texturally imaginative, conjuring into being its own world, which is no mean feat.
For any given listener, a project this extensive will necessarily involve hits and misses but Chase and the works she's commissioned, to these ears, score pretty highly. I should also add that, apart from being wonderfully performed, all of the pieces here are gorgeously recorded, using an apparently new system called Constellation, from Meyers Sound. The next fifteen years should be interesting....
Comments and Feedback: