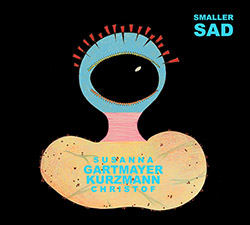 A fairly brief (<35 minutes) set of four pieces, three done in studio and a longer live performance, from the intriguing duo of Gartmayer (bass clarinet) and Kurzmann (ppooll — a software he's been using for a good while — voice and rubber band)
On the first track, "Smaller Forms", Gartmayer begins in a kind of post-Dolphy free jazz mode, though she quickly shifts to a lower, more brooding set of iterated phrases, Kurzmann undergirding them with soft swells, this being gradually intruded upon by higher wails (overdubbed bass clarinet, I think, but possibly software). The music thickens, becomes more agitated while maintaining a slow-ish pace, acquires a vaguely threatening feeling — very strong. "Little Rage" is ghostlier, reminiscent of distant winds howling over a village in which some arcane ritual (heard here as deep, somewhat altered male vocals, perhaps of Eastern European or Central Asian origin). As on the prior track, the music grows increasingly dense, including the infiltration of off-kilter beats, Gartmayer once more drifting in and out of dirge-like lines. The briefer "Dip" is lighter, a percussive series of bass clarinet key pops ushering in a smoky, shifting drone of sorts that splays out in a wide, sonorous delta at the track's conclusion.
The live piece, "Novi Sad", occupies almost half of the release. The opening is bleak, a sound like a distant, distorted air raid siren (the Hungarian city by that name was heavily bombed during the Kosovo War) played against smaller, flittering, insectile squeaks. The construction seems somewhat freer, evoking a kind of languidness even when the sounds intensify, a conversation between close acquaintances, Gartmayer patiently plumbing the lower range of her instrument only to rise in a gently questioning manner, Kurzmann content to provide a soft, rumbling bed of sounds. The agitation grows (I believe this is where the rubber band appears), though the atmosphere remains spare. Kurzmann has often spoken/sung on previous recordings. His voice is quiet, grainy and earnest. Here, the piece concludes with Kurzmann singing/reciting e.e. cummings' 'it is at moments after i have dreamed' over koto-like sounds, a moving, intimate work and a lovely way to end the release.
Comments and Feedback: