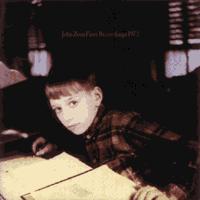 A very young John Zorn peers out from the cover of First Recordings 1973 implying that these recordings are the work of a precocious young man destined to become an important figure in jazz and improvised music. This may color the perception of the release, which in fact are the early recordings of a 19- and 20-year-old, sitting at home or working on his college projects. I'd imagine Zorn snickers a bit at that cover, or the picture on the back showing him as a nerdish young man playing guitar, an instrument with which he's not well associated.
Still there must have been something happening in the young mind of this musical innovator, because at the age of 19 Zorn's conception of sound and his ability to embrace a vast conceptual realm are as impressive as they are dichotomous and strange. Which translates to "you might not like this a lot, but if you're a fan, you will be fascinated." None of the two large and three shorter recordings on this disc are incredible in either their ability to captivate or in their overall sound quality. Zorn himself points out that one piece is a "strange, akward tribute" to one of the musical figures he revered (Albert Ayler), and on another that his vocals are "perhaps too revealing" while noting that his parents had him under observation at a psychiatric clinic from ages 8 to 16. There is something seething in these recordings, and perhaps his parents had no way of coping with the creative energy that was to be unleashed.
The first work on the cd, "Mikhail Zoetrope," is from 1974, and was recorded by Zorn in his bedroom. He describes it as the craziest piece he's ever written, and it's not difficult to believe it. Recorded in two passes, first on the left channel and then the right, it shows Zorn improvising with toy percussion, glasses, pots and pans, a cassette player, turntable, TV set, vacuum cleaner, and of course a sopranosax. The piece is an uneasy call-and-response utilizing concepts ranging from Braxton to Cage to Kagel. The soprano playing is distinctively Zorn, and the quirky instrumentation invokes years of squawking, screaming, tinkling and indescribable noise to come. At 22 minutes for the first part alone this is no passing fancy, but a serious work that may not completely come together, but certainly has a lot to say.
"Conquest of Mexico" from 1973 is another thing altogether, the remaining scraps of a musique concrète composition that functioned as the basis for a soundtrack to the filmed version of a "happening" Zorn organized in his last year at college in St. Louis. This piece was augmented at presentation with a live improvising ensemble, but here is presented as a raw series of electronic tone experiments, using psychedelic effects. What is notable, aside from being an early "filmwork," is that Zorn utilized the same punch-in approach to composing the piece as he was to use later in such pieces as Spillane, Godard, and The Big Gundown. Difficult to listen to on its own, but perhaps telling as the one of the influences is Antonin Artaud, an innovate yet clinically institutionalized surrealist theater figure from France in the 1920's. This no doubt would make Zorn's parents just a bit more uneasy post-observation.
The remaining three pieces "Wind Ko/la," "Automata of Al-Jazari" and "Variations on a Theme by Albert Ayler/Requiem for Albert" present respectively "a little song" as Zorn intones into the mic; a one-minute piece that genre-hops every bar with film quotes interspersed; and a somewhat meandering tribute to Ayler that includes early sax work with electronic mayhem and a panoply of relatively crude studio effects noteable again for the breadth of ideas and the shadow of what was to come.
Comments and Feedback: