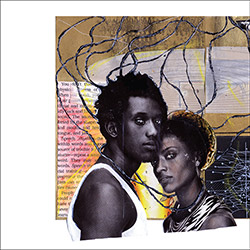 A flute and a voice merge. For those ardently following the musical trajectory of composer, performer and teacher Nicole Mitchell, there's nothing new in that, but this first-time collaboration with the similarly gifted and diverse Lisa E. Harris and her attendant sound universes, each gesture on EarthSeed is brought into a new series of foci. Lines are drawn and crossed with the simple irrevocability of renouncing one breath for the next as this extraordinary suite, or is it a kind of opera, does something that it would be a crass understatement to label unfolding.
The few excerpts I've heard from Harris' multimedia opera Cry of the Mouth suggest certain aspects of this collaborative concept while maintaining sonic distance from it. Even the brief but poignant "Evernascence / Evanescence" speak to a sonic expansion as Mitchell's flute, reverberantly larger than life and as beautiful as the best of it, encompasses her voice and ethereal whistling inhabiting a similar space. With the subsequent "Whispering Flame," we hear Mitchell's longstanding, diverse and ever-evolving Black Earth ensemble in full effect as chromatic vocal lines, intoned in octaves by Harris and Julian Otis, do their best to anchor the increasingly fraught conjunction of timbre and motive until the music is literally strangled. Only at this point do the electronics come into bloom. The science fiction writings of Octavia Butler find a stunning parallel as familiar sounds fragment, splutter and resume in a slow sacred dance of decay and rebirth. Particularly affecting in this regard is Tomeka Reid's cello as she navigates the perilous gaps between the blissful winds-and-springs sonorities above and the volcanic eruption threatened below.
It's nowhere near all doom and gloom, and at times, I laughed aloud, especially as the irrepressible "Phallus and Chalice" got going. Who's that with the naughtily contrarian "mmm mmmm" at 1:37? If that doesn't touch the funny bone, the whimsical opposites games of "Ownness," preceding on from the previous track, certainly will before moving on to more gorgeous chord, cluster and sinewy line. Despite levity, "Purify Me with the Power to Self-Transform" ends the journey with stunning grace and power.
I remember so well the majesty and raw "woke" energy of Mitchell's Xenogenesis Suite in its concert incarnation, and a similar spirit is captured here. This is music of depth, huge scope and message beyond simple meaning. It's sublime as the myth is sublime, collectively individual and individually unified in the way open to only the most worthwhile artistic statements. In a time of heart-sickening fragmentation and discord, we need an ultimately affirmative and inclusive vision such as this more than ever, perhaps much more than we deserve it.
Comments and Feedback: