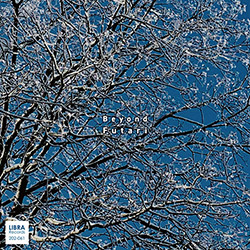 Beyond is the first album release by the duo Futari (Japanese for "two people") which pairs the prolific Japanese pianist & composer Satoko Fujii with the Berlin-based vibraphonist & marimbist Taiko Saito, the two having first met in Berlin some fifteen years before becoming a twosome in 2019. In 2017, they first performed together in the quintet Puzzle, alongside their respective husbands — trumpeter Natsuki Tamura (Fujii) and reed player Tobias Schirmer (Saito) — and dancer Mizuki Wilderhahn; in 2019 Saito suggested that, while she was in Japan visiting family, she and Fujii tour Japan. Beyond was recorded on June 26th 2019, after the fourth concert of their tour.
Remarkably, given the many recordings Fujii has released, prior to Futari she had never played with a vibraphonist. While the pairing of piano and vibes dates back at least to the early '50s and the MJQ, it remains uncommon but not unknown — witness the long-lasting Chick Corea & Gary Burton duo. The timbres of piano and vibraphone are different enough to make them easily distinguishable even when they twist, turn and intertwine; the two fit together well, complementing one another perfectly. As Fujii said of this collaboration, "I think we both were looking to get a special something from the piano-vibraphone duo. I mean, these instruments are so much alike and it's not easy for them to play together."
Beyond comprises nine compositions, six composed by Fujii alone, one by Saito alone, and two jointly — the album's low-key opening track, "Molecular", and its impressionistic closer, "Spectrum". The pieces are not through-composed, their role seeming more that of structured environments in which Fujii and Saito improvise together. Both players employ a range of extended techniques throughout, exploring the possibilities of their instruments. They take the piano and vibes combination to places beyond those of the musicians cited above, although there are tracks — "On the Road" and "Ame No Ato", for example — which are just conventional enough to be those players. Throughout, both players sound as if they found that "something special" they were looking for. Across the album, Futari create a variety of soundscapes and moods, ranging from economical and ethereal to catchily rhythmic and melodic. Throughout, their music remains grippingly atmospheric listening. Roll on the follow-up.
Comments and Feedback: