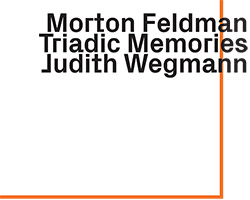 Prior to his death in 1987, recordings of Feldman's music were anything but commonplace. Discogs lists only two that were devoted exclusively to his work (The Viola in My Life/False Relationships on CRI, 1971 and Rothko Chapel/For Frank O'Hara, on Columbia Odyssey, 1976) and only nine others on which Feldman had works featured alongside other composers. Since then, of course, the situation has changed drastically. In particular, recordings of his piano music, especially the long-duration works, have proliferated. Again, Discogs lists about twenty of "Triadic Memories" alone, of which this listener owns ten. The question arises: Do we need more?
Well, why not? First, it's an extraordinarily deep and rich work. Along with "For Bunita Marcus", it's arguably the pinnacle of Feldman's late piano music and one of the high points of his career. Even if one thinks that there is unlikely to be a performance that surpasses the surpassingly human sensitivity and probity of, say, John Tilbury's recordings, of which there are two, why wouldn't one want to hear other approaches any less than one would want to hear a multitude of interpretations of Bach or Chopin?
To these ears, Wegmann's recording ranks up with the best. One hears the necessary combination of pacing and variation of touch right from the beginning, lending Feldman's music that unique combination of quasi-rhythmic pulse and subtle alterations in dynamics, often shifting from measure to measure. The duration, over the course of two discs, is over 87 minutes, a good sign. For a piece of this length and singularity of form, something not divisible into parts or discreet sections, it's next to impossible to be specific with any kind of criticism or appreciation, only to say that the work, as a whole, breathes, a gentle though complex in-and-out, that it occupies space while seemingly being both observant and serene. Wegmann's instincts strike this listener as sure, the decisions not only sound but enhancing of the music in a way that is personal without being outré. It's all one could ask. If you're unfamiliar with the work, this is as fine a place to start as any. If, like myself, you already have numerous recordings of it, Wegmann's rendition is a very welcome addition to the canon.
Comments and Feedback: