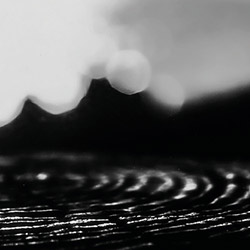 Legendary composer, photographer, and filmmaker Phill Niblock has been at the forefront of minimalist composition for close to sixty years now, and "Music for Organs" is his first material dedicated to the instrument. Niblock is assisted in this endeavor by the acclaimed organist Hampus Lindwall who plays the impressive D'Orgues Thomas & Orgelbau Klaus organ (inaugurated in 2018) at the Collegiate Church of Sainte-Waudru in Mons, Belgium. The second piece also includes tape recordings from 2007 of the Austrian organist (and Klaus Lang interpreter) Emanuel Schmelzer-Ziringer playing a 233 year old Joseph Gatto organ in Sankt Kirchberg am Wagram, Austria. The material from these recitals was then layered and manipulated into these dense, microtonal symphonies that really must be listened to on decent speakers (loud) to fully appreciate all that's going on. Niblock's music demands time and attention but rewards the effort with a unique listening experience.
The first track "Unmounted/Muted Noun" may be one of the more oppressive pieces I've heard from Niblock. After 16 seconds of silence the dam abruptly bursts in a deluge of sustained atonal chords that set up undulating ripples of overtones that hover above the organ's din. The shifts are some of the most interesting aspects of the piece because they aren't clean cut. As Niblock transitions he leaves portions of the previous chords to bleed across into the new set and as the harmonics change from one state to the next there is a great deal of chaos which resolves quickly once the "out of place" notes are muted. The long stretches of sustained, static atonal chord clusters conjure a whole microcosm of dynamic harmonic behavior that shifts and shimmers across the stereo field. Heavy stuff. The second piece, titled "Nagro (AKA Organ)" is the snappier of the two tracks. This track is what I (and likely the reader) had in mind when I saw the album title. The held tones are stacked and arranged as in all of his pieces, but there is a great deal of very pleasant overtone activity on the piece that becomes so intense at about the midway point that it's hard to discern whether there are bells in the pre-recorded track or if it's merely the harmonic activity. Absolutely wonderful.
Overall the album holds up well with Niblock's CV: there are the clever song titles (anagrams here), the austere focus on clean held tones, and the rewarding payoff of making a little bit of time to sit and listen. Niblock isn't "furniture music" but if you're reading this you probably already know that. Another fantastic release from the legendary composer who in his late eighties continues to build his legacy.
Comments and Feedback: