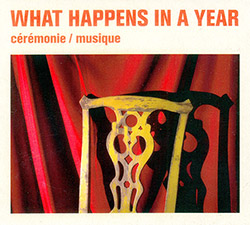 Josh Sinton is nothing if not diverse. Listening to this first documentation of his new trio with guitarist Todd Neufeld and bassist Giacomo Merega, it would be forgivable to assume that the reed-work is done by a different player from the one involved in the wonderful and long-deserved propagation of Steve Lacy compositions, just to cite one facet of Sinton's career. Yet, as "La Politique Auteurs" moves with ease and skill from free space bop toward swing and back again, the effortlessly melodic and delightfully inter-registral saxophone work and guiding hand could come courtesy of no other musician.
The decision to combine electric guitar and electric bass may seem pedestrian on paper, but these players bring it to life. Neufeld and Merega emote and collude with such a symbiotic sense of color that they invigorate each environment the trio creates. Yes, line is an important variable in this equation, but it is far from the only one, and it is such a rare privilege to hear timbre becoming such a consciously important component of the music. Dig Neufeld sounding almost like a modified fortepiano on "Change of Scene" to hear timbre at play in its most nuanced form. Then, move to "untethered" to hear Neufeld and Merega sounding as one dynamically diverse but absolutely restrained instrument as Sinton weaves and interweaves delicious counterpoint around their intricate harmonies and dynamic nearly inaudible. It might just be that timbre and line are at their most convincingly conjoined in "Netherland," where Sinton's bass clarinet punctuates, goads and cajoles more pointillistic interplay from Neufeld and Merega, but I use that outmoded term with some trepidation, as it really fails to describe the quietly sublimated energy at play in this sumptuously spacious recording.
When Neufeld cranks up the distortion, as he does on the final track, part of the pleasure is in its wisely implemented novelty. Indeed, wisdom governs the music as a whole. Like the drummer-less Nat King Cole trio of the 1940s, this group continually delves into fresh territory, and the debut is a joy to hear from start to finish.
Comments and Feedback: