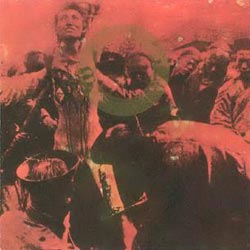 Cover art for John Zorn's Naked City records was always based on extreme images. The covers included everything from a crime-scene photo of a brutal mob-style execution to a dissected head, a painting of a young girl with snakes coming out of her eye sockets, nose and mouth to scenes of bondage, both nostalgic and modern.
The cover of this release is no exception to the Naked City art credo and is an instant impression maker. All the images here are photos showing (reportedly) the last time an ancient and particularly gruesome and cruel execution method was carried out. The victim (here a woman) was tied to a stake and publicly ripped and cut to shreds while conscious. The piece of music on the disc is a perfect audio mirror to an act as extreme as the images in these photos.
From the opening note, there is a heaviness, an intensity. The dark power of the work is gut-felt and is maintained and pushed even through pregnant pauses in the work. (It could be argued that those pauses actually accentuate the tension. Thank you Joey Baron).
For someone only familiar with Bill Frisell's more recent work, the intensity with which he plays might be unimaginable. Fred Frith's playing too, is cutting and visceral, both of them reaching deep and soaring with an almost possessed intensity. Baron displays his utter sense of timing during his impassioned performance, adding tension with every beat, his cymbals seeming to almost screech and cry at times. The composer's agonized shrieks are chilling, and perfectly in congress with the extreme audioscape at hand. Yamatanka Eye (of The Boredoms) appears on vocals for a brief but extreme passage, taking the piece to an intensity level not often reached even in live performance, let alone captured for repeated extreme listening. In one 32-minute masterpiece, the band constructs an audio reenactment, replete with all the emotion, brutality and horror that was inherent in this execution method.
I had the good fortune of hearing this piece first in a live setting back in the early '90s at a West 19th Street club known as Matrix. The intensity of that performance stands out in my mind compared to the other Naked City shows of the period. However, the studio CD can be just as intense a listening experience. I have had more than one friend listen to the entire piece in silence (in the sweet spot) and at loud volumes. Invariably they have been so effected by the experience that it takes several minutes before they are able to relate their mind-blown state and feelings of astonishment over the dark power of the work.
Leng Tch'e truly stands as a huge black pillar on the John Zorn musical horizon.
If you can dig what I'm saying: The Melvins/Fantomas big band only dream that they could "demand a sacrifice" of this magnitude.
Listen with relish and caution.
Comments and Feedback: