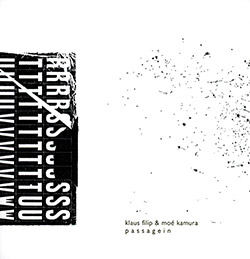 A 2013 recording made up of two long improvisations. Though no instrumentation is mentioned, aside from Kamura's vocals, one assumes Filip is using the lloopp software he invented and developed. As in much of his work from recent years, this manifests as controlled sine-like tones, extremely delicate and very much concerned with the tones pitched together closely but inexactly resulting in very subtle, microscopically shimmering overtones. Listeners may well be most familiar with Kamura via her fine set of recordings with Taku Sugimoto; her work here is not dissimilar, though less songlike.
There's not so much to differentiate the two tracks, except perhaps on that micro-level. Both are calm, slowly unfurling and relatively quiet, the electronics ranging from almost not there to a rich, fairly up-front presence, always long-toned. Kamura's vocalizations are wordless, consisting largely of hums and the occasional whisper, similarly wandering from extremely soft to mid-range in dynamics. Both musicians remain in a vaguely tonal territory responding to each other only obliquely. A gentle clicking that appears toward the end of the second track takes on larger significance, as if the previous hour had been spent in one general "location", carefully perusing it, but letting the listener know that there are many more avenues to pursue.
"passagein" is an unusual effort. Not in terms of stasis — there have been countless such — but in the kind of swaying stasis achieved, very subtle, very thoughtful, leaving one just a little off-balance and disoriented. Not for everyone, perhaps, but a seriously fascinating and, for this listener, rewarding work.
Comments and Feedback: