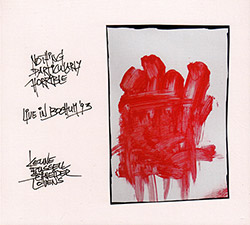 From nearly 30 years ago, a beautiful recording of classic European style free improv from a classy quartet of horn, rhythm section plus chordal instrument. John Russell is the guitarist singled out by many as having a style very close to that of the late Derek Bailey, and surprisingly always plays acoustically. That his playing can be heard clearly amidst the other three says much about these players ability to leave space and not just bulldoze ahead.
Saxophonist Stefan Keune and bassist Hans Schneider are relatively new names to me, and they apply themselves admirably here. Long sections of the music are made of strung together phrases, each player adding a thought to an ongoing sentence, punctuated by group exclamations. It's seat-of-your-pants playing by big-eared listeners, pushed along by the always surprising swing of Paul Lovens. The group will pause occasionally for the briefest of moments, but they never flag or run out of steam, passing from very quiet drops and pops to full-throated rocking roar and back. Bits of hanging overtone are supplemented by slippery whistling — a demented Gagaku which erupts into skittering skree. Stop/start cliffhangers and lots of very quick thinking abound.
The recording is beautiful, allowing the sound of the room to contribute its voice and coloring to the sparks emitting from the quartet. If a naive friend wanted to know what all this free improv stuff was about, this disc would make a good example.
Comments and Feedback: