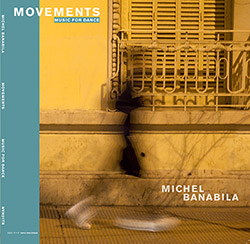 Occasionally an album has so much information that needs to be conveyed in the short abstract I write for Squidco's catalog listing that there's not much room for a decent description. Such is the case with Dutch composer Michel Banabila's Movements double LP, which presents two recent dance works and several prior works, each side of the 2 LPs dedicated to a single choreographer. Banabila has been composing since 1982, working with both electronic and acoustic orchestration, scoring many films & documentaries, alongside sound for video art, plays, and choreography. His work bridges experimental and contemporary forms with a modern sound bordering on electronica but infused with a seriousness of intent and purpose less frequently heard in that style.
His experience shows in his subtle layering of sound and instrumentation, where synthetics and acoustics merge with field recordings and solid rhythmic foundations. He shapes sound to propel his rhythmic work with cues that affect the listener, but without doing so in blatant ways. His use of repetition and variation is solid yet surprisingly understated; compelling, driving the movement without any sense of static monotony. The themes here are clear, a great example found in "Illicit Acquirement" where the suspense and tension slowly build until hallucinatory sirens lurk around corners enveloping the environment. Ultimately the piece resolves to a dynamic and upbeat rhythm that pulls the listener out of their chair, compelling one towards movement. Through 8 works Banabila continues this push-pull of tension, suspense and sly rhythmic introduction. It's an impressive feat that demonstrates the experience and mastery of his skill as a composer.
Add to that the beautiful production values of this double LP, in a very limited edition of 200 copies on 180g teal & gold marble vinyl, the outer jackets a handsome hardback matte varnish finish. The details continue onto the inner sleeves, printed in full color with photos and texts from some of these shows represented in the collection. The detail is admirable and the album a fine testimony to his work.
Comments and Feedback: