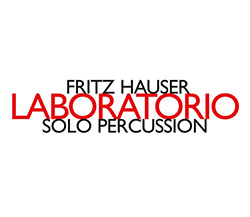 Since the early 1970s, Swiss percussionist Fritz Hauser has performed with/for everyone from John Cage to Joe McPhee to Pauline Oliveros, been featured in sound installations around the world, wrote a piece after observing cicada rhythm and song in the dizzying Corsica sun (the piece is Schraffur for one or more percussionists scratching on any surface), and is even sponsored by Zildjian (cymbals). For Laboratorio — Solo Percussion, Hauser met with twelve teams of architecture students who, after listening to some of his music, gave him feedback on the design of "a fictitious percussion center". "The resulting ideas inspired me to compose music for spaces that do not (yet) exist — percussion sounds that reflect mainly the architecture of my mind," writes Hauser.
Not to project a written concept into the abstraction of sound (I generally despise program notes), a musician attempting this — for lack of a better word — crossover is an interesting notion. From the liner notes, architect Quintus Miller expounds on the dichotomy of buildings having permanence while music is fleeting; there is an incredible amount of preparation and work to facilitate the construction of something considered a building. Laboratorio — Solo Percussion, however, should be thought of as the breeze passing through the doorway, or the negative space in a, um, fictitious percussion center.
After one grandiose, multi-layered splat, Hauser takes the listener on a short tour of his breadth via opener "Uno". Moving across the highs, mids, and booming lows of the spectrum, he ticks off the ability to move fluidly across a kit (doing so as a jazzer warming up). After a few minutes, Hauser abandons tempo, and we've, one supposes, traversed an entrance hall to the atrium. Rolling cymbals begin to emulate a mindful, swelling chorus of a processional niggled by a squeaky toy desperate to communicate something (or it's an anchor to remind us to not be so serious). Apart from the latter, the feeling is solemn, a tinge ominous, and the palette inspires thoughts of midnight and rituals in an amphitheater.
As the disc progresses, the original philosophy expands (in my mind) to, "What is the function and/or capability of each tool?" Hauser uses the phrase "activating space" when referring to the disparate physical reactions of air being struck with each of his sticks, cymbals, skins etc. (analogues for hammers, chisels — oh, you get it). On "Due", the drummer explores the struggle to prolong the sound of wood blocks. To override their thuddy nature, they are struck rapidly and slowly, multi-tracked, and vigorously scraped and rubbed to bring out an intervallic-pitchy, windy swirl. This insulated, can-shine-when-close-mic'd playset's role is contrasted with "Tre" where Hauser rips open the sky.* A gentle yet overwhelming series of gong strikes envelops the world in low frequencies and some sort of warbling string-type choir buried deep in the mix. Hauser applies a gradual layer of slap-back reflection on his flams across "Sei" to provide a more distant view of his edifice (think the doppler of a jackhammer heard from a few blocks away). He ends the work with a pulsing blip that becomes a beating bleep that becomes your morning alarm. These chimes, initially manipulated to have no decay or sustain, grow into a polyrhythmic clock shop where time-stretched illusions swim under acoustic organic bells.
Which room are we in? Who cares? Laboratorio — Solo Percussion is enjoyable sans aesthetic discussion.
*A note should be mentioned about the production of this album, as the mix is impeccable. The rumbling of "Tre" grew wider and fatter until my eyes bugged and my mind marveled (aloud, I said "holy shit") and my windows and walls and snare drum up on my coal shelf rattled as if someone hit the basement with a power chord via Marshall stacks.
Comments and Feedback: