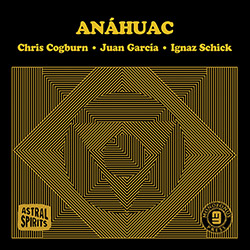 A nice set of three longish improvisations from the not-so-conventional trio of Chris Cogburn (percussion, electronics), Juan Garcia (double bass) and Ignaz Schick (turntables, sampler, electronics). Very heavy on the atmosphere, with lots of almost sinister crackling and thumping. Best not to try and decipher who's doing what here, or even if those domestic animal sounds are from some creature in the room or recorded samples. (My cats couldn't tell.)
These gentlemen have an uncanny knack for creating tension and holding it for long periods while letting it breathe and spin and attract outside sounds. Sort of like a twister sucking in the everyday sonics of their neighborhood. The quail song from my yard seems to fit. In places loops set up a ground for bowed harmonics and sporadic pop and rub, sounding like an approximation of alien song form. They collapse and rebuild often, sometimes coming from opposite corners and sometimes sprinting off the line as one.
Garcia's approach takes in classical sounding articulation, thick clouds of harmonics and raggedy folk-bowing, melding easily with the clash of titans alongside him. Cogburn's arsenal contains probably every sound possible with vibrating membranes and electricity, and Schick is the trickster, tossing out jokey bits of everyday life that, in this context, provoke questions about the operator's sanity. It's a toss-up I suppose.
Comments and Feedback: