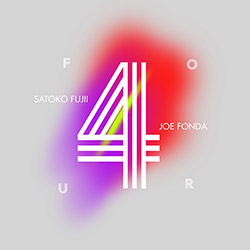 To judge the merits or demerits of an improvising duo can be done in a split second, like the one in which pianist Satoko Fujii enters on the first track of her fourth collaborative album with bassist Joe Fonda. "Painted by Moonlight" opens with some of Fonda's most beautiful pizzicato as he spins out a line by transposing phrases as only he can do, until Fujii punctuates with perfectly timed pitch. The understatement is ironically powerful, a contradiction she so often manages to convey and on which she then builds with harmonies in absolutely exquisite gradation.
The duo has reached a point, after only four years of existence, of such felicitous interaction that it's often uncanny. If those chords and bowed melodies opening "Diamonds in the Rough" don't sound planned, nothing does, and if there's a more appropriate dialogic solution that could occur at 3:11 of "Stars in Complete Darkness," consequent to the solo passages preceding it, I'd like to know what it is. At times, at first nearly unnoticed, is added the distinctive musical voice of trumpeter Natsuki Tamura. On "We Meet as 3," he eases into the equation with the subtlest of bounty from far-flung regions of the pitch spectrum, conjuring shades of Bill Dixon and Taylor Ho Bynum in the process. So nearly human is his every utterance that Fujii's piano-interior explorations and Fonda's raspy sustains and plucky interrogations come off almost as a soundtrack! I laughed aloud at Fonda's insistently repeated notes at 1:21 being foiled by Tamura's immediately following "awwwwwow," almost registering good-natured descent. There's something Puckish about his muted interjections, a kind of foil to Fujii and Fonda's chamber-music exchanges that sounds at every moment as if he's having the time of his life.
The twelve-minute excursion is a wonderful conclusion to another fine set of adventures for the nearly-venerable duo. As always with Fujii's huge and ever-growing catalog, the recording is first-rate, and while truly terrible-sounding discs are becoming a rarity these days, it's always nice to report that such fine music is given the kind of engineering and production it deserves.
Comments and Feedback: