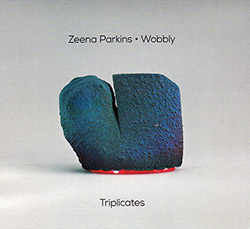 You might fancy yourself as some sort of experimental musician, but Zeena Parkins and Wobbly née Jon Leidecker might make you feel like an amateur. It's nothing you did, but what they have — individually and sometimes together — contributed to (many of) the arts during the last several decades.
Now a member of Negativland, Leidecker has run the gamut of Plunderphonics, IDM, clever message-driven mash-ups, radio drama cassette deck improvisation, tape-splicing investigations, and was able to escape the traps that technology focus laid for many of his 2000s peers. After traveling as part of Janus Circus (a real-ass circus troupe), post Classical education, harpist (pianist, accordionist) Parkins played on the essential recording of John Zorn's Cobra, performed on Hole's Unplugged, took up with drummer / drum machiner Ikue Mori to form Phantom Orchid, fell in with Yoko Ono and Thurston Moore and Nels Cline and Christian Marclay, and, yes, continues to collaborate with beloved Björk Guðmundsdóttir. So, she is just as capable at conjuring a Van Halen freak-out (i.e. her 1998 solo record No Way Back) as she is at intimate, thimble-sized moments appropriate for music boxes
In Parkins's Mills College office, she and Leidecker recorded harp, a variety of toy noise gadgets and phones through iPad-based pitch-tracking apps ("...machines designed to sing along" which Leidecker continues to hone) that act as curious sorta-autotune / multiplication. Parkins begins the opener ("Extreme Center") with a flamenco guitar flick and some string slides, and then introduces (presumably) Leidecker's sparkling synth dust while relatively flipping out on a whammy pedal. From this, the duo augments the palette: Parkins's notes become fewer and her stereo field increases, oozes into a microtonal cluster, and her harp leaves its body to become a wobbling drone; over this soaring gesture, expiring kitchen times and balloon squeals increase in tempi and size and eventually take over. "Ambiguous Figures" plays with similar elements, swirling them into ice cream truck / arcade game music. It's around here you start to notice that the pitch devices interpolate kinda funny and often oblige as artificial semi-intelligent shadow creatures.
Using more pause and space, "Least Action: Alone and In Relation to Their Surroundings" starts with a delicate string harmonics passage, but soon catches a manipulated reverb trail, and after some blips and engine growls, adopts a cacophonic run of bends and strums. Similarly, on "De-Storied", Parkins offers a series of doleful chords that intersect with a shellac of doubling and tripling harmonies; machines take over and pull the pensive sweetness into a hornet's nest reminiscent of Ligeti's Atmosphères. Leidecker's baby automatons come to life on "Sing Themselves", forming vowels and almost words while harp skronks in a supernaturally low register; the former adopts a cartoonish rhythm for interlude "Plankton Interregnum", slinking around until forming something to rap over.
Reading interviews with Parkins and Leidecker (where you can feel dumb but end with a list of book and record and software recommendations), the two really, really embrace / can speak to myriad types of music, which is why Triplicates defies a singular description and boasts a thorough understanding of the term experimental. Does that imply that Triplicates doesn't always succeed? No, but there are some unusual moments where things go in a direction not anticipated i.e. the drive-by quasi-gypsy snippet that opens and sprints away, never to return, in "Ambiguous Figures". And the act of instant-composing anything with another person is an experiment in itself.
Comments and Feedback: