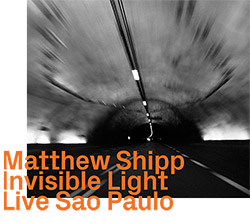 In listening to this 2016 live recording, I'm put in mind of that oft-anthologized Earl Hines solo on "West End Blues;" it's the one where he switches from gorgeously romantic arpeggios to those blistering horn lines akin to what Louis Armstrong was laying down on the same track. Matthew Shipp ups the ante, as is usually the case, but there's something magical about this concert, something trans-genre that solidifies as the music unfolds that puts it even beyond his other solo work even as he revisits past accomplishments.
Nobody plays a standard in quite Shipp's way. Annotator Mark Corroto is correct to point to the genre-bending approach informing pieces like this radically diverse account of "Yesterdays," which, like that Hines solo, switches gears midstream. However, this one rumbles up from the very foundations of romantic pianism, rife with dynamic contrast and, unsurprisingly, from the piano's low-register depths before a series of shocking repetitions conjures simultaneous shades of Rosco Mitchell and Galina Ustvolskaya in full-on confrontation mode. Shipp then proceeds to echo himself, jumping register and terracing dynamics with blinding speed and accuracy, often placing the melody, like Liszt, in the middle register. Concepts of fluidity don't even begin to cover this three-and-a-half minutes of pitched exhortation!
By contrast, there is the disc's opener, a revisiting of "Symbol Systems." More than two decades after its initial version, Shipp has both expanded and streamlined his approach. While the 1995 version was largely about inter-registral cascades and instantaneous connections across vast terrains, in 2016, Shipp concentrates more on digging into figure and register, exploring each in depth through modified repetition. He sets up definite areas of contrapuntal and metric repose, striking camp only to disassemble it and move on to another, reharmonizing motives with the same deft assurance that previously informed his rapid-fire interplay. The results are hypnotic on multiple levels akin to the myriad touches he bestows on the piano. Do I even hear a momentary reference to "Over the Rainbow?"
These days, Shipp's playing has attained a certain unity of purpose becoming to it. Invention and continuity merge to form a very satisfying whole, an approach that serves him well on his own compositions and on whichever parts of the canon he chooses to re-explore. The naturally exuberant part of his nature is balanced by depth-plumbing reflection, and everything he touches has its historical place while never coming across as enslaved by it. This is a wonderful addition to a dauntingly large but fascinatingly diverse catalog.
Comments and Feedback: