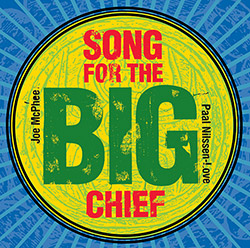 Joe McPhee's pedigree precedes him, with a trunk load of records released over the course of the last 50 years. That's a long time to be playing music, or doing anything really. He's played with a dizzying list of collaborators, and his music was the first to be released by the veritable Hat Hut label. Paal Nilssen-Love's name has been appearing on an ever-increasing pile of records as well, though not going back quite as far. Here the duo offers a live recording from London's Cafe OTO dating from December 2017, with the music dedicated to the memory of Sunny Murray, who had passed away two days earlier.
A short, melancholy intro weaves its way into "Old Man River", played on solo tenor sax, with McPhee really stomping on the bridge before launching into an impassioned improvisation interjected with vocal cries. When the drums enter, rolling toms and thudding bass drum bombs, the intensity jumps several notches after an eastern sounding ascending run from McPhee. After a raucous stretch of interplay, McPhee drops out for a short spell. When he comes back in he tosses off Ayler-isms in the midst of a flurry of otherness. Then they wind down and return to the river, leading to a solo turn by the horn with more vocalizing, which mirrors the moaning and odd utterances found on many of Murray's recordings. Coming through the horn they sound ghostly, far away. It's kind of spooky for a second. A second solo from Nilssen-Love begins with washes of cymbal harmonics and leads to a lightning-quick dance on upturned metal bowl. At this point I must say this is one beautiful sounding drum kit. Crickets and bass drum bring us to a solemn close.
Before anyone can catch their breath and applaud the duo's emotional outburst they're into the second tune. Short solo statements lead to a more ratcheted interchange, with spaces opening into which an almost martial stew is ladled. The closing, relatively brief "A Fantasy For Lester", brings out some rasping and scratching and very sparse click and breathe. It sounds like McPhee's trumpet is being run through some effects, with close following echo and quiet high-wire sailing. Horse clops and a bright trumpet theme conjure up memories of Don Cherry and Ed Blackwell before some metal punctuations close. Cue hearty applause.
Comments and Feedback: