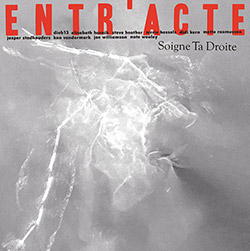 "Soigne ta droite" is a French boxing term that means something like, "Keep your right up." It is also a film by Jean-Luc Goddard. And now, it is the first release by Ken Vandermark's Entr'acte ensemble.
Entr'acte (meaning "between the acts" of a performance) is composed of collaborators from across Vandermark's numerous ongoing projects: Nate Wooley (trumpet), Mette Rasmussen (alto), Vandermark (reeds), Jasper Stadhouders (electric bass & guitar), Terrie Hessels (guitar), Joe Williamson (basses), Elisabeth Harnik (piano), Steve Heather and Didi Kern (drums), and Dieb13 (electronics). These musicians also come from separate national/regional and aesthetic scenes. Some tend toward free-punk and broken-beat electronics. Others lean toward more fire music, melodic deconstruction, and harshly extended techniques. In other words, Entr'acte is a motley, transnational collection of disparate modern improvisers, the kind of meeting that only a festival — in this case the Artacts Festival for Jazz and Improvised Music in Tirol — and someone with the organizational abilities of Vandermark himself, could pull off. And pulled it off they have, with aplomb.
Each track is dedicated to a single artistic pioneer (the first to Ikue Mori, the second to Richard Serra, and the third to Francis Picabia). What these three artists have in common is not their field — respectively, music, sculpture/installation, and painting — but their dedication to transforming sonic, physical, and visual space in manners that run the gamut from Bauhaus (admittedly, largely non-functionalist) austerity, Dada experimentalism, and postmodern cut-and-paste Expressionism.
The music on Soigne Ta Droite has moments of sheer lyrical beauty, such as the Ayler-Cherry vining melodies in "Perpetual Desk (for Ikue Mori) or the rich, impressionist melodies lacing through "Telegram (for Francis Picabia)." These moments, however, wind through a much thicker morass of heavy, jagged funk and craggy landscapes of distortion, static, scrapes, record fuzz, and smearing guitars. Thumping rhythms and Vandermark's characteristic punctuated melodicism set the pieces in motion, only to disintegrate again into sizzling aural terrains. Textures are rich. The effect is grand and intricate, though unpretentious. And, remarkably for this meeting of minds, the music has clear intention, despite the detours and deviations.
Soigne Ta Droite is of the quality and curiosity we have come to expect from Vandermark and this group of contemporary vanguard luminaries. I am not sure it breaks much new ground, but it fits beautifully into Vandermark's oeuvre as an extension of ideas he has been toying with on a smaller scale with his ensemble Marker. A likely must for a Vandermark enthusiast and as good a place to start as any, if you are somehow just coming to him — or any of these musicians — for the first time.
Comments and Feedback: