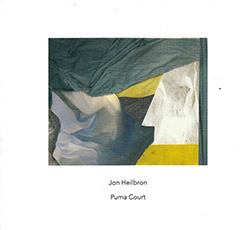 Despite having pursued a classical music education and played with orchestras and chamber ensembles, the Australian-born, Berlin-resident, double bassist Jon Heilbron describes himself as an untrained composer in any conventional sense, one who considers himself as an amateur in this area. Anyone who listened to Heilbron's album Pieces for Chord Organs (Intonema, 2019) and, particularly, watched the YouTube clips of him playing the organs and giving a guided tour of the Bontempi B4 might tend to agree with Heilbron's self-assessment. Suffice to say that sometimes it can be best to let music speak for itself, without too much background detail about its creation.
Puma Court is in stark contrast to that Intonema album, not least because Heilbron plays double bass on it, an instrument on which he excels. The genesis of this album was in 2016 when he and Norwegian double bassist Håkon Thelin played a duo concert performing one of Heilbron's compositions. In 2018, Heilbron suggested to Håkon that they perform and record some of his new pieces for two basses; the Norwegian suggested also involving two hardanger fiddle players, Rasmus Kjorstad and Helga Myhr, who were his students at the music academy in Oslo. (A traditional instrument, much used in folk music, a hardanger fiddle has sympathetic strings running under the fingerboard which resonate and supplement the steely sound of the normal strings which are played in the usual way, giving the instrument a distinctive timbre.) Heilbron agreed and wrote "Puma Court One" and "Puma Court Two" specifically for the players and instruments concerned.
The two pieces, which last for twenty-nine and twenty-one minutes respectively, were recorded in December 2018 at Majorstuen kirke in Oslo, which had also been the venue of that 2016 bass duo concert. As soon as "Puma Court One" begins — with both basses being bowed — it is clear the venue is highly resonant and played its own part in the performances. It seems that Heilbron composed with the venue in mind as much as the players and instruments, as he includes interludes in which the players make tapping and clicking and whistling sounds which highlight the acoustics of the space. Apart from such interludes, Heilbron never lets the soundscape sound sparse; on the contrary, when all four players are bowing together (plus those sympathetic strings) and the building also contributes to the rich mix, it often sounds as if more than four players were actually present.
The pieces are significantly different and complement one another well; throughout both, there is ample evidence that Heilbron has a good sense of dynamics, as well as being able to write music which is melodic and harmonic. Puma Court may mark Heilbron's coming-of-age as a composer but, whether it does or not, it is an impressive work which will leave many listeners wanting to hear more from him.
Comments and Feedback: