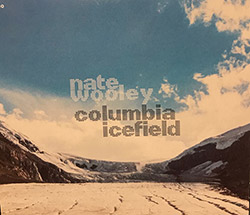 Glitches, interactions of discontinuity amid continuity, odd meters colliding off each other in interesting linear and poly linear possibilities, harmonies moving as slowly as a glacier are some of the principles at work in this triptych by trumpeter Nate Wooley and guests. The slow mutation and the forces of gravity and temperature, if sounds can be said to have a temperature (hot or cold, warm or cool) create music with a fair amount of awe-inspiring heft.
Wooley once said at a trumpet workshop at McGill University during Montreal's version of the Festival of New Trumpet (FONT) that he grew up in an Oregon town made up of "Vikings" and how he was always inspired by the fortitude and resilience of these people. Some of this can be heard in his playing and compositional thinking in Columbia Icefield. The music is definitely searing and compact as prehistoric ice in the first track, puzzlingly called "Lionel Trilling." I say "puzzlingly" because one wonders what a literary critic has to do with the Columbia Ice field. Is he maybe as determined and weighty? Whatever the case, the CD release tells a wonderful story of massiveness and transcendence, as Wooley's acoustic and amplified trumpet, Susan Alcorn's pedal steel, Mary Halvorson's guitar, and Ryan Sawyer's drums and voice combine in brilliant wizardly to march the title track home resolutely with an enormous sense of purpose and rightness. This is music that knows where it comes from and where it's going.
"Seven in the Woods" is a lyrical and slightly elegiac tale of love and camaraderie, with an American heartland melodic feel about it. Much like a hymn, it rings with the healing sound of truth.... but not without its underside, as Halvorson's eerie and menacing guitar wrangling yields moments of peril right in the middle of the tune, all seconded by brushes on snare drum and pregnant steel guitar chords that sound like they come from another galaxy. This is a tale not without its pitfalls for the hero, who in this case is the collective improvising soul of the band, which holds fast despite the many glitches that the improvisers works with, starting from fertile compositional ideas and rendered with imaginative and scrupulous musicianship.
The final movement, "With Condolences," is nothing if not sublime. It resounds like a spiritual dirge that brings peace and solace with its poem spoken by Sawyer (albeit with a spooky slow-down effect at one point), drum flourishes, guitar drones and Wooley's trumpet circling the proceedings like a sacred eagle, beautifully ending this paean to nature, its force, wisdom and inevitable triumph.
Comments and Feedback: