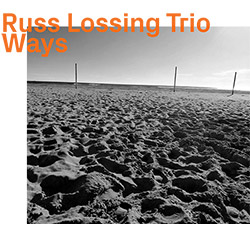 The title of this Russ Lossing trio date couldn't be more appropriate. Simple yet pithy, a four-letter word both evocative and deliciously direct, Ways is an album to match as the pianist fosters explorations encompassing those myriad connotations with winning ease and astonishing dexterity.
Maybe the most obvious set of references involves those still-relevant and often heated notions of "in" and "out." Lossing's explorations of the piano's innards offers realistic heft to a philosophical concern, as can be sampled on the aptly airy "Brreezeway." Differently weighted taps vie with wafer-thin pitched articulations until, as if on cue, bassist Masa Kamaguchi jabs with a three-note elucidation, or is it an exclamation? The satisfying whole perfectly encapsulates annotator Brian Morton's multifarious conceptions of space, so important to this group. The bassist gets to demonstrate similar conceptions on the astonishingly dynamic "Skyway, which leads to the gradual filling of space on the sharp-shock interplay of "Byway". Drummer Billy Mintz is largely responsible for the hot glue holding this track together; just listen to the molten interactions (yes, low-level dynamics can pack a lot of power!) between his snare and cymbals, bridging huge gaps between the various rhythmic and timbral points of improvised music's complex history.
That history, and its points of intersection as executed by this extraordinary trio, might be the title's most important connotation, and Lossing plays the intersections at every turn. His melodies, the contrapuntal webs they often weave, and their harmonic contexts all point to scholarship and invention in gorgeous symbiosis. The stunted notes on "Causeway" — it's tempting to hear them as updated grace notes — are as pretty as the sustains as Lossing shapes phrases and resultant lines of perfumed beauty. All of the elements, including those sinewy melodies, come to a glorious head on "Way" as the trio blasts off. If Andrew Hill's evolving sense of melody and Bill Evans' penchant for group dialogue are points of reference here, they are distant in the face of much historical and musical development. Kamaguchi's lines cover the bass's entire pitch spectrum, and while there is no containing Mintz's infectious swing, his sense of motive and melody is just as pervasive.
This is a trio of the 21st century, a trio whose ways are as diverse and yet unified as the history they represent and eschew. All is presented in a recording in which clarity of detail and soundstage are both excellent.
Comments and Feedback: