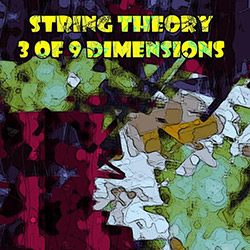 The indefatigable David Peck (PEK) is at it still. While the recent announcement of the retirement of long-time Leap of Faith percussionist Yuri Zbitnov might damper Evil Clown's output — indeed, Zbitnov was a key, creative driving force in numerous Leap of Faith projects — until I happened upon 3 of 9 Dimensions, I had not heard a PEK recording on which Zbitnov had not made an indelible and essential mark. String Theory (a revolving unit but, here, Glynis Lomon, Elinor Speirs [a member of LoF just since 2018], Eric Zinman, and PEK himself) was established in 2015. Recorded live at Cambridge, MA's Outpost 186, 3 of 9 Dimensions is the evolving String Theory unit's 15th album and the first with Speirs and the second with Zinman.
As far as chamber ensembles go, String Theory is forceful. At times, Lomon (cello) and Speirs (violin) fall into sweet melodies or entangled whispers. There are a few moments when Zinman lays a few tight, wistful runs on his upright. At times, PEK sets his horns down and only slowly begins to rummage through his box of noise makers. That said, even these quieter moments are pregnant with a surprising gravity. The focus lies on the discordant and the disquieting quiet, rather than the sonorous and tranquil. To the extent this music is sometimes bucolic (and sections do evoke bird chirps, wisps of wind, and calm landscapes), it is considerably heavier than such a romantic description might indicate. And, even given the absence of a primary drummer — a point PEK emphasizes in his program notes — this album is nevertheless filled with percussive bluster from the musicians' primary strings and reeds to a small arsenal of cymbals, bells, rattles, and other musical instruments and trinkets, including Lomon and PEK on the aquasonic. Near the end of the performance, Lomon and Speirs round out the resulting musical kerfuffle with an extended section of overlain Leandre-esque vocalizations, which gradually release to the final fade to a lone violin. Zbitnov will be missed. But, if String Theory can be read metonymically, LoF will continue, maybe less percussively rich, but hardly less clangorously.
It is also worth noting that this album is a departure from other PEK project, and not just because of the absence of Zbitnov. Part of the reason is stylistic. Part seems tactical, as isolating a chamber unit allows the musicians to practice and perform as a concentrated unit rather than simply a section of the larger orchestra. At the same time, however, this ensemble also opens the seasoned LoF listener to some the nuances and overlain textures that underly the cacophony of the collective's sound. It lends insight into how, despite the sheer mass of the larger unites, these Evil Clown projects share a logical and interpersonal cohesion that effectively steer the groups away from the entropic free blowing that so often follows in other large, improvisational ensembles. This recording shows another, more grounded (i.e. less cosmos-focused) side of PEK (and Lomon, Speirs, and Zinman) than the big band does. At the same time, it is still very much of the LoF ilk in its playful and resourceful curiosity. And for that, I am grateful.
Comments and Feedback: