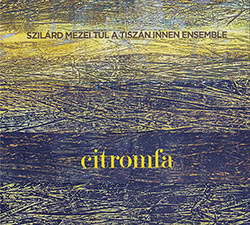 Artists keeping their output's level consistently high despite a release schedule of an album per week or so are extremely rare. Violist and composer Szilárd Mezei is one of them, as evidenced by the large quantities of creative brightness characterizing the man's multifarious projects. I honestly can't recall a Mezei recording that didn't stir my interest, but with Citromfa there's an added degree of somewhat melancholic admiration of ancient East-European sounds and memories communicating more to this reviewer than those linked to his own birthplace, which is artistically weak (in spite of smart political facades) and desperately uninterested in the preservation of genuine significance.
The Túl A Tiszán Innen Ensemble specializes in Hungarian folk songs from Vojvodina, their themes constituting the spine of this double CD's nine tracks. The members for the occasion were Andrea Berendika (flute, alto flute), Bogdan Ranković (clarinet, bass clarinet, alto sax), Béla Burány (baritone and soprano sax), Branislav Aksin (trombone), Tijana Stanković (violin), Ákos Keszég (violin), Marina Džukljev (piano), Ervin Malina (double bass), Ivan Burka (vibraphone, marimba), István Csík (drums). The sensible skill and reactivity of these fine instrumentalists imbue the interplay with a blend of evocativeness and experimentation. All of the above won't matter, though, if you don't completely lend yourselves to the music, whose unostentatious richness is revealed with repeated spins and concentration. The subtleties of true acoustic beauty are never given away for free.
As always occurring with Mezei's ever-rational approach to orchestration, everything functions as a well-oiled engine with nary a note out of place. Even the sections delivered by the obligations of a score retain that measure of self-discipline which prevents things from going awry, a not unlikely occurrence in improvisation. One is instantly captured by the sheer energy irradiated by the instrumental gesturing; invited to join unpredictable dances; intrigued by clever superimpositions of regretful melodies, potent hymns and evolved contrapuntal digressions; thrown into a pool of contemplative waters when the excitement subsides. The experts will definitely enjoy the microtonal auras surrounding the textural structures, the layering of diverse chordal planes to generate harmonic incertitude, the coherent awkwardness of different tempos unfolding at once.
People born in sound — typically remaining consciously speechless in front of something that is much deeper than silly words — need no additional urging to plunge into this marvelous record, comprising sparse questions yet countless answers. But simple fans of so-called "music without borders" may also find little pieces of heaven herein.
Comments and Feedback: