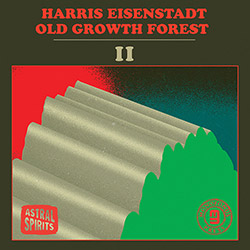 Since moving south to the Big Apple twenty-some years ago, Canadian expat drummer Harris Eisenstadt has carved out a nice little niche for himself in the contemporary jazz scene. He has succeeded by heading his own bands primarily, and taking care of the business, i.e. booking tours and turning out albums on a fairly regular basis. This writer first encountered him on record, then live, with his Canada Day group a few years back, the most recent sighting being a quartet with Mark Dresser, Michael Moore (on clarinet only) and bassoonist Sarah Schoenbeck. Eisenstadt's current working group heard here sports yet another strong lineup of seasoned players. Jeb Bishop, trombone and Tony Malaby, tenor and soprano saxes, share frontline duties, whereas Jason Roebke on bass holds things down (but not back) with the leader.
Like many of today´s drummers, Eisenstadt does more than working the skins and holding the beat, he writes all the music. Stylistically, it falls well within the jazz range, without limiting itself to a purely mainstream approach. At times, it can hit a groove, but never too long to lapse into automatic pilot. The musicianship, of course, enables a free flow of ideas, and the written lines are more like steppingstones rather than set forms to play over. Also worth noting is the exceptionally good sound, and were it not for applause after some solos (those between tracks are edited out), one could easily believe it was done in a studio. Some cuts flow into the next without interruption, and when there are breaks, they are so tight as to give the impression that the band played a continuous hour-long set. Yet, nowhere does the listener get tired, as the group keeps things moving along in a natural and unforced way.
Everyone contributes to the proceedings, with special kudos to Malaby, whose inspired playing here can be raspy, wistful or driving within a single piece. Like many contemporary jazz groups, it is more the sum total that counts here than any one special moment, like that sudden killer solo that gets you dancing in your head. Nice work and you can get it!
Comments and Feedback: