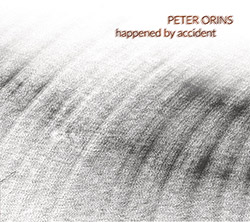 French Percussionist Peter Orins delivers a collection of improvisations fueled by what he describes as "fragility, clumsiness or imprecision". As a way of circumventing personal taste and/or memory, imprecision, aka purposeful fumbling, is a fine tool that can bring about new ideas and impulses. Imagine a blindfolded drummer trying not to make a sound. The emphasis is then placed on the sounds made: their timbre, grain and placement in relation to the room. Space is a big factor in these recordings, as in space between sounds but also space created by sounds, heard in the first track where a low drone fills the room as shifty harmonics rise and fall.
The following five sections (all are titled Happened By Accident) exhibit sparse canvases of click and knock and squeak, placing each sound in its own sea of quiet; a humming drone at one point has me thinking it's a passing plane. All of the pieces are careful and considered, a set of calm explorations and a meditation on the physicalness of sound. A section of what sounds like bowed xylophone is short but sweet, followed by quiet squeaking and general room thump and tumble. A swinging circuitous high-end examination follows, setting up spinning harmonics that seem to fly around the room.
The final piece, a rendering of James Tenney's "Having Never Written a Note For Percussion" is a small tour-de-force of control. The score calls for the performer to "play an extended roll on an undefined percussion instrument for an undefined period of time, from silence to a peak of quadruple fortissimo and back again". Orins here chooses a cymbal for his attention, examining its resonant harmonic properties over the course of just over 12 minutes. The resultant sounds are fascinating in their richness and variety.
Comments and Feedback: