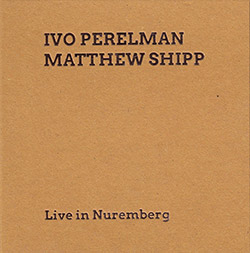 Born just five weeks apart in 1960-61, tenor saxophonist Ivo Perelman and pianist Matthew Shipp first recorded together as a duo in January 1996, the results being released on the album Bendito of Santa Cruz (Cadence, 1997); another album, Cama De Terra, a trio with bassist William Parker, recorded in summer 1996, had been released on Homestead in 1996, thus making it Perelman and Shipp's first release together. Things really got going once Perelman began recording for Leo records; between 1997 and 2019, the label released over seventy Perelman discs, the majority of them featuring Shipp, the lion's share of those being duo recordings, beginning with 2013's The Art of the Duet Vol. 1. and including the 2019 4-CD set Efflorescence Vol. 1.
As Perelman demonstrated on his 2018 Leo album Kindred Spirits with bass clarinettist Rudi Mahall — a player he had never met prior to that recording — in duo playing, good rapport and empathetic playing are not necessarily reliant on past history or familiarity. In the sleeve notes to Perelman and Shipp's 2018 Oneness 3-CD album, Neil Tesser wrote that when the pair first met and played together in 1996 "they suspected that their collaboration would resonate long and deep. Shipp has said that he could 'remember feeling a connection at that very first session — like this was something that was meant to be'." So, it seems the longevity of the Perelman-Shipp duo is a result of the empathy between them, rather than vice versa.
In the large Perelman-Shipp canon, Live in Nuremberg is noteworthy for two reasons; not only was it not released on Leo, it is also a live recording, only the duo's second after 2017's 2-CD Live in Brussels which was on Leo. Recorded in June 2019, at the Kulturwerkstatt Auf AEG, Nuremberg, during the Art of Improvisation festival, the album comprises two tracks, an unbroken fifty-six-minute set followed by a four-minute encore. Just as the Brussels live recording did, Live in Nuremberg contrasts starkly with the pair's studio albums which feature shorter, more focussed tracks. By comparison, the duo's live music wanders far and wide, not sticking to some pre-arranged script but exploring whatever crops up as a result of back-and-forth dialogue between the two, sometimes one taking the lead, sometimes the other, often both together. Whoever is leading, the end results showcase both players' talents, and make thrilling listening.
It is not all plain sailing, though; at about the nineteen-minute mark, Perelman almost wanders unawares into playing the nursery rhyme "Rock-a-bye Baby", a passage sure to bring a wry smile to the faces of many improvising saxophonists who know how easily a combination of improvised notes can unintentionally lead into a familiar melody; for good measure, around the fifty-one-minute mark the same thing almost happens with "London Bridge is Falling Down"! Otherwise, throughout the set, Perelman dextrously avoids such pitfalls, his comping skills generating a never-ending kaleidoscope of melodic passages. The album as a whole demonstrates the wisdom of this duo issuing another live album, and leaves one craving more.
Comments and Feedback: