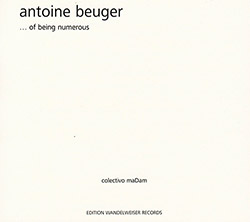 Although he was a co-founder of Edition Wandelweiser Records in 1992, becoming artistic director in 1996 and has been managing director of Edition Wandelweiser since 2004, Antoine Beuger is probably better known as a flautist and composer in his own right, having a discography of over thirty recordings and a catalogue of hundreds of compositions. Anyone who has ever met Beuger in person remembers his warm, good-humoured nature and generosity of spirit, traits that are readily apparent in his music, with ...of being numerous as a textbook example.
Beuger's 2015 score quotes George Oppen's influential 1968 poem "Of Being Numerous", and also says the piece is strongly inspired by a musical practice documented in the memoires of RN (author and date of origin unknown); this quote gives a flavour: "One of our most beloved practices was named '...of being numerous'. We would use every opportunity to come together and perform it ... we felt that it touched the core of our existence in the world, of our being someone in the midst of so many more 'someones' ... this way we would be both solitary and numerous, connected and free-floating, in a world of pure coincidence which, to us, meant: grace"
The score says ...of being numerous is "for a number of players"; this version, recorded in Madrid in October 2018, is performed by the Spanish sextet Colectivo maDam, with Beuger himself guesting on flute. The sextet members are featured on synthesizer, bass clarinet, melodica, sine waves, singing bowls and flugelhorn, with everyone also credited with voice and objects. Throughout the hour-long performance, in keeping with the score, the piece is punctuated at irregular intervals by prolonged notes from each of the instruments, sometimes alone, at other times overlapping. Theses instrumental sounds are accompanied by an ever-shifting tapestry of other sounds which give the piece its characteristic soundscape; these sounds are covered by that 'voice and objects' description and include the slow, regular pulse of two stones being tapped together, barely-heard voices quietly reading some words, reciting a poem or humming a melody, an occasional cough, complex frictional sounds such as paper on paper, finger on skin, the rustle of dry leaves, or other introverted activities. Heard together, these sounds reassuringly convey the proximity of widespread human activity — '... of being numerous', in fact.
It seems highly likely that, over time, this Beuger composition will become a modern classic, frequently performed and recorded internationally. So, this recording will surely become the benchmark version to which others will refer prior to performing it, and against which other performances must be judged.
Comments and Feedback: