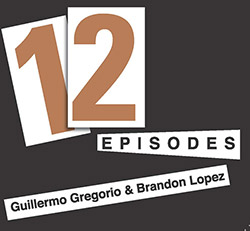 Compact, concise and beautiful! Those are the three words that keep coming up in my listening notes for this excellently recorded duo album, rife with detail and excitement in equal measure.
One of the most rewarding aspects of listening critically to music such as this is the depth of relational detail that can be uncovered. There are times when instruments so radically different as a clarinet (Guillermo Gregorio) and a double bass (Brandon Lopes) can sound remarkably similar, as at 1:03 of the first track. Not only do they complete each other's phrases, but the pitch overlap provides a kind of momentary stasis, a fleeting but palpable unity of purpose that ends up being both respite and point of departure. You'll hear a similar occurrence right at the beginning of the seventh track, and the Western-trained music theorist in me simply itches to cast those blown and bowed sounds in thirds, but really, those moments are about a meeting of minds on momentarily shared terrain. By contrast, listen to the first two notes of the fourth track, an ascending dyad from Lopes, a vast leap up more than an octave, but it's answered immediately by Gregorio's softly sinewy descent by the smallest interval in the Western chromatic scale.
All of this sounds academic at best, tedious at worst, but the music is neither. The facility with which these two veteran improvisers interact while propelling the music forward is often shocking. Again on that fourth track, check out the rapid-fire slides, runs and leaps as they chase, double back and brake, thwarting and initiating motion and its opposite via many happy returns. Sometimes, the sounds emanating from each instrument inhabit a realm so distant from convention as to be quietly unnerving, as with the sustains and near-silences of the sixth episode. The brief album is more like a series of aphorisms than a collection of pieces, but that is to its credit. Such concentration is welcome in a field where long-winded approaches are too often in evidence without reason or support. Fans of these musicians certainly need not hesitate, and this is another addition to the catalog of a label whose excellent reputation precedes it.
Comments and Feedback: