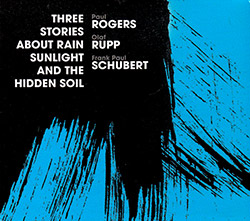 Considering the superabundant offer in today's improvisation, we frequently find ourselves in the condition of evaluating textural/environmental settings whose content can be hard to decode without putting in the necessary work. Given that brains operate at different speeds, a whimper of "exclusively for musicians" usually comes from individuals refusing a deeper investigation of unsympathetic expressive forms. This rings especially true when the momentousness of an acoustic contingency equals the clangor of (apparent) mayhem. In this superbly titled effort, bassist Paul Rogers, guitarist Olaf Rupp and saxophonist Frank Paul Schubert introduce several crucial issues in that sense.
In an ideal world, immediate comprehensibility should never be a defining parameter of free music; in fact, an album like this can require three or four spins to barely scratch its surface. Just be aware that, in this particular session, Rogers, Rupp and Schubert were on the talkative side of things; therefore, a Wandelweiser kind of mood might likely cause this stuff to be rejected by someone's systems. In order to get to the core of the emission, one must reason principally in terms of timbral kinetics; more often than not, we're treated with erratic superimpositions of multifarious grains and interesting vibrational morphologies. The neighboring upper partials of Rogers' 7-string bass and Rupp's jangle-sparkle-and-rasp guitar are but an example; however, Schubert — apparently the lone idealist willing to throw in lyrical shards every once in a while — can mutate into a screaming multiphonic monster at the flick of a switch. Throughout the set, the trio adheres to a "let's see what happens as we keep going on" philosophy; the experience of skilled improvisers is paired with an unquestionable facility on the respective means.
When all is said and done — aside from the quieter interplay characterizing at least part of the final track "Yeast" — this is a turbulent, occasionally invasive, ultimately reinvigorating release. It surely deserves to be heard, if only to deliver your antagonistic spirit from the grinning demons of false contemplativeness.
Comments and Feedback: