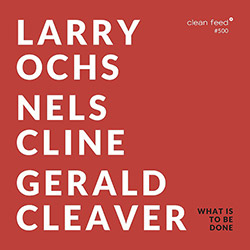 The three improvisations on this disc were taken from sessions recorded in 2016 in Richmond, Virginia. The three musicians each bring a distinct voice to the table, but the blend is organically coherent with very satisfying layers of sound in a free but thoughtfully structured improvisational approach. The players play to the compositions with Olympian chops that serve the group concept in startling ways.
"Outcries Rousing" is the 20-minute opening piece of the triptych that maintains a rhythmic insistence throughout, marching ever forward on a taut regime of Gerald Cleaver's tom-tom-heavy persistence over which Larry Och's saxophone's squiggles and smears and blasts find a happy open sea. Nels Cline's guitar fills in the canvas with a broad wash of chords thrummed in an evolving manner, building and receding like waves along a pebbled beach. Cline also works in some fascinating angular lines made up of complex intervallic shapes and size, along with some electronic effects that include deconstruction of guitar clichés and really cool otherworldly digital throughput configurations.
The quieter, more acoustic middle tune, "A Pause, A Rose" grows from an acoustic-meets-electronics opening lyrical passage articulated by Cline, with ever surprising guitar sounds. Post-modern to the hilt, Cline's playing is discontinuous pastiche, with fragmented logic and an ever-attentive sense of the rightness of the musical effect-of-the-moment, while drums and sax send out their particular strands of sonic material in sympathetically coordinated musical expression. The trick with this kind of music is to think like a composer, not an instrumental soloist, per se; it's about the musical meaning and form. These three musicians show a particularly gifted approach to this, with playing that is tuned in and expressive.
The epic final piece of the triptych, "Shimmer Intend Spark Groove Defend", sounds as imperative and anthem-like as its title suggests, with bold and purposeful direction and development of musical thought that seems predestined, as if the three players were all of one mind, heart and body, making for definitely fine improvised music.
Comments and Feedback: