October 28, 2022:

As our Facebook followers have been informed, I took a couple of weeks off in October to travel to Paris for my 10th wedding anniversary, JM's big decade birthday, and an opportunity to meet some of our French business partners. As carefully as I had planned the trip to accommodate Squidco's needs, events conspired affecting our staff and an unplanned family event, which forced us to partially shut down for the first time since moving to Wilmington 12 years ago. What that meant effectively was that Squidco continued to take orders that were delayed by one week; and that we pulled all of our inventory out of the Amazon and Discogs marketplaces.

As all European and UK customers know, Discogs is an essential part of our business since the custom law changes a couple of years back required prepayment of VAT and EU taxes. This change, one of the most onerous to small businesses working with customers in the UK & EU, disallows us from being our own broker in collecting those taxes. The expense of paying a broker to collect the tax on a single album sale is greater than the profit of the same album, something the tax collectors apparently didn't take into consideration when drafting their new laws. Fortunately Discogs is a large enough entity to spread out the expenses, and they collect the taxes and provide the information we need to be able to sell directly to customers in those countries. We have to accept the additional fees that Discogs charges us for each sale in comparison to our own online store, but at least we're able to provide the music we sell to customers as equally obsessed with that music as we are. So leaving Discogs for a week was an unintended and unfortunate side effect to an otherwise wonderful trip.

Regarding Paris, the weather held up for us, and we were in awe of "The City Of Lights", our first time there. Aside from a few tourist attractions that we took in, and around a thorough walking of the city, we were able to take in a couple of concerts. The most notable was at La Muse en Circuit, where we met with Akousis Records's leader Bertrand Gauget, a true pleasure, while we all took in the duo of Anne-Julie Rollet & Anne Laur Pigache and the "Les Harmoniques du Néon" with a light installation by Christophe Cardoen. This show was right up my alley, a work for 40 radios, free improvised vocals, field recordings and live electronic manipulation. The space was full with fellow experimental enthusiasts, and the dramatic rendering of the work was fulfilling. Afterward the audience was invited to wine and snacks, and we met the director of the space and spoke with the artists. It was inspiring to see both this creative work and the interest from a larger audience than might be seen here in the US.

The other concert was perhaps more conventional, but no less enjoyable. Close to our hotel is a wonderful concert space known as Le Bal, where we took ourselves and another couple who's European tour intersected with our for 3 days, to see Jean My Truong & Friends. Truong is a drummer I wasn't familiar with, but I chose the show based on the concert's configuration — a trio, guests of two guitarist, voice and bugle, and Fanny Lévêque's string quartet — and also from the presence of trumpeter Sylvain Gontard, who performed on bugle here. I know Gontard from Forgas Band Phenomena, but everyone in the group was a wonderfully lyrical and creative player, and the soloing and group interaction were superb. The music was in an ECM electric jazz realm, and two Chick Corea moments — "A Song for Chick" and another Chick Corea original composition as an encore — probably tells more about Truong's interest than my description can.

Last, I took an afternoon out to visit a great French record store and label, SouffleContinu Records. It was heartening to see a great collection of improvised and experimental music in a professional and well-organized space. I had a long conversation with owners Bernard and Théo about the business of selling these genres of music, the challenges and solutions to global shipping, and the future of the music we are all infatuated with. I left recharged and happy to meet kindred spirits, as there are so few stores dedicated to the vast catalogs of music that we carry. I highly recommend their store to anyone visiting Paris, and suggest following their in-store events, which include a fascinating set of performers from European improvisers and experimenters.

All that said, returning to Squidco was a bit overwhelming. More than 4,000 emails met me here, mostly junk, but needing to be sorted out. A stack of new releases from my first week away were piled on my desk, and our two cats looked bewilderingly at me as I tried to push through that work and get Squidco up and running again. The results are seen in a large set of albums in our Just In Stock Section, including new releases on Mahakala, NoBusiness, Sacred Realism, 577 Records, Creative Sources, ezz-thetics by Hat Hut, Ltd., Dark Tree, Klanggalerie, Greyfade, Amgen Records, Psykomanteum, Ambiances Magnetiques, Tour de Bras and Bead Records.




---
Tatsuya Nakatani Tour CDs:
In September we added four new albums from Tatsuya Nakatani on his Nakatani-Kobo imprint. Intended for sale during his Fall 2022 tour of the US & Canada, we are carrying all four, each a concert from his 2018 & 2019 tour of different regions of the US. The performances include a quartet with Shawn Hansan / Michal Stover / Jeff Harshbarger; a duo with bassist Kyle Motl; a quartet with Donald Miller / Rob Cambre / Emmalee Sutton; and a concert of solo percussion then a duo with trumpeter Kris Tiner.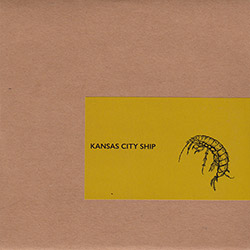 Nakatani, Tatsuya / Shawn Hansan / Michal Stover / Jeff Harshbarger: Kansas City Ship (Nakatani-Kobo)
One of four releases from percussionist Tatsuya Nakatani's 2019 tour, each from a different region and performing with local improvisers, this spectacular concert recorded at The Ship, in Kansas City, MO with Shawn Hansan on organ & sunthesizer, Michal Stover on pedal steel guitar and Jeff Harshbarger on contra bass for a diverse, extended collective improvisation.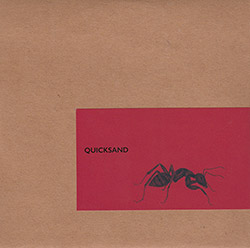 Nakatani, Tatsuya / Kyle Motl: Quicksand (Nakatani-Kobo)
Innovative Japanese percussionist Tatsuya Nakatani met with bassist Kyle Motl (Peter Kuhn Trio) at Nakatani Kobo Studio, in New Mexico to record these two extended improvisations, the 1st creating an aural environment through ringing metal and bowed contrabass, the 2nd a set of agitated and disruptive interactions through incredible technical skill and expressive dialog.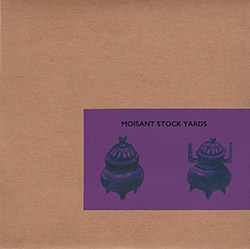 Nakatani, Tatsuya / Donald Miller / Rob Cambre / Emmalee Sutton : Moisant Stock Yards (Nakatani-Kobo)
A recurring trio in New Orleans between touring percussionist Tatsuya Nakatani and guitarists Rob Cambre (Malevitus, Rough Seven, The Death Posture) and Donald Miller (Borbetomagus) performing at Mudland Public Theatre in 2018 for two extended, gritty and ringing exchanges.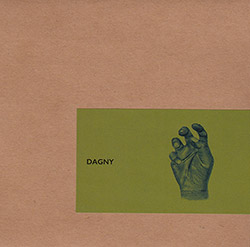 Nakatani, Tatsuya / Kris Tiner: Dagny (Nakatani-Kobo)
An extended improvisation in two parts at Dagny's Coffe Company in Bakersfield, CA: first a solo performance by Japanese percussionist Tatsuya Nakatani in a sweeping sonic manifestation of bowed gongs, cymbals, bass drums and objects, which then continues as a duo with trumpeter Kris Tiner for an exhilaratingly peak of adept brass excitement ending in a pensive reflection.
---
The Return of Creative Sources:
On many of the recent acquisitions mentioned above, an upcoming blog entry will detail more, but in the interest of my continuing effort to catch up I'm trying to keep this blog entry short. I will note one label that will be expanding into our catalog over the next few weeks: in June we placed an order with Creative Sources, and announced the upcoming titles in this forum. The package was on its way to us and came tantalizingly close, right up to Fayettville, NC, when the package suddenly disappeared into the postal system. Several hours of searching, working with the USPS business unit and their lost package service we had to declare the package a loss. Working around CS and Squidco schedules we have finally received a reshipment, and the new releases have begun filtering onto our site. Creative Sources label is a personal favorite, as I've learned about many new artists and unusual hybrid forms of improvisation from Ernesto Rodrigues' discerning album selections. Our commitment to the label has never wavered despite this rare situation, and I'm happy to report that we're restocked with all 2022 releases, with many new albums soon to be listed. Below is everything we've picked up in 2022, all of which are now back in stock and well worth a listen!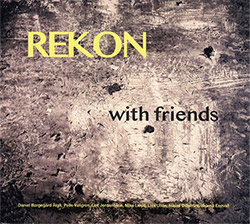 Rekon With Friends (Alga / Espvall / Billstrom / Vallgren / Jordansson / Ullen / Lloyd): Rekon With Friends (Creative Sources)
The core Rekon trio of multi-instrumentalist and wind player Daniel Borgegård Älgå, guitarist Leif Jordansson and drummer Perry Vallgren are joined by guests, cellist Helena Espvall, bassist Niklas Billstrom, trumpeter Mike Lloyd and pianist Lisa Ullen, for four lyrical and experimentally inclined improvisations, a beautiful balance of diverse approaches to modern jazz.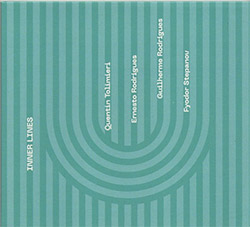 Tolimieri / Rodrigues / Rodrigues / Stepanov: Inner Lines (Creative Sources)
Six "Segments" A to F of powerful restraint and extended technique, recorded at Ausland in Berlin, Germany from the free improvising quartet of Quentin Tolimieri on piano, Ernesto Rodrigues on viola, Guilherme Rodrigues on cello and Fyodor Stepanov on double bass, the close associations between the Rodrigues' and Tolimieri & Stepanov evident through their shared aesthetic.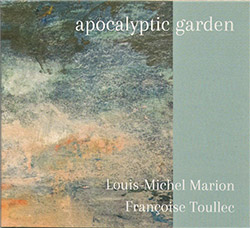 Marion, Louis-Michel / Francoise Toullec: Apocalyptic Garden (Creative Sources)
A strangely agitated garden sculpted from melody, dissonance and instrumental abberation through profound technique and unusual approaches to their instrument, by French double bassist Louis-Michel Marion and pianist Françoise Toullec, bringing a sense of wonder and turbulent environment through a shared passion balancing ominous space with astute activity.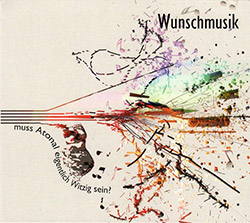 Wunschmusik (Wunsch / Steyer / Cavenati): Muss Atonal Eigentlich Witzig Sein? (Creative Sources)
German vocalist Birgit Wunsch leads this improvising trio with Edith Steyer on clarinet & saxophone and Alberto Cavenati on guitar, using abstract and atonal melodies in a chamber improvised setting for freely improvised voice, text and sound, crossing a sense of pop music with non-idiomatic improvisation of great technical and creative intent.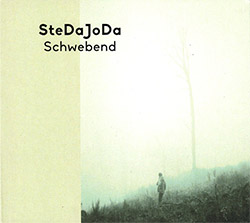 SteDaJoDa (Studer / Scheib / Weber / Schmitz): Schwebend (Creative Sources)
A live recording of free improvisation recorded at Theater im Viertel, in Saarbrucken, Germany in 2021 from the SteDaJoDa quartet of Daniel Studer on double bass, Stefan Scheib on double bass, Daniel Weber on drums and Johannes Schmitz on guitar, the dark double bass foundation and floating ("Schwebend") percussion work balanced by Schmitz' blues oriented electric.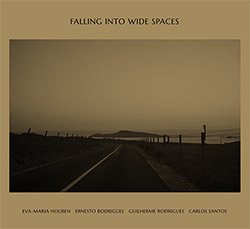 Houben / Rodrigues / Rodrigues / Santos: Falling into wide spaces (Creative Sources)
Four improvisations recorded iteratively during the pandemic and assembled into this exquisitely subtle two-part composition with Eva Maria Houben's piano & organ recorded in Berlin in 2020, Guilherme Rodrigues's cello recorded in Berlin and Ernesto Rodrigues's zither recorded in Lisbon in 2021, merged with nocturnal recordings from Carlos Santos captured in Spain & Portugal.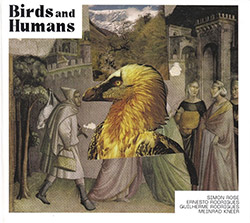 Rose / Rodrigues / Rodrigues / Kneer: Birds and Humans (Creative Sources)
Recording in Berlin in 2021, the quartet of English saxophonist Simon Rose, here on baritone sax and German double bassist and Evil Rabbit label leader Meinrad Kneer join with Creative Sources father/son string improvisers Ernesto Rodrigues on viola and Guilherme Rodrigues on cello for seven delicately commanding, chamber-oriented free improvisations.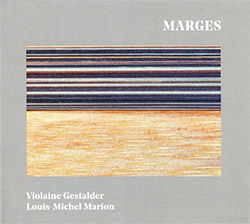 Gestalder / Marion: Marges (Creative Sources)
Recording at Studio CCAM Scene Nationale de Vandaeuvre-les-Nancy in France, the freely improvising duo of contemporary saxophonist Violaine Gestalder and double bassist Louis-Michel Marion approach the five improvisations on Marges with an ear to patient sonic interaction through extended and unusual techniques on their instruments.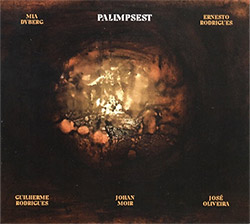 Dyberg / Rodrigues / Rodrigues / Moir / Oliveira: Palimpsest (Creative Sources)
Two strings, sax, bass and percussion from the free improvising chamber jazz quintet of Mia Dyberg on alto saxophone, Ernesto Rodrigues on viola, Guilherme Rodrigues on cello, Johan Moir on double bass and Jose Oliveira on percussion, in an interactive and dynamic live performance recorded in 2018 during the CreativeFest XII at O'Culto da Ajuda, in Lisbon, Portugal.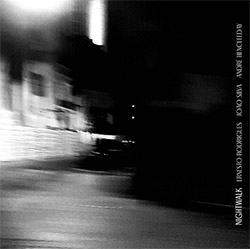 Rodrigues / Silva / Hencleeday: Nightwalk (Creative Sources)
A reductionist set of spartan improvisation performed live at Casa da Cultura, in Setubal, Portugal in 2021 from the trio of Ernesto Rodrigues on viola, João Silva on trumpet and Andre Hencleeday on piano, applying extended techniques on their instruments in a dark night, quiet but intently close listening conversation from three authoritative voices.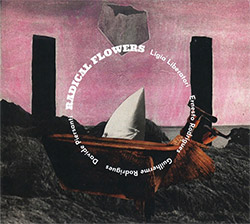 Liberatori, Ligia / Ernesto Rodrigues / Guilherme Rodrigues / Davide Piersanti: Radical Flowers (Creative Sources)
Italian and Portuguese musicians meet in the studio in Berlin for a set of studio free improvisations, from Creative Sources father/son collaborators Ernesto Rodrigues on viola and Guilherme Rodrigues on cello meeting trombonist Davide Piersanti and vocalist Ligia Liberatori for twelve exceptionally open, informed and unusual conversations.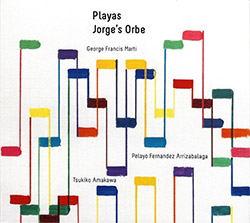 Jorge's Orbe (Marti / Arrizabalaga / Amakawa): Playas (Creative Sources)
Recorded live in 2019 at Burgbachkeller in Zug, Switzerland, the international trio Jorge's Orbe creates tapestries of sound, bringing together free improvisers from three different parts of the world: Switzerland through trombonist George Francis Marti, Japan through pianist Tsukiko Amakawa, and Spain through Pelayo Fernandez Arrizabalaga on turntables and voice.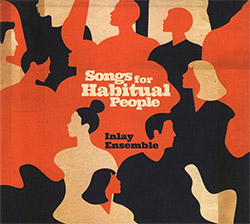 Inlay Ensemble (Price / Bishop / St Jacques): Songs for Habitual People (Creative Sources)
Led by Sydney, Australia double bassist and composer Elsen Price, the Inlay Ensemble with violist Carl St. Jacque and violinist Susie Bishop merges contemporary composed and improvisational styles in an album with each piece reflecting a distinct mood based off a single motif, creating unique perspectives that the ensemble develops through improvisation.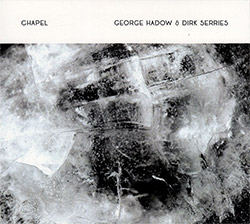 Hadow, George / Dirk Serries: Chapel (Creative Sources)
A duo of free and spaciously building exchanges between Dutch drummer George Hadow (Zwerv, The Blue Lines Trio) and Belgian guitarist Dirk Serries (A New Wave of Jazz), in an extended dialog of great technical skills and creative use of their instruments, performing live at the 2021 JazzBlast event held in the chapel Groels Kapel in Bocholt, Belgium.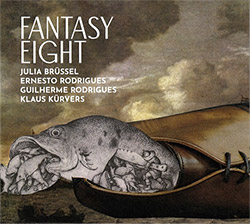 Brussel / Rodrigues / Rodrigues / Kurvers: Fantasy Eight (Creative Sources)
A set of succinct string improvisations using extraordinary technique and concentration with a chamber improvisation feeling, recorded at Vivaldisaal in Berlin from the quartet of Portuguese father & son improvisers Ernesto Rodrigues on viola and Guilherme Rodrigues on cello, and Berlin performers Julia Brussel on violin and Klaus Kurvers on double bass.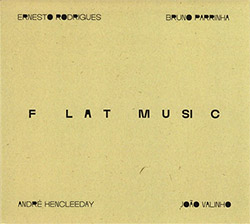 Rodrigues / Parrinha / Hencleeday / Valinho: Flat Music (Creative Sources)
Two extended acoustic improvisations of reductionist approaches recorded in the studio in Parede, Portugal in 2021 from the quartet of Ernesto Rodrigues on viola, Bruno Parrinha on bass clarinet, Andre Hencleeday on piano and Joao Valinho on percussion, guided by a poem from Rodrigues as they slowly and exquisitly explore a "Closed Window" and an "Open Window".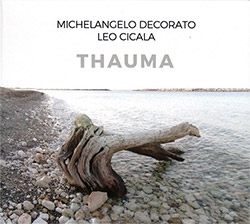 Decorato, Michelangelo / Leo Cicala: Thauma (Creative Sources)
An introspectively lovely and reflective album of electroacoustic composition through minimal electronics, piano, samples and electronics, from the collaboration of Italian sound artists Michelangelo Decorato and Leo Cicala, with trumpeter Luca Calabrese joining on one piece; sophisticatedly languid, alluring and detailed ambient music.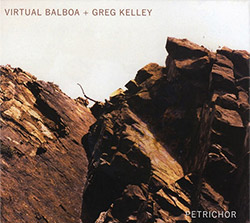 Virtual Balboa / Greg Kelley: Petricho (Creative Sources)
The Virtual Balboa trio of Philadelphia improvisers Zachary Darrup on guitar, Evan Lipson on double bass and Ben Bennett on percussion, all performers associated with Spring Garden Music & saxophonist Jack Wright, are joined by open-form trumpeter Greg Kelley for this wonderfully scrabbly and tenacious live set captured at Vermillion in Seattle in 2019.
---
Squidco Publishing Roundup:
Finally, a few updates since my last entry. You can see new albums listed as they enter our Just In Stock Section, meaning that we physically have an album and are able to ship it with an order, but that we're not satisfied that we've added all the information we can about that release. You can also see recent restocks of previous items at our Recently Restocked page.
October 27, 2022: New Review @ The Squid's Ear: Sun Ra Arkestra - Nothing is ... Completed & Revisited (ezz-thetics by Hat Hut Records Ltd) by Paul Serralheiro.
October 26, 2022: New Review @ The Squid's Ear: Howard Riley / Keith Tippett - Journal Four (NoBusiness) by Massimo Ricci.
October 25, 2022: New @ Squidco:
Lucas Niggli/Matthias Loibner -Still Storm [CD] (Intakt)
Clemens Ydivide Kuratle -Lumumba [CD] (Intakt)
Dave Douglas Quintet (w/ Irabagon/Mitchell/Oh/Royston) -Songs of Ascent: Book 1 - Degrees [CD] (Greenleaf Music)
Margaux Oswald -Dysphotic Zone [CD] (Clean Feed)
Action & Tension & Space -Tellus [CD] (Rune Grammofon)
Gush Wachs (Gustafsson/Sandell/Strid/Wachsmann) -Gush Wachs [CD] (Bead)
Sun Ra -Ra To The Rescue [TRANSLUCENT GREEN VINYL] (Modern Harmonic)
Keiji Haino + Sumac -Into This Juvenile Apocalypse Our Golden Blood to Pour Let Us Never [CD] (Thrill Jockey)
Keiji Haino + Sumac -Into This Juvenile Apocalypse Our Golden Blood to Pour Let Us Never [2LPs CLEAR COLOR VINYL + DOWNLOAD] (Thrill Jockey)
Violeta Garcia -FOBIA [CD] (Relative Pitch)
Tim Olive -Okay Grand Dependable [CASSETTE w/ DOWNLOAD] (Verz Imprint)
Leo Kupper -Complete Electronic & Voices Works 1961-1987 [3 CDs] (Sub Rosa)
continued...