September 22, 2023:

A bit of a cheat with this blog entry, as the week was completely consumed with three sales that we've been preparing for: the 2023 Autumn Hat Sale, a 20% off selected vinyl sale, and the 4th Wilmington Vinyl Record Show! It's been a lot, and while we've been preparing for that, our receiving area was presented with new packages from Fou Records (especially Joëlle Léandre and the reissue of Daunik Lazro / Carlos Zingaro / Sakis Papadimitriou / Jean Bolcato), Intakt (especially Evan Parker & Matthew Wright's Trance Map + w/Peter Evans & Mark Nauseef), ESP-Disk (the first Matthew Shipp Trio album reissued), Black Truffle (the insanely great trio of Joe McPhee, Mette Rasmussen & Dennis Tyfus), Tao Forms (James Brandon Lewis' Red Lily Quintet take on Mahalia Jackson), Rune Gramoffon (Hedvig Mollestad), and Nomart Editions & Epigraph Records (two very distinct Tatsuya Nakatani duo albums).

Therefore there was a lot of great listening this week, and we still have two new Intakt's for next week available to ship now, several new Fou Records that will appear next week, and also arrived, the new Kris Davis on Pyroclastic and two new Umlaut's.

The cheat part of this blog was caused by a drain pipe failure in my house, of course the most important pipe (unless you only have one bathroom ;) — the kitchen sink. 60+ years of grease appear to have closed the pipe completely, and it's a mystery how the pipe was hooked up to the sewer system, which was added a couple of decades after the house was built. That took up a lot of time this week while getting our sales and mailing lists together, and I wound up working late with the cats several nights. We got through it all, but this blog suffered — I write this now only after getting the sales launched and the mailing list sent. So the section about the record show that follows was originally published on March 2, 2023, and is only marginally modified today to talk about... what else? The weather!

More interesting writing next week I hope, though my mother, Cynthia Nevins', 85th birthday party next Saturday, which we're hosting at our house (with hopefully a new drain pipe!) will no doubt intervene and make sure my busy life stays busy!




---
Wilmington Vinyl Record Show (and Record Collector Fairs)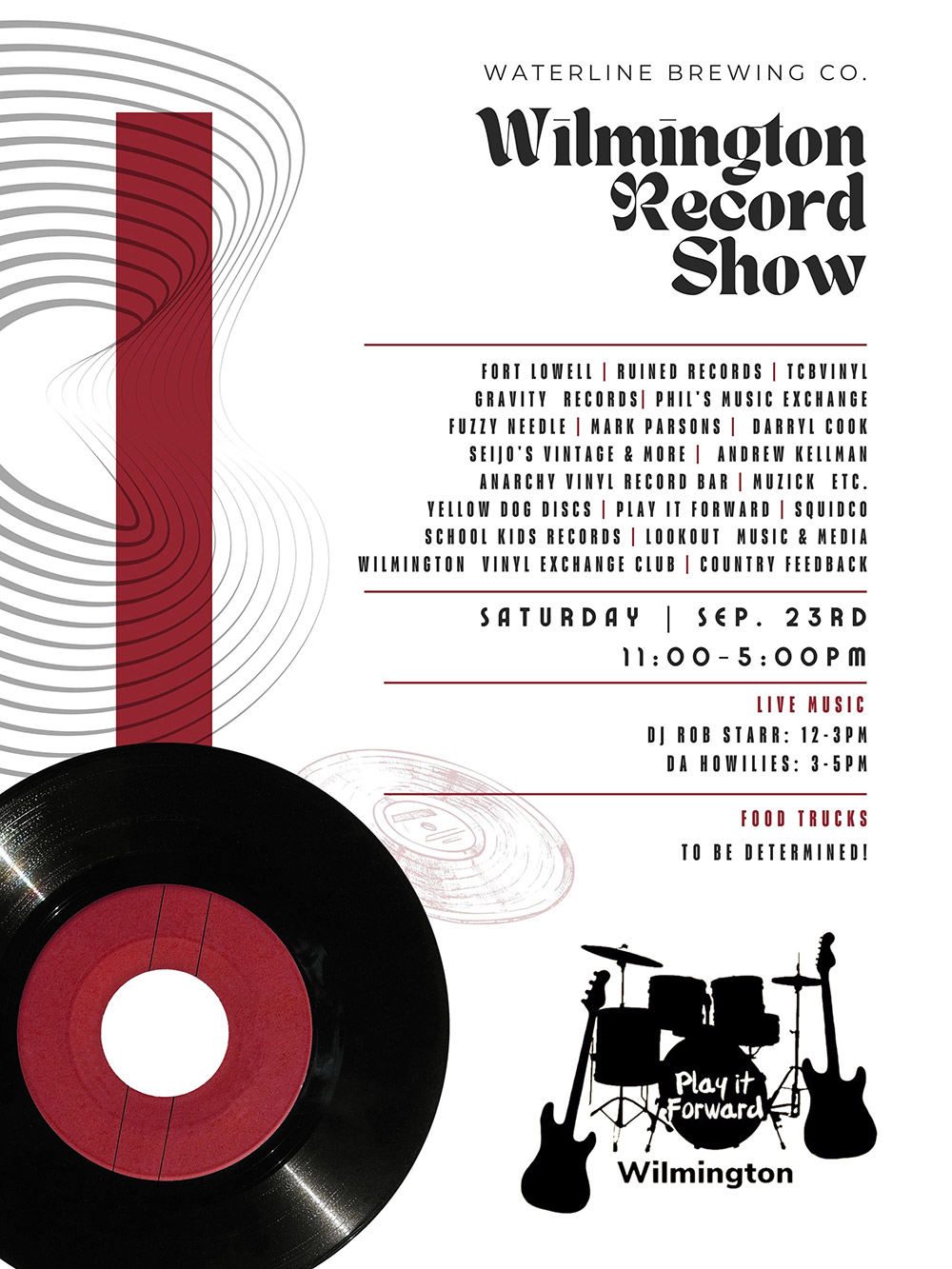 This Saturday, September 23, Squidco will be bringing boxes of albums — Vinyl and CDs — to a local record show here in Wilmington, NC. This is the 4th event for the The Wilmington Record Show, held at a local brewery that accommodates a good amount of space for the show, a DJ presentation, food trucks and plenty of parking. This year's excitement comes with a large tropical storm facing the region, but as the event is indoors with plenty of parking in their lot, our expectation is that many people will escape the rain by coming in, drinking a brew or two, and having a good look at the fascinating set of albums the vendors are bring out.
I personally have a long history with record shows, attending them in Syracuse & the Albany, NY area before Squidco, and then as a vendor in New York City and here in Wilmington; Squidco has also sold once at a show in Charleston, SC. When Squidco started out 20 years ago, our first years were lean, and we relied on a number of vending locations around Manhattan to promote our business and to sell some of the albums that were then accumulating. It was with pride and chagrin that we boxed up our albums, put them onto two-wheeled carts, and descended into the subway, to emerge and drag our music through the often questionable streets of Manhattan.
By our second year we were able to afford a car service (!) to bring out boxes to the venue, particularly the excellent WFMU Record Fair. There we met many of our customers, and many musicians who came to the show or who sold their own albums there. Like the show we'll attend this weekend, the atmosphere is festive, and the attendees, both vendors and customers, are very enthusiastic. It's a joy to see young people and their families interested in buying albums, and asking us about the music we sell. We're often a bit avant for what the average customer is searching for in this area, and we're all about new albums and not as much nostalgia... but it's fun and challenging to find an album that someone unfamiliar with contemporary/creative jazz might find interesting.
At the end of the day, just like record stores were once a meeting place for like-minded music lovers, these record shows are a chance to mingle with fellow collectors. If you happen to be in the Wilmington coastal area this weekend come by our table and say hello!
---
Squidco Publishing Roundup:
Last, updates to Squidco and The Squid's Ear over the last week. You can see our latest fully cataloged albums in our Recently Section.

You can see new albums as they enter our Just In Stock Section, meaning that we physically have an album and are able to ship it with an order, but that we're not satisfied that we've added all the information we can about that release.

You can also see recent restocks of previously listed items at our Recently Restocked page.

You can ask us to inform you via email of any upcoming release that you're interested in, with no obligation.
September 21, 2023: New @ Squidco:
James Lewis Brandon/Red Lily Quintet -For Mahalia, With Love [2 CDs] (Tao Forms)
James Lewis Brandon/Red Lily Quintet -For Mahalia, With Love [VINYL 2 LPs] (Tao Forms)
Matthew Shipp Trio -Circular Temple [CD] (ESP-Disk)
Matthew Shipp Trio -Circular Temple [VINYL] (ESP-Disk)
Evan Parker/Matthew Wright Trance Map + Peter Evans/Mark Nauseef -Etching the Ether [CD] (Intakt)
Marie Kruttli -Transparence [CD] (Intakt)
Joe McPhee/Mette Rasmussen/Dennis Tyfus -Oblique Strategies [VINYL] (Black Truffle)
Hedvig Mollestad -Weejuns [VINYL 2 LPs] (Rune Grammofon)
September 19, 2023: New @ Squidco:
Foussat/Parrenin/Rollet -Haut-Coeur [CD] (Fou Records)
Daunik Lazro/Carlos Zingaro/Sakis Papadimitriou/Jean Bolcato -Periferia [CD] (Fou Records)
Joelle Leandre/Paul Lovens -Off Course ! [CD] (Fou Records)
Emmanuel Cremer -Cinq chants d'Athenes [CD] (Fou Records)
Kris Tiner/Tatsuya Nakatani -The Magic Room [CD] (Epigraph Records)
sara (.es)/Tatsuya Nakatani -Creature In A Forest [CD] (Nomart Editions)
Rodrigues/Stoffner/Parrinha/Madeira -Altered Egos [CD] (Creative Sources)
Morgan Evans-Weiler -Correspondences [CD] (Editions Verde)
Leap Of Faith -The Symbolic Method [CD] (Evil Clown)
Simulcrum -Meditations on Reality [CD] (Evil Clown)
September 19, 2023: New Review @ The Squid's Ear: Wayne Shorter - Adam's Apple To Super Nova Revisited (ezz-thetics by Hat Hut Records, Ltd) by John Eyles.
September 18, 2023: New Review @ The Squid's Ear: Nava Dunkelman / Gabby Fluke-Mogul - Likht (Relative Pitch) by Jeph Jerman.
September 15, 2023:

This week saw a number of packages arriving to Squidco, filling in several of the promises from my last entry detailing upcoming releases. In particular, the latest from Corbett vs. Dempsey arrived, with albums from the duo of Paul Lytton & Erhard Hirt — the start of a new series from the Paul Lytton archives — and the complement to Fred Anderson's Milwaukee Tapes. Three ezz-thetics by Hat Hut, Ltd arrived, particularly the highly anticipated Charles Mingus Antibes Revisited album, and the Argentinian contemporary/improvising trio CALATO's take on John Cage's Variations and Four6. We also introduce the magnificent trio record from John Butcher / Pat Thomas / Dominic Lash / Steve Noble, Fathom on 577 Records, and introduced a truly unique trio album on Aerophonics between Farida Amadou, Jonas Cambien & Dave Rempis from their European mini-tour. And we added Scott Field's sophisticated improvising chamber ensemble paying homage to NY poet Steve Dalachinsky. Its' been quite a week of incredible listening!




---
Focus on Swiss Saxophonist Hans Koch:
I first came to the work of Swiss saxophonist Hans Koch around 1995 through the Intakt label, and the trio of Koch-Schütz-Studer. The album was titled Hardcore Chamber Music, which at the time both intrigued me and put a smile on my face. That started a long association with the band, who incorporated an exceptional set of modern ideas into their improvisation through truly unexpected collaborations; I was extremely excited by the music this trio produced through their last album in 2013, Walking And Stumbling Through Your Sleep, which added my personal favorite free improvising vocalist and story-teller, Shelley Hirsch to their group. The earliest album from Schütz and Hans Koch dates to 1990, also on Intakt in the album Approximations, which has guests including Jason Hwang, Butch Morris, Shelley Hirsch, Andrew Cyrille, Tom Cora, &c.—all artists that have been well represented in Squidco's catalog and in my own collection over the years.
From that trio, Hans Koch has had a long and distinguished career as an improviser, and we've carried a number of duo, trio and ensemble albums that he's been a collaborator in. These albums have crossed many styles including acoustic, chamber jazz and electroacoustic improvisation. His incredible technique on reeds allows a chameleonic adaptability to diverse settings and orchestration, and his approach to playing is always focused and unhurried.
Koch shows up on a number of Hat Hut related releases, both the legacy Hatology label, and in the more recent ezz-thetics by Hat Hut Records, Ltd album releases. This latest set of albums from ezz-thetics includes a fascinating duo recording with French-based Lebanese saxophonist Christine Abdelnour, a curious set of parallel recordings that find serendipitous intersections in improvisations recorded independently. Under lesser players this is a project that might have tepid results, but the masterful skill each brings to their recordings, and their experience allowing them both to anticipate how certain sounds and phrases might come together makes for an extremely satisfying listening experience.
Below I list the albums we currently have in stock featuring Hans Koch, in a variety of configurations and on labels including Hat, ezz-thetics, Confront, thanatosis, Bruit Editions in conjunction with Neither/Nor, Herbal International, and Another Timbre.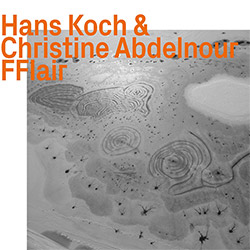 Koch, Hans / Christine Abdelnour: FFlair (ezz-thetics by Hat Hut Records Ltd)
Born from a project from the "Jazz in Chur" association where Swiss jazz musicians team up with a musical partner from a country with a different language and cultural region, here between Swiss saxophonist Hans Koch and Lebanese saxophonist Christine Abdelnour, the two recording their half of the duo independently, joined in the studio and split left & right for a stunning and unanticipated collaboration.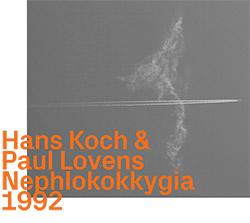 Koch, Hans / Paul Lovens: Nephlokokkygia 1992 (ezz-thetics by Hat Hut Records Ltd)
1992 live performances demonstrating masterful freedom in improvisation, recorded while on their first tour as a duo after working together in larger ensembles, from Hans Koch on clarinet, bass clarinet and tenor & soprano saxophones, and Paul Lovens on drums, cymbals, gongs & musical saw, in four live improvisations from Bulgaria presented in the order recorded.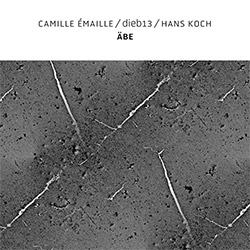 Emaille / dieb13 / Koch: Abe (Confront)
An impressive set of recordings from the electroacoustic improvising trio of Camille Émaille on percussion, dieb13 on turntables and Hans Koch on soprano sax, clarinet & bass clarinet, recording live in Switzerland at Le Singe and at Poestremeis for eleven intricate exchanges of mystery and suspense using remarkable technique and patient attention to each player's contribution.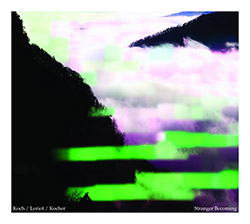 Koch / Loriot / Kocher: Stranger Becoming (Bruit Editions + Neither / Nor Records)
Singular but not strange improvisational intersections from this Swiss trio of open-minded and masterful musicians--Hans Koch on clarinet, Frantz Loriot on viola and Jonas Kocher on accordion--highly compatible collaborators who have developed a unique language of chamber-oriented free improvisation that experiments at the convergence of compositional and chamber jazz forms.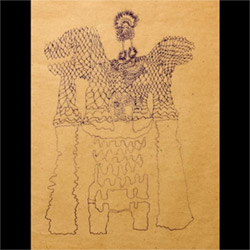 Bothen, Christer: Ambrosia [3 CD BOX SET] (thanatosis produktion)
Swedish contrabass clarinetist Christ Bothen in six extended works, the first and third disks a series of solo works using incredible technique and concentration, the 2nd disc a large work in an ensemble with fellow deep reedists Hans Koch & Per Texas Johansson, double bassist Vilhelm Bromander, pianists Kristine Scholz & Tisha Mukarji, and a spectral narrative from Sofia Jernberg.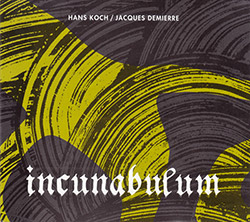 Koch, Hans / Jacques Demierre: Incunabulum (Herbal International)
A unique pairing of reeds, piano and spinet captured live at Le Singe Club in Biel, Switzerland in 2018 between multi-reedist Hans Koch and keyboardist Jacques Demierre, a wild ride from frenetic interaction to introspective experimental, both using unusual techniques and Demierre playing inside his keyboards, a truly excellent and thrilling concert.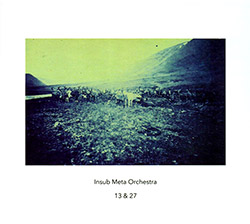 Insub Meta Orchestra: 13 & 27 (Another Timbre)
Coordinated and composed by d'incise and Cyril Bondi, this incredible Swiss-based collective of 30 to 40 experimental musicians was founded in 2010 and has presented concerts and recordings since; this CD presents two works, "13 unissons" splitting the orchestra into 13 subgroups; and "27 times" where each musician plays 27 times in 30 minutes; phenomenal.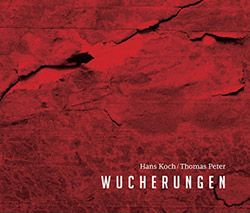 Koch, Hans / Thomas Peter: Wucherungen (Herbal International)
A dynamic set of wind and object improvisations from multi-reedist Hans Koch, using extended techniques to elicit a diverse and astounding range of sounds from his instruments, and Thomas Peter creating indescribable sound on amplified objects and live electronics.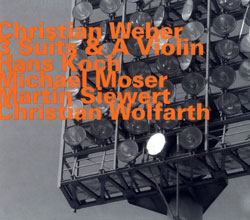 Weber, Christian: 3 Suits and A Violin (Hatology)
"What Christian Weber and Co. have achieved on 3 Suits & A Violin is a music that eschews formulaic approaches and instead temper their group sound in dense laminations of texture and sonic residue. The result is an arresting music which combines elements of group-improvised minimalism, electro-acoustic improvisation and avant-garde chamber music into a texturally rich exploration of detailed noise texture... In Christian Weber's work noise has become closely connected to the repertoire, that his music sits very comfortably within this, as if to question if, then, noise has such a natural and reflexive occurrence on the instrumental practice, so then, he constructs pieces which are bathed in these static residues and phantom details."-Dean M. Roberts, from the CD liner notes
---
A Single Shipp:
New York pianist Matthew Shipp seems to be omnipresent of late, at least in Squidco's catalog. At the moment he is listed in a staggering 89 in-print albums in our catalog, across labels including ESP, ezz-thetics by Hat Hut, Ltd, Hatology, Tao Forms, Mahakala, FMR, Aum Fidelity, Leo Records, RogueArt, Relative Pitch, &c. His collaborations with saxophonist Ivo Perlman alone make up 32 of those albums!
Found so frequently in the company of some of New York's finest, it's a joy to focus on his solo work. Unaccompanied, one can follow the very specific approach to the keys that is unique to Shipp's playing. I personally enjoy the sense of logic that I hear behind his improvisations, the feeling that he's pushing himself to say exactly what motivates a particular melodic line or complex structure. I feel a sense of mathematics in his playing, which doesn't imply tedium in any way, but more a sense of order and reasoning that brings an allure to his recordings. In fact, one of his album's titles on the Aum Fidelity label is The Piano Equation, a title that resonates with me as a listener.
Below I list Shipp's latest solo album on the Mahakala label, The Intrinsic Nature Of Shipp, followed by the other four Shipp solo albums that we currently have in stock.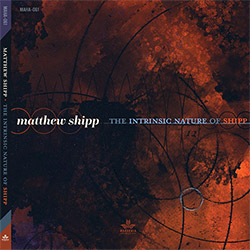 Shipp, Matthew: The Intrinsic Nature Of Shipp (Mahakala Music)
Recording in the studio in NYC in 2023, pianist Matthew Shipp presents ten concise improvisations, forcefully powerful statements from energetic complexities to contemplatively inventive abstractions, at times explicitly referencing jazz tradition with an innate lyricism, at times bulldozing through tradition to create something uniquely Shipp.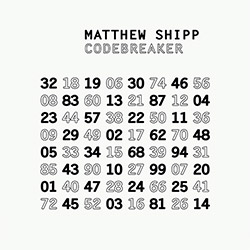 Shipp, Matthew: Codebreaker (Tao Forms)
An unusually contemplative solo record from New York pianist Matthew Shipp, belying the intricately subtle density of his inventive approach to solo piano improvisation, with an innate lyricism through unusual motive and direction; perhaps one of the most succinct and concise albums Shipp has released, and a beautiful reflection of his creative intentions.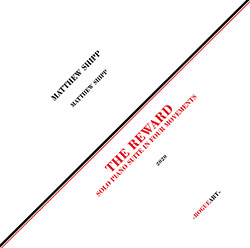 Shipp, Matthew : The Reward [VINYL 2 LPs] (RogueArt)
One of the most distinctive and introspective voices on the piano in modern improvised music, New York pianist Matthew Shipp presents a solo suite in four movements, each movement a side of this magnificently produced double LP, released to coincide with his 60th birthday, including liner notes from late poet and collaborator Steve Dalichinsky; a wonderful gift for 2020.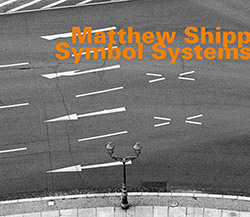 Shipp, Matthew : Symbol Systems (Hatology)
Originally issued in 1995 on the No More Records label, this was New York pianist Matthew Shipp's 6th release as a leader and first solo album, still a rarity in his discography, as we hear Shipp in 14 succinct improvisation that explore texture, tone, and his frameworks that embrace a structured approach to theoretical aspects of the music with warmth and lyricism.
September 14, 2023: New @ Squidco:
Charles Mingus -At Antibes 1960, Revisited [CD] (ezz-thetics by Hat Hut Records Ltd)
CALATO / John Cage -Variations + Four6 [CD] (ezz-thetics by Hat Hut Records Ltd)
Hans Koch / Christine Abdelnour -FFlair [CD] (ezz-thetics by Hat Hut Records Ltd)
Amadou / Cambien / Rempis -On The Blink [CD] (Aerophonic)
Rodrigues / Parrinha / Flak / Santos -Die Zwitscher-Maschine [CD] (Creative Sources)
Francisco Meirino / Jerome Noetinger -Drainage, In Six Parts [CD] (Klanggalerie )
Kromeshna / Chefkirk -Surfaces [CD] (Besperech')
AUTORHTYHM -Songs for the Nervous System [VINYL] (thanatosis produktion)
Leap Of Faith -Coherent Alternatives [CD] (Evil Clown)
continued...