January 8, 2021:

I have tried to focus on our usual purchasing/cataloging/publishing tasks here at Squidco & The Squid's Ear, but events of the last few days have been incredibly distracting. Despite the seditious behavior that stems from the divisive words of our exiting president, I am looking at this period in as optimistic a view as possible. This country has rejected the creeping tyranny and anti-Democratic aspirations from a cult leader and a liar. We have chosen moderation, and we have a unified legislative house for the first time in many years. The eyes have been opened to many legislators, though sadly by the barrel end of a gun brought by rabid supporters of their own party, inside the supposed sanctity of a seat of government. May it be a defining moment here and abroad that extremism is a fast burning fuse that can only end in explosion.

For Squidco, a company founded on cooperative music with a global view of freedom and the open exchange of ideas, I welcome a return to a more measured approach in governance. We need to open borders, not seal them, and listen with open ears to the voices of the people, voices that deserve to be heard well above the bluster of a single egomaniacal individual.
---
Phew ... I needed to get that off my chest. Now I'd like to get back to the music!
Anyone watching the site will see that we've awoken from our holiday stupor, and we're starting to publish on our typical busy schedule. A number of purchases are in place and on their way to us, or just arrived, the most exciting to my ears being new releases on FMR, RogueArt, Ayler Records, Notice Recordings, Creative Sources, Mikroton Records, and Matchless Records. Here's the list, which should be arriving over the next couple of weeks, with FMR on our desks currently. If you would like us to notify you when any of these releases are physically in stock and available for purchase please use our upcoming releases page.
Paul Dunmall with Metcalfe / Owston / Jozwiak: Unmasked (FMR)

Udo Schindler / Jaap Blonk: Lakefront Discussions (FMR)

Jeam Nichel Van Schouwburg / Lawrence Cassserely / Yoko Muira: Arcturus Sverdrup Balance On Tour (FMR)

Paul Dunmal Sextet: Cosmic Dream Projection (FMR)

Martin Blume / Lou Houtkamp / Steve Beresford: Shed 1 (FMR)

Udo Schindler / Ove Volquartz: Tales About Exploding Tress And Other Absurdites (FMR)

Marcelo Dos Reis / Onno Govaert / Kristian Martinsson / Luis Vicente: In Layers Pliable (FMR)

Udo Schindler / Damon Smith / Karina Erhard: The Munich Sound Studies Vol 1 (FMR)

Udo Schindler / Damon Smith / Jaap Blonk: The Munich Sound Studies Vol 2 & 3 (FMR)

Hernani Faustino / Joao Madeira: dB Duet (FMR)



Crispell / Prevost / Smith: concertOTO (Matchless)



NOI TREI (Gestalder / Marion / Becheanu): 3 vues d'un paysage / 3 views of a landscape (Creative Sources)

Biliana_Ernesto_Rodrigo: White Bricks And The Wooden Mutes (Creative Sources)

Pesce / Forestiere: Anthropolitan Chorale (Creative Sources)

WERCKMEISTER (Eichenberger / Ludwig Hubsch / Nillesen / Zoubek): Musik (Creative Sources)

Perepelycia, Alexis: Esos Fantasmas (Creative Sources)

Mitzlaff, Ulrich: Transparent - fluorescent sound fibres (Creative Sources)

Microfiche (Alduca / Calligeros / Conner / Gill / Manojlovic / Murphy-Haste / Schack-Arnott): Everything and Other Infinities (Creative Sources)

Denzler / Rodrigues / Moimeme: Immobility and Movement (Creative Sources)

Parrinha / Moimeme / Santos: A silent play in the shadow of power (Creative Sources)

Mortagua / Rodrigues / Andrade: Springtime (Creative Sources)

Takatsuki Trio Quartet (Marwedel / Schubert / Okuda / Virtaranta / Weitzel): Live in Hessen (Creative Sources)

Sanchez / Moser: Inscape (Creative Sources)

Drasler / Pascolo / Novello: odboqpo (Creative Sources)

Varela / Trinite: Alba (Creative Sources)

Sung / Rose: Map of Dreams (Creative Sources)

String Theory: Musique Placide (Creative Sources)

Isotope Ensemble: Helium (Creative Sources)

IKB: Limosa limosa (Creative Sources)



Steve Baczkowski/Bill Nace: Success [CASSETTE + DOWNLOAD] (Notice Recordings)

Fred Lonberg-Holm: Lisbon Solo [CASSETTE + DOWNLOAD] (Notice Recordings)

Jessica Ackerley / Patrick Shiroishi: Extremities [CASSETTE + DOWNLOAD] (Notice Recordings)

Jacob Wick / Claire Rousay: I Let a Song Go Out of My Heart [CASSETTE + DOWNLOAD] (Notice Recordings)



Helary / Rayon / Gilbert / Lavergne: Sylvaine Helary's Glowing Life (Ayler)

Souchal / Nick / Lazro / Cappozzo: Neigen (Ayler)



Abrams', Joshua Cloud Script: Cloud Script [CD] (RogueArt)

Matthew Shipp & Evan Parker: Leonine Aspects (RogueArt)

Paul Dunmall & Matthew Shipp & Joe Morris : The Bright Awakening (RogueArt)

Tronheim Jazz Orchestra & The Maxx: Live (MNJ)

Elliott Sharp: Presents I Never Metaguitar 5 (Klanggalerie)



MKM: Norbert Moslang, Jason Kahn, Gunter Muller: Bangalore [VINYL] (Mikroton Recordings)

PERIFERIYA: Christian Kobi / Tomas Korber / Kurt Liedwart / Christian Muller / Mikhail Myasoedov / Boris Shershenkov : Boundary Scan [VINYL 2 LPs] (Mikroton Recordings)

SCHNEE: Christof Kurzmann / Burkhard Stangl : Cher [VINYL] (Mikroton Recordings)


---
Before the year's end we published our Customer Top 40 by Customer Orders list, which we think of as our most important list of the year. That said, I had hoped to publish my own list of top releases from 2020, a daunting task given that, according to our database, we added 790 new albums during the year(!) Given how unusual the year was, it makes sense that physical releases would have a very good year, and that labels would be very concentrated on getting albums to listener's ears.
My listening habits are, by choice and by force, unusual for most listeners, as I listen to everything that we list on our website. Some albums are heard one time only, and I'll admit that a very few are skipped around within their tracks... But the most interesting to my tastes are played multiple times, making it to my home or car and joining my permanent collection. I list just a few here, with brief comment beyond the abstract that I wrote for each.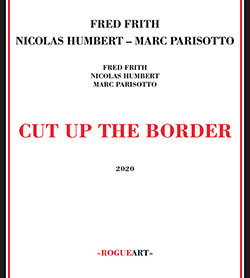 Frith, Fred / Nicolas Humbert / Marc Parisotto: Cut Up The Border (RogueArt)
Filmakers and composers Nicolas Humbert and Marc Parisotto revisit the tapes recorded by Jean Vapeur for the film by Humbert & Werner Penzel, "Step Across the Border" with soundtrack by Fred Frith, extracting more of Vapeur's fascinating field recordings and adding music by Fred Frith with additional music & voice from Tom Cora, Iva Bittova, John Zorn, &c.
Additional comment: Fred Frith's Middle of the Moment was a revelation to me in studio composition and pacing when I first heard it back in 1995. This album extends that album with additional material composed roughly 25 years later. It's a welcome addition to an album I have played frequently over the years, as both inspiration and escape from the tedium of life. Having it come out on one of my favorite current labels only makes me like this more, as I discovered Middle of the Moment by following the family around one of my still-favorite labels, Recommended Records.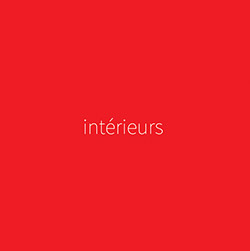 La Casa, Eric : Interieurs (Swarming)
A stunning exploration of interior architecture through recordings of the elements of three spaces including La Casa's own apartment, finding micro and macro-scopic sound in common elements that he uses to create fascinating compositions reflecting both the captivating fullness and stillness of each space, as the composer questions his relationship with each space.
Additional comment: Being a frequent hobbyist in capturing field recordings and constructing studio compositions using them, La Casa has been an inspiration for a number of years. This examination of a location near and dear to him showcases his profound skills at both skills.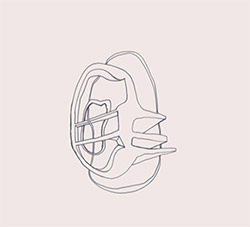 Davies, Rhodri: Telyn Rawn (Amgen Records)
Dating back to the 13th century in Wales, the Telyn Rawn is a nearly forgotten horsehair harp; UK improvising harpist Rhodri Davies researched the instrument and its unique sound, commissioning the construction of a harp on which he performs 18 improvisations of impressive technique and sonority, launching his new Amgen Records label with this album named for the instrument.
Additional comment: Follow the links to the videos of Davies constructing, playing and discussing the Telyn Rawn to fully appreciate this album.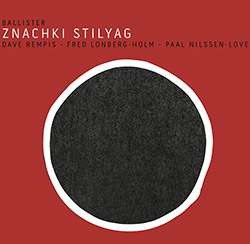 Ballister: Znachki Stilyag (Aerophonic)
The tenth year of the working and touring international Ballister trio of Dave Rempis on alto & tenor saxophones, Fred Lonberg-Holm on cello & electronics, and Paal Nilssen-Love on drums & percussion, here in an outrageously powerful yet explorative concert at Dom Cultural Center, in Moscow, Russia in 2019, a fierce example of what this band is capable of.
Additional comment: Three of my favorite players in a trans-Atlantic band that has a long history of profound and powerful improvisation; what's not to keep this one spinning?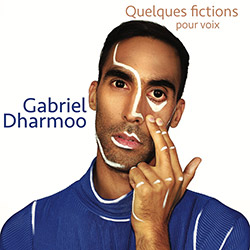 Dharmoo, Gabriel : Quelques fictions (Ambiances Magnetiques)
Stunningly unusual vocal music from composer, music researcher and vocalist based in Montreal, Gabriel Dharmoo, collecting works from 2012 to 2019, performed with small and large ensembles using almost completely wordless voice, utterance, guttural sound, swoops and, melodic flights, augmented with physical percussion like stamping and clamping; brilliant and enthralling.
Additional comment: The Montreal collectives and performer orbiting Ambiances Magnetiques consider to surprise and delight. Gabriel Dharmoo was a new name to me in 2020, but his vocal music is incredibly sophisticated and remarkably creative. His depth of interest and inquisitive nature shows through on this album, with a diverse set of ideas that make this album a unique joy.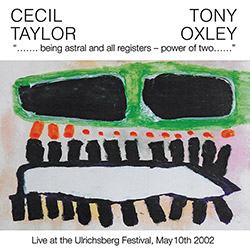 Taylor, Cecil / Tony Oxley: Being Astral And All Registers - Power Of Two (Discus)
Taken from the personal archives of UK drummer/percussionist Tony Oxley, this extremely well recorded duo session with frequent collaborator, iconoclastic NY pianist Cecil Taylor, are heard in a live performance at the Ulrichsberg Festival, Austria in 2002 for a brilliantly frenetic and masterfully controlled, creative set of two jaw-dropping extended dialogs.
Additional comment: Let's hope that more gems like this album, so perfectly recorded and filled with such imposing creative mastery, are hiding in other collections waiting to be released. Wow!
Rodrigues / Rodrigues / Faustino / Pinheiro / Carneiro: The Book of Spirals (Creative Sources)
Not your average Creative Sources releases, the father/son collaboration of Ernesto Rodrigues on viola and Guilherme Rodrigues on cello are joined by 2/3 of Red Trio — Hernani Faustino on double bass and Rodrigo Pinheiro on piano — with Pedro Carneiro on marimba, for an impressively active set of Swirling, Whirling and Twirling improvisations.
Additional comment: Creative Sources has a remarkably prolific release schedule, and label director, violist and composer Ernesto Rodrigues is well represented on his label. It's virtually impossible to point out a single release from the set that I consider the finest, I've become a strong adherent to his unique approach to improvisation. This album, with members of Red Trio, who more frequently inhabit Creative Source's orbit, is a great example of his small group work, non-idiomatic and allowing great freedom to all peformers.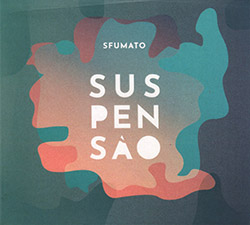 Suspensao: Sfumato (Creative Sources)
A substantial live work from the 2019 CreativeFest XIII at O'Culto da Ajuda in Lisbon from the improvising ensemble Sfumato lead by violist Ernesto Rodrigues, fulfilling the title of the album in great tension and suspense as the 11 members improvise, generating waves of activity between concentrated and meditative moments, an incredible example of power and restraint.
Additional comment: The other impressive aspect of the Creative Sources catalog are the larger ensemble works, both acoustic and electroacoustic. This is a fine example of the latter, demonstrating the restraint of the ensemble's movements, and how unified these players are in concept and momentum.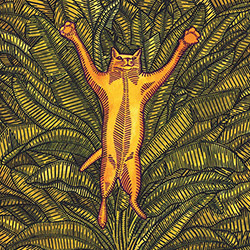 Marsella, Brian: Gatos Do Sul (Tzadik)
Pianist and composer Brian Marsella leads an all-star octet including Cyro Baptista, Mark Feldman, Jon Irabagon performing Marsella's lyrical and upbeat compositions inspired by classical, jazz, and folkloric Brazilian music and influenced by composers from Ernesto Nazareth, Heitor Villa-Lobos and Pixinguinha to Baden Powell and Egberto Gismonti; irrepressible!
Additional comment: Marsella's lyricl writing made this a go-to record for cooking and pleasurable listening after a long day's work. The upbeat and exuberant rhythms creating foundations for each composition are a joy, whisking each player along in a great and radiant set of Brazilian-influenced jazz tracks.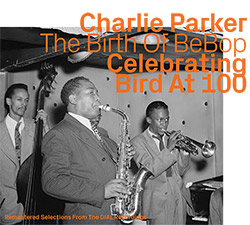 Parker, Charlie : Selections From The DIAL Recordings (ezz-thetics by Hat Hut Records Ltd)
The first of two volumes in celebration of legendary saxophonist Charlie Parker's 100th birthday, here remastering his landmark recordings for the Dial label on the US West Coast between 1946-47, performing with jazz greats including Miles Davis, Lucky Thompson, Erroll Garner, Barney Kessel, Red Calender, JJ Johson, Max Roach, &c. for some of Parker's best known and essential compositions.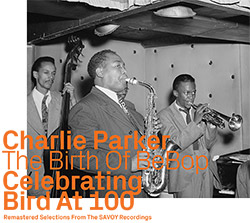 Parker, Charlie : Selections From The SAVOY Recordings (ezz-thetics by Hat Hut Records Ltd)
The second of two volumes in celebration of legendary saxophonist Charlie Parker's 100th birthday, here remastering his landmark recordings for the Savoy label in New York City between 1945-48, performing with jazz greats including Bud Powell, Dizzy Gillespie, Miles Davis, John Lewis, Curley Russel, Max Roach, &c. for some of be-bop's finest and best known compositions.
Additional comment: Discovering Parker's Dial releases changed my understanding of the history of jazz, both because of the solidity of Parker's compositions and playing; and because of the boldness of their introducing new concepts into the tradition. I bought some of the original LPs from a radio reviewer in Oswego, NY who was selling off his collection. Scratchy and written on with ball-point pen, I was thrilled to discover the music. Peter Pfister's remastering, as he always does, brings out nuance that I haven't heard in any prior reissue of this material.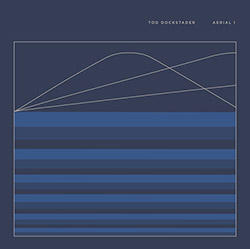 Dockstader, Tod: Aerial 1 [VINYL 2 LPs] (Important Records)
The first in a 3-part series of vinyl releases for Tod Dockstader's "Aerial 1-3", his major work of electronic drone environments developed over 15 years, using over 90 hours of shortwave radio sources, cross signals and fragments, creating vast atmospheric clouds from which emerge voices, mutated conversations and unexpected patterns; amazing!
Additional comment: More inspirational soundwork from one of the early greats of electronic composition. Dockstader's lack of academic education as a musician, armed only with his engineering skills, and his persistence and insight into electronic music, makes his output even more inspiring.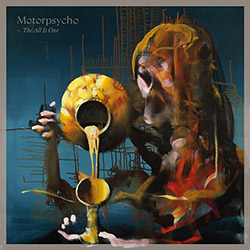 Motorpsycho: The All Is One [2 CDs] (Rune Grammofon)
Led by Bent Sæther, Hans Magnus Ryan and Kjell Runar Jenssen, this Norwegian prog-oriented improvising rock band is perhaps one of the finest active currently, here in a double album featuring music from 2 sessions, the 1st at Black Box Studio in France with Reine Fiske (Dungen), and the 2nd at Ocean Sound Studio in Norway with Lars Horntveth (Jaga Jazzist) and Ola Kvernberg (Steamdome).
Additional comment: I very often listen to rock forms while driving around town, and this album went into heavy rotation in my little Kia Soul. This is a band with many interests and a sound that only players who have worked so long together could achieve. In a year of insane politics, the message of unity that opens the album is welcome, but the real core of this album is found in the epic work of tracks like "N.O.X."
There are 23 or more other records I definitely should have and have failed to include here; perhaps I'll write a second set in the future. But these are the records that came to mind as I reflected back on 2020. Which is a much nicer thing to reflect on rather than pandemics, political turmoil and social unrest!
---
Squidco Publishing Roundup:
I end with a list of updates to our site and The Squid's Ear over the last couple of weeks. You can always keep up with the latest additions to our catalog as they enter our Just In Stock Section, meaning that we physically have an album and are able to ship it with an order. You can also see recent restocks of previous items at our Recently Restocked page. You can see a list of the releases we're anticipating on our upcoming releases page, where you can request that we inform you via email of any release that you're interested in, with no obligation to purchase.
January 7, 2021: New @ Squidco:
Susan Alcorn Quintet -Pedernal [CD] (Relative Pitch)
Eric La Casa/Jean-Luc Guionnet/Arnau Horta/Seijiro Murayama/Michaele-Andrea Schatt -Installations [CD + 24 page booklet] (Swarming)
Femme/Sunk Heaven/Jeph Jerman/Somnoroase Pasarele -7 & 7 : VOL. 1 [VINYL 2 7-inch BOX] (SpleenCoffin)
Rafal Mazur (feat. Satoko Fujii/Guilleromo Gregorio/Ramon Lopez/Natsuki Tamura/Artur Majewski) -The Great Tone Has No Sound [4 CDs] (Listen! Foundation (Fundacja Sluchaj!))
Kier Neuringer/Rafal Mazur -The Continuum [CD] (Listen! Foundation (Fundacja Sluchaj!))
Marco Colonna/Alexander Hawkins -Dolphy Underlined [CD] (Listen! Foundation (Fundacja Sluchaj!))
Elisabeth Harnik/Steve Swell -Tonotopic Organizations [CD] (Listen! Foundation (Fundacja Sluchaj!))
Kaluza/Majewski /Mazur /Trilla -The Night of the Swift [CD] (Listen! Foundation (Fundacja Sluchaj!))
Bernard Santacruz/Michael Zerang -Cardinal Point [CD] (Listen! Foundation (Fundacja Sluchaj!))
January 7, 2021: New Review @ The Squid's Ear: Frank Denyer - The Boundaries Of Intimacy (Another Timbre) by Massimo Ricci.
January 7, 2021: New Review @ The Squid's Ear: Zeena Parkins & Jeff Kolar - Scale (Two Rooms) by Dave Madden.
January 5, 2021: New @ Squidco:
Mary Halvorson's Code Girl -Artlessly Falling [VINYL 2 LPs] (Firehouse 12 Records)
revor Watts (feat. Moire Music Drum Orchestra/Mark Hewins/Jamie Harris/Gibran Cervantes) -A World View [5 CDs] (Listen! Foundation (Fundacja Sluchaj!))
Chris Cundy -Mountains [CD] (Aural Terrains)
Jaap Blonk/Lou Mallozzi/Ken Vandermark -Improvisers [CD] (Kontrans)
Antoine Beuger/Apartment House -Jankelevitch Sextets [CD] (Another Timbre)
Maya Verlaak -All English Music is Greensleeves [CD] (Another Timbre)
Newton: Armstrong Plus Minus Ensemble; Severine Ballon -The Way To Go Out [CD] (Another Timbre)
Judith Hamann -Days Collapse [CD] (Another Timbre)
Martin Arnold -Stain Ballads [CD] (Another Timbre)
Pek Solo -Pursuing the Ideal Limit of Inquiry [CD] (Evil Clown)
continued...