August 12, 2022:

Just a few comments of a mostly non-musical nature, and mostly about our website. The weather has been exceptionally hot here, in fact today is the first day in weeks below 90ºF (about 32ºC). That's kept us inside a lot, catching up on the backlog of new releases I've mentioned in my last few entries, and planning our purchases for the imminent autumn.

It's also allowed us to make some necessary changes to our website, and to prepare for some larger changes over the next few weeks.

The first change was initiated by a very disturbing discovery - about a month ago a customer inquiry led us to realize that many emails being sent through our website were being blocked. It was a worst case because neither the sender nor Squidco had any way of knowing that the emails were blocked, as no "bounce" message was generated on either side. We immediately contacted our email provider, who are separate from our shopping cart site, and they helped us to identify the blocking entity and resolve the issue.

The frustrating part of this problem is that some requests for pre-orders in our Upcoming Releases page were not getting to us, nor were some "Request Email Notification on Restock" requests for out of stock products. The block was not about Squidco, it was about the customer's email address; for instance, no Yahoo.com email address was being delivered to us, despite many customers having such addresses. This is a worst case scenario to me as we had no control over who could or couldn't send messages, and to the customer who alerted us to the problem, it seemed like we weren't doing our job. In reality we can chastise global spammers for causing this problem and the need to control spam, but also chastise the entities that try to control said spam without finding a method to notify legitimate mail transactions. This modern life...

The issue is resolved now, we believe, and I would note that any request you send for pre-orders or notification should get a reply directly from us when we've processed the request. If you don't, please email us directly at sales@squidco.com to ensure that we received the request.




---
Navigation Changes & The Shrinking Screen:
I also want to mention the changes to the website that no doubt you've noticed if you've visited Squidco recently. In a nutshell, I have been working on removing the left navigation bar, and moving the links and information there to the main section of each page, either at the top navigation menu or at the footer of each page. This has caused a shuffling of functions and links that may have made customers search and scratch their heads while looking for familiar links. And the changes aren't quite done yet! Please feel free to contact us with any feedback on link and navigation locations, or about the site in general.
The reason behind the changes are to make a more consistent site for most important navigation links. A number of link clusters, like the "New in..." categories, have been available on selected pages, and a number only on the home page. Over the years a number of links were also duplicated or redundant, or simply outdated. We also had three "About Squidco" pages that repeated a lot of information, a few inconsistent layout elements, and the left navigation bar was becoming very long and less organized than I would like. I "blame" it on the music, as we spend most of our days cataloging and researching artists and albums, and seeking out new labels and musicians. But that doesn't defend the creep of arcane layouts and navigation elements that were becoming quite long in the tooth.
I also should point out that the fundamental navigation for Squidco was defined 19 years ago (20 years this coming January!) At that time most customers used desktops or laptops to access our site, and I (incorrectly) assumed that the future would mean that we would be designing for increasingly larger devices. That has changed, and many customers use pad computers and phones to access our site, and the truth is, we don't scale very well for those environments.
So the ultimate goal with these changes is to make the site useful and informative for those visiting Squidco on any sized device. Over the next months as we lead up to our 20th Anniversary, you will see the left navigation bar fade away and Squidco will become much friendlier to the narrow confines of smart phones. Along the way I'm sure some strange mistakes and omissions will be introduced, so feel free to pester me when they do. Our goal is always to give our customers a good experience when visiting us, and my hope is that these changes will do just that!
---
A Few Choice Selections:
As I've spent so much time on programming code and not as much on writing about music, I will simply share with you the new music that has accompanied my programming time. A number of really great records have arrived over the last few weeks, and here are a dozen of my personal favorites, that have helped me get through some of the more intricate changes to our site.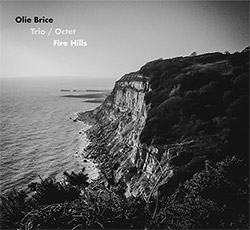 Brice, Ollie (w / Challenger / Glaser / Yarde / Musson / Crowley / Bonney / Macari / Roberts / Hunter): Trio / Octet: Fire Hills [2 CDs] (West Hill Records)
Trio & Octet compositions from UK double bassist Olie Brice: "Fire Hills" in five parts, commissioned by Jazz South and performed by the trio of Brice, Tom Challenger (sax) and Will Glaser (drums); then three pieces including the title track, with Alex Bonney & Kim Macari (trumpets), Jason Yarde, George Crowley, Cath Roberts & Rachel Musson (saxophones), and Johnny Hunter (drums).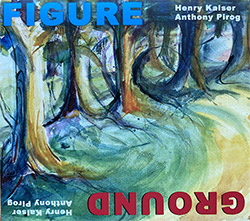 Kaiser, Henry / Anthony Pirog: Figure / Ground (Ramble Records)
A gorgeous album of duo work from West Coast guitarist Henry Kaiser and D.C. guitarist Anthony Pirog, creating "ground" structures of beautifully rich harmonics over which "figures" of virtuosic guitar playing emerge and submerge, the overlap creating almost hallucinatory effects as the listener is transfixed somewhere between exquisite foregrounds and backgrounds.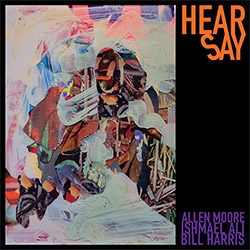 Moore, Allen / Ishmael Ali / Bill Harris: Hearsay (Amalgam)
Unusual textures, unlikely orchestration and unconventional rhythmic directions from the Chicago electroacoustic improv trio of Allen Moore on turntables & records casted with various material, Ishmael Ali on cello, guitar & electronics and Bill Harris on drums & percussion, captured live at Marmalade in Chicago in 2021 for a diverse set of experimental and absorbing improvisations.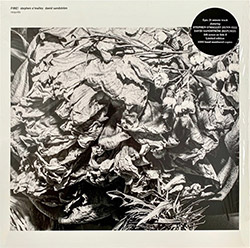 Fire! w/ Stephen O'Malley / David Sandstrom: Requies [VINYL 1-SIDED EP w/ SCREEN PRINT on B-SIDE] (Rune Grammofon)
A one-side EP with a screen print on the B-Side, of a raucous, dark and incredibly epic journey in heavy electric jazz from Fire! configured as the quintet of Mats Gustafsson on bass saxophone, organ & live electronics, Johan Berthling on electric bass, Andreas Werliin on drums, Stephen O'Malley on guitar and David Sandstrom on drums; awe inspiring!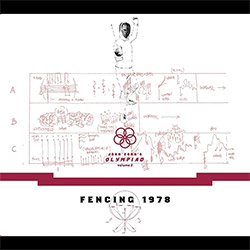 Zorn / Chadbourrne / Bradfield / Baker / Hutton: John Zorn's OIympiad - Vol. 2 Fencing 1978 (Tzadik)
Two exceptional live performances of John Zorn's interactive "Fencing" concept leading free improv into unusual directions, from the early Downtown NY scene in 1978, first at Zorn's own loft in the trio of guitarists Eugene Chadbourne, Duck Baker and Randy Hutton; then at Bard College, in Kingston, NY with Zorn on multiple reeds, Chadbourne on guitar and Polly Bradfield on violin.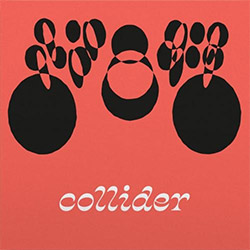 Prevost, Eddie: Collider-Scope: Or, Whose Drum is it, Anyway? (Matchless)
A series of impressive improvised solo drum performances by AMM/Matchless leader Eddie Prévost performed at Network Theatre in London, 2012, three pieces with each demonstrating a different characteristic of his remarkably creative and technically virtuosic playing, first with drum sticks, then with "Hands, brush, hands", and finally "Sticking it too".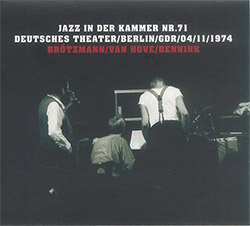 Brotzmann, Peter / Fred Van Hove / Han Bennink: Jazz in der Kammer Nr.71 (Trost Records)
Recorded for radio for the series Jazz in der Kammer Nr 71, this 1974 concert was the first in East Germany for Peter Brötzmann, Fred Van Hove, and Han Bennink, bridging the divided German states through an energetic set of improvisations that extended traditional jazz with outrageous approaches to improv in an exciting, quirky and profoundly masterful set of European Free Jazz.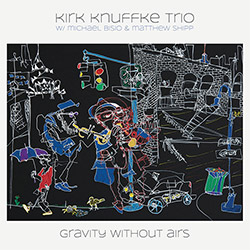 Knuffke, Kirk Trio (w/ Bisio / Shipp): Gravity Without Airs [2 CDs] (Tao Forms)
A mix of original compositions and collective improvisations from the NY trio of cornetist Kirk Knuffke, bassist Michael Bisio and pianist Matthew Shipp, in a double album of exemplary creative jazz from three players steeped in both tradition and forward-thinking approaches to improvisation, filled with spectacular playing from enthusiastic to introspective; a superb release.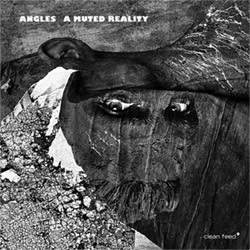 Angles: A Muted Reality (Clean Feed)
The chameleonic configuration of Angles is here an octet, in a powerfully building and passionate set of three recordings performed by Martin Kuchen (alto sax), Magnus Broo & Goran Kajfes (trumpets), Mats Aleklint (trombone), Mattias Stahl (vibraphone), Alexander Zethson (piano & synth), Konrad Agnas (drums) and Johan Berthling (double bass); exemplary.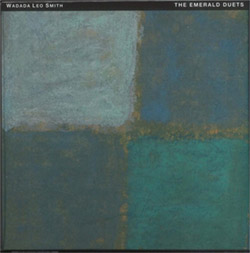 Smith, Wadada Leo: The Emerald Duets [5 CD BOX SET] (Tum)
Part of his 80th Anniversary celebration and subtitled "The Art Of The Trumpeter And Drummers", this 5-CD box set brings legendary improviser Wadada Leo Smith together with four long-time collaborators and masterful drummers--Andrew Cyrille, Jack DeJohnette, Pheeroan akLaff and Han Bennink--with Smith performing on both piano and trumpet.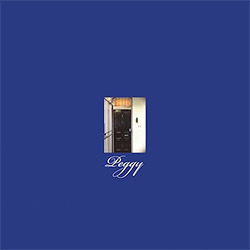 Rose, Jon / Chris Abrahams: Peggy (Recommended Records)
Two giants of Australian avant-garde music getting together here, dedicating their record to Australian composer Peggy Glanville-Hicks, whose house in Paddington, Sydney is used for residencies/sabbaticals for Australian musicians. Here Chris Abrahams brings his piano into the most challenging territory, free of traditional melody or rhythmic glue, to match the adventurous extended techniques of Jon Rose on violin.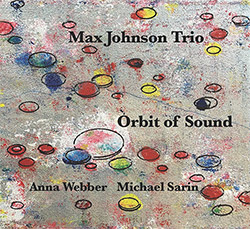 Johnson, Max Trio (w/ Anna Webber / Michael Sarin): Orbit Of Sound (Unbroken Sounds)
A new trio from NY bassist Max Johnson with Anna Webber on tenor saxophone & flute and Michael Sarin on drums, performing five lyrically inclined yet inventive compositions from Johnson, allowing distinction for each performer as they bridge sections between fluid straight-ahead playing and spaciously singular experimentation, keeping player and listener on their toes.
---




Squidco Publishing Roundup:

Below are the Squidco and Squid's Ear updates since my last entry. You can see new albums listed as they enter our Just In Stock Section, meaning that we physically have an album and are able to ship it with an order, but that we're not satisfied that we've added all the information we can about that release. You can also see recent restocks of previous items at our Recently Restocked page.

August 11, 2022: New @ Squidco:
Ollie Brice (w/Challenger/Glaser/Yarde/Musson/Crowley/Bonney/Macari/Roberts/Hunter) -Trio/Octet: Fire Hills [2 CDs] (West Hill Records)
Henry Kaiser/Anthony Pirog -Figure/Ground [CD] (Ramble Records)
Allen Moore/Ishmael Ali/Bill Harris -Hearsay [CD] (Amalgam)
Florian Wittenburg -1- Bis 4-Stimmig [CD] (Edition Wandelweiser Records)
Wade Matthews/Carmen Morales -Fall Five Improvisations [CD] (Aural Terrains)
Quatuor Umlaut (Karl Naegelen/Morton Feldman) -Calques [CD] (Umlaut Records)
Philip Corner -On Tape From The Judson Years [CD] (Alga Marghen)
Leap Of Faith -Revealing The Essence [CD] (Evil Clown)

August 9, 2022: New @ Squidco:
Fire! w/ Stephen O'Malley/David Sandstrom -Requies [VINYL 1-SIDED EP w/ SCREEN PRINT on B-SIDE] (Rune Grammofon)
Flying Luttenbachers, The -Imminent Death [VINYL 2 LPs] (God Records)
Zorn/Chadbourrne/Bradfield/Baker/Hutton -John Zorn's OIympiad - Vol. 2 Fencing 1978 [CD] (Tzadik)
Heroes Are Gang Leaders -LeAutoRoiOgraphy [BLACK VINYL] (577 Records)
Eunhye Jeong (Jeong/Burik/Ridley/Mela/Kim) -End of Time/KM-53 Project Vol. 1 [CDR] (577 Records)
John Zorn (Marsella/Roeder/Smith) -Suite for Piano [CD] (Tzadik)
Kirk Knuffke Trio (w/ Bisio/Shipp) -Gravity Without Airs [VINYL 2 LPs + DOWNLOAD] (Tao Forms)
AAVD Trio (Alexander Adams/Danny Andrade/Daniel Van Duerm) -Anti Glow [CD] (Amalgam)
Stefan Thut -Among [CD] (Inexhaustible Editions)
Amirtha Kidambi/Luke Stewart -Zenith/Nadir [CASSETTE w/ DOWNLOAD] (Tripticks Tapes)
Hippie Diktat -Gran Sasso [VINYL] (nunc.)
Richard Comte/Julien Pontvianne -Sunken Music [CD] (nunc.)

August 9, 2022: New Review @ The Squid's Ear: Eva-Maria Houben - Together on the Way (Another Timbre) by John Eyles.

August 8, 2022: New Review @ The Squid's Ear: The International Nothing (Fagaschinski / Thieke) - Just None Of Those Things (Ftarri) by Massimo Ricci.

August 4, 2022: New @ Squidco:
Albert Ayler Quintet -At Slugs' Saloon 1966, Revisited [CD] (ezz-thetics by Hat Hut Records Ltd)
Markus Eichenberger/Christoph Gallio -Unison Polyphony [CD] (ezz-thetics by Hat Hut Records Ltd)
Yaroslav Likhachev Quartet -Occasional Sketches [CD] (Clean Feed)
Ziv Taubenfeld's Full Sun -Out Of The Beast Came Honey [CD] (Clean Feed)
Daniel Carter/Watson Jennison/William Parker/Federico Ughi -Live! Volume 1: Erie [CD] (577 Records)
Chad Fowler/WC Anderson -Lacrimosa [CD] (Mahakala Music)
Daniel Carter/Jim Clouse -Playing Retention [CD] (Mahakala Music)
Kyle Motl/Patrick Shiroishi -Apparitions [CASSETTE w/ DOWNLOAD] (Notice Recordings)
Cordoba (Brianna Tong/Eric Novak/Cam Cunningham/Zach Bain-Selbo/Khalyle Hagood/Zach Upton-Davis) -Specter [CD] (Amalgam)
Michael Pisaro-Liu -Two Scrolls From Western Australia [CD] (Edition Wandelweiser Records)
Richard Comte -Derive de la base et du sommet [CD] (nunc.)

August 3, 2022: New Review @ The Squid's Ear: David Lee Myers - Intervals / Interludes (Pulsewidth) by Massimo Ricci.

August 3, 2022: New Review @ The Squid's Ear: Henry Kaiser and Rome Yamilov - The Lenoir Investigation (Little Village) by Thomas Mellish.

August 2, 2022: New @ Squidco:
Eddie Prevost -Collider-Scope: Or, Whose Drum is it, Anyway? [CD] (Matchless)
Jessica Ackerley/Patrick Shiroishi/Chris Williams/Luke Stewart/Jason Nazary -SSWAN: Invisibility is an Unnatural Disaster [CDR] (577 Records)
Kelley Hurt/Chad Fowler/Christopher Parker/Bernard Santacruz/Anders Griffen -Nothing But Love, the Music of Frank Lowe [CD] (Mahakala Music)
Christopher Parker/Kelley Hurt -No Tears Suite [CD] (Mahakala Music)
Eva-Maria Houben -4 For Four [CD] (Edition Wandelweiser Records)
Charmaine Lee/Fred Lonberg-Holm/Gabby Fluke-Mogul/Joanna Mattrey/Weston Olencki -Live in Accord [CASSETTE w/ DOWNLOAD] (Notice Recordings)
Adrianne Munden-Dixon/Leo Chang -Some Time [CASSETTE w/ DOWNLOAD] (Notice Recordings)
Physique (Sam Scranton/Neil Quigley) -Curve Tote [CD] (Amalgam)
Craig Shepard -Broken Silence [CD] (Music For Contemplation, Inc.)

Turbulence -Roughness Of Surfaces [CD] (Evil Clown)