September 16, 2021:

What's taken up much of Squidco's time this last month was our taking the role of fulfillment for the Tri-Centric Foundation, aka New Braxton House, along with the ever-evolving and prolific 577 labels. Tri-Centric released the magnificent Braxton box set Quartet (Standards) 2020, sold only through their own website, and we sent out an enormous number of those boxes in a very short amount of time.

So as much as I wanted to get back to the simple acts of writing about music, with those activities and Squidco's typically active cycles of acquisition, information and exposition, there's been little time for much else. The Braxton boxes are now shipped, we have a breather for just long enough to focus on some new releases and for me to write about them. And there are many new releases over this last month, as our publishing roundup below will attest to!




---
ZoAr Records:
We've added a number of albums over the last few weeks on the ZoAr Records label, along with back-catalog albums and a book from and surrounding Elliott Sharp. The older albums are on labels Electronic Music Foundation, Henceforth, and Knitting Factory; the book is on TerraNova Press.
I'll start with the State of the Union 2.001 3-CD set, this is Sharp's curation of 1-minute pieces from a who's-who of global composers, improvisers and performers. The album is similar to the wonderful 1980 LP Miniatures, curated by Morgan Fisher, updating the concept 21 years later with a fascinatingly broad scope of approaches, the width of which expanded through new technology & concepts. A truly amazing set!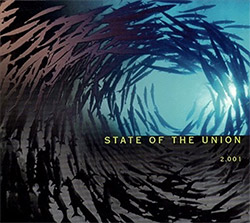 Various Artists: State of the Union 2.001 [3 CD BOX SET] (Electronic Music Foundation)
Originally released in 2001, Elliott Sharp's production of this 3-CD set collects 171 1-minute pieces from international artists over a vast field of musical approaches, with contributors including Christian Marclay, Eric Mingus, Fred Frith, Harry Smith, Henry Kaiser, Ikue Mori, Jack Womack, Jad Fair, Joey Baron, Marc Ribot, Merzbow, Phill Niblock, Zeena Parkins, &c. &c.
I've been a long-time fan of Elliott Sharp's Terraplane project, a blues rock band on the cutting edge. Since the beginning in the year 2000, bassist Dave Hofstra and blues guitarist Hubert Sumlin have been involved, as has Eric Mingus contributed his writing and voice to Terraplane's albums. Willing to take on serious topics, Sharp has worked with many poets including Dael Orlandersmith and Tracie Morris. Well known improvisers have also been involved, including trombonist Curtis Fowlkes, saxophonist Sam Furnace, pianist Anthony Coleman, saxophonist Alex Harding, &c.
As an aside, while researching Sharp's 2010 solo album Binibon, a narrative opera about a 1981 killing in the East Village, developed with and including the voice of Jack Womak (also heard on State of the Union 2001, I discovered that Womack wrote a dystopic science fiction novel in 1988 titled Terraplane, which I assume is the link to the name of Sharp's long-running and highly articulate project.
The new album Century is on point for the times, a project that started with adapting five songs from the 1934 anthology self-published by Nancy Cunard, assembling poems, writings and songs from African-American culture of the time. Little know to the predominantly white society of the time, writers include Langston Hughes and Zora Neale Hurston. Much of the language is somewhat shocking to our politically correct ears, but represents the true nature of life of the times, and the disparities of existence. It's perhaps one of the most important records I've heard in some time, ripping the veneer off and finding that so much has yet to change since the time of the book's publication.
BTW, here's a very informative interview on (tmn) The Morning News with Elliott Sharp that delves into his early work, bands and the New York scene of the early 80s.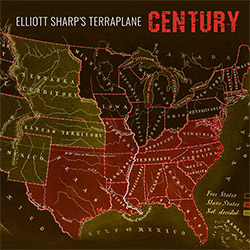 Elliott Sharp's Terraplane: Century (zOaR Records)
An unflinching look at life in post-Reconstruction America, commemorating the anniversary of Nancy Cunard's 1934 collection of African-American writings, poems, and song lyrics titled Negro: An Anthology, from Elliott Sharp's Terraplane, with vocalists Tracie Morris, Eric Mingus, Mikel Banks, and instrumentalist including Sharp, Dave Hofstra, recordings from Hubert Sumlin, &c.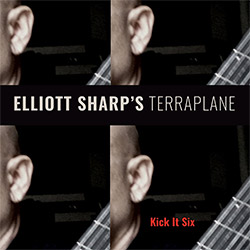 Sharp's, Elliott Terraplane: Kick It Six (zOaR Records)
The title referencing a Blind Willie McTell entreaty to himself, Elliott Sharp's contemporary blues project Teraplane truly "kicks" in 8 burning pieces of concentrated guitar work from Sharp, solo and in overdub, recording in Studio zOaR while performing on electric guitar, vong co guitar, lap steel guitar, console steel guitars, mandocello, mandola, basses & drum programming.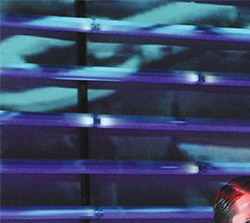 Sharp, Elliot: Binibon (Henceforth)
A modern spoken opera by NY composer Elliott Sharp and librettist/narrator Jack Womack (Terraplane) with several narrators, reflecting the events surrounding a 1981 killing in New York's East Village, set in a darkly instrumental soundtrack developed by Sharp using guitars, saxophones, clarinets, synthesizers, bass, percussion, drums programming and samples.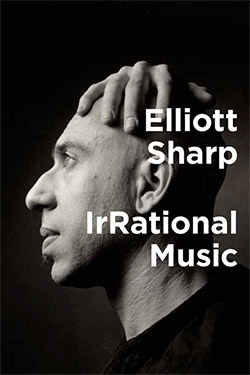 Sharp, Elliott: IrRational Music [BOOK] (TerraNova Press)
An insightful look at the history of New York composer, saxophonist and guitarist Elliott Sharp, "Sixteen Pieces in the Shape of a Memoir" as Sharp looks back at his musical influences and approach to playing and composing, with observations on music, art, politics and technology, a fascinating set of essays from a vanguard artist's point of view.
---
Spoonhunt:
Other new music comes to us from the UK in the form of the first three CDs on the new Spoonhunt label. Run by double bassist and composer Dominic Lash, the connection between this label and the FMR label will be obvious to enthusiasts of British free jazz. The three albums show three facets to Lash's work, including his own Dominic Lash Quartet with electric guitarist Alex Ward, drummer Javier Carmona and saxophonist Ricardo Tejero; his large experimental electroacoustic ensemble Consort, active since 2013; and a live concert at Cafe OTO in a quartet with John Butcher on tenor & soprano saxophones, John Russell on guitar and Mark Sanders on drums & percussion. This two quartet albums provides a clear link to the FMR label through the album Predicate with Alex Ward. Tim Hill, Mark Sander and Lash himself.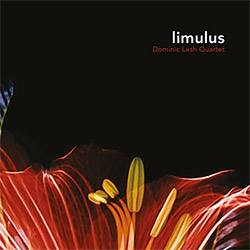 Lash, Dominic Quartet (w / Carmona / Tejero / Ward): Limulus (Spoonhunt)
Honing their conversation in their third release as a band, British double bassist Dominic Lash's Quartet with Javier Carmona on drums & percussion, Ricardo Tejero on alto saxophone and Alex Ward on electric guitar are heard live at Cafe OTO in London, Lash providing all compositions and arrangements over six wide-ranging, edgy and innovative improvisations; outstanding!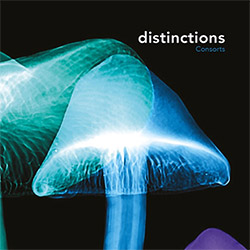 Consorts: Distinctions (Spoonhunt)
Composer Dominic Lash's Consort ensemble explores the possibilities of combining sustained-tone music, guided & free improvisation, and the relationship between acoustic and amplified sound, heard in this evolving, extended concert at Café Oto on Lash's 40th birthday, in a unique mix of acoustic & electronic instruments that even includes an amplified kitchen sink!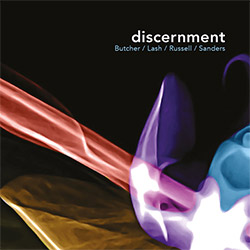 Butcher, John / Dominic Lash / John Russell / Mark Sanders: Discernment (Spoonhunt)
An album of perceptive free improvisation recorded live at London's Cafe OTO from the quartet of John Butcher on tenor & soprano saxophones, Dominic Lash on double bass, John Russell on guitar and Mark Sanders on drums & percussion, three "discerning" and one "discerned" dialogs of discriminating sophistication that only four such masterful and experienced musicians can convey.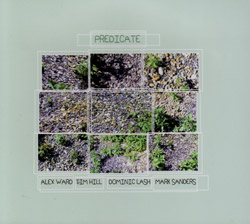 Ward / Hill / Lash / Sanders: Predicate (FMR)
Alex Ward developed this band to confront the issue of combining composition with improvisation, using free jazz as a touchstone for pieces allowing stylistically unbounded playing, here with an incredible set of players.
---
Flying Luttenbachers:
I've always been in awe of drummer Weasel Walter's approach to his Flying Luttenbachers band, somewhere in the middle of rock and improv, with a heavy dose of punk attitude but the complexity of something out of the Rock in Opposition world. This album does not disappoint, and from the startling opening to the album the listener knows they're in for something drastically intense, embraceable and odd. I'm not familiar with guitarist Katie Battistoni, but she takes the helm with Weasel Walter, who steps away from the drums to become the second guitarist on the album, with Sam Ospovat taking Walter's typical drum role. Tim Dahl continues on as bass guitarist, and Matt Nelson still handles the hard-edged sax parts. It's raw but incredibly intricate and exciting, the perfect balance of intelligently assertive instrumental music that simply burns.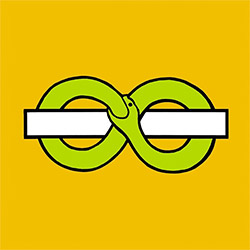 Flying Luttenbachers, The: Negative Infinity (ugEXPLODE)
Adhering to the tenets of "Dissonance, Speed, Aggression, Weirdness, and Singularity", Weasel Walter leads his Flying Luttenbachers in the 15th album of no wave, punk jazz & brutal prog, Weasel switching to guitar and yielding the drum chair to Sam Ospovat, as the band rips through ridiculously complex twists and turns, even taking on Albert Ayler's strange '66/'67 musical suites.
Also available on Vinyl LP.
Here are a few other recent UGExplode albums of interest to those looking for assertive and unorthodox improvisation.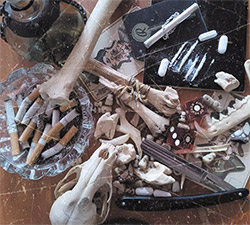 Forbes / Young / Walter: Hard Living (ugEXPLODE)
Merging Tiger Hatchery's tenor saxophonist Michael Forbes and bassist Andrew Scott Young and newly arrived to NYC Flying Luttenbacher leader & drummer Weasel Walter, for classic hardcore free jazz of articulate and demanding improvisation; this a recently unearthed studio recording from 2010, captured two years after their first encounter in a quartet with Jeb Bishop.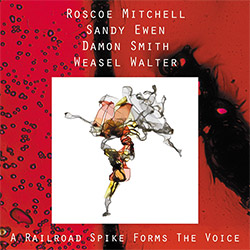 Mitchell, Roscoe / Sandy Ewen / Damon Smith / Weasel Walter: A Railroad Spike Forms The Voice (ugEXPLODE)
The first meeting between Art Ensemble of Chicago saxophone legend Roscoe Mitchell and the long running improvisational trio of Sandy Ewen (guitar), Damon Smith (double bass) and Weasel Walter (drums), in an epic 72-minute recording captured live at Duende in Oakland, CA in 2014, an amazing display contrasting control & chaos, form and deconstruction; exemplary!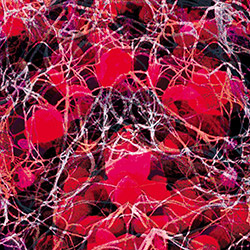 Ewen, Sandy / Damon Smith / Weasel Walter : ST (ugEXPLODE)
Four unorthodox improvisations that evade idiomatic playing through "wantonly abstract" and unusual approaches to their instruments, keeping their listeners guessing where their playing might take them, from frequent collaborators Sandy Ewen on guitar, Damon Smith on bass, and Weasel Walter on drums & percussion, recording in the studio in Brooklyn, 2019.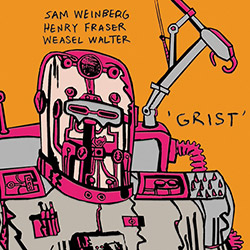 Weinberg, Sam / Henry Fraser / Weasel Walter : Grist (ugEXPLODE)
Hard-edged NY improvisation from the performing trio of Sam Weinberg on sax, Henry Fraser on bass and Weasel Walter on drums, who since 2017 have developed a group sound of powerful and fiercely determined free jazz roots using interesting instrumental technique, often muscular and urgent but also with periods of constrained interplay and dialog; an extremely well balanced band.
---
Euphorium Label:
Because so much time has passed since the last entry in this blog, I have yet to write about the German Euphorium label that we added to our catalog in July. Run by free jazz pianist Oliver Schwerdt, the label is home to bands including New Old Luten (in its various forms), Big Bad Brotzmann Trio, Ember, and Euphorium_freakestra, along with Schwerdt solo albums. We first carried the label in 2006 through a now-defunct US distributor, and lost touch with the label when that distributor ceased activities. This spring Schwerdt approached us to begin US distribution again, to which we eagerly agreed to. The interest in this label has been extraordinary, showing the pent-up demand for this important music.
We are in the process of restocking the label, which has proved challenging amidst strong sales and the aforementioned activities we've been engaged in, bt we expect to have full stock again in early October. When we have stock again I'll take some time to detail albums that I find particularly interesting. In the meanwhile, use our "Request Email Notification on Restock" buttons to have us alert you when the albums are back in stock, and so that we can estimate how many copies we will need when we finalize our restock order.
---
Percussionists Going Far Afield:
Two albums struck me recently regarding their hybrid approaches to improvising, recording and working with sound, especially because both albums come from drummer/percussionists. The first came to us on the Neither/Nor label, recorded by Carlo Costa inside an empty gain silo north of Rome, Italy. A superb drummer/percussionist using unusual techniques, instead of his typical drum equipment he found items at hand — bricks, pipes, rocks and branche — deploying them in the natural resonance of the silo in an unusual and startlingly unique improvisation.
The second album comes on the Notice Recordings label from Kevin Corcoran and Jacob Felix Heule, two West Coast improvisers involved with unique improvisational settings. Here the two take two bass drums into the recording studio to create a wealth of sound from the instruments, each improvisation taking the side of a cassette at 40 minutes each.
The character of each album is completely different from the other, but the intention of evoking sound in ways not intended by the instrument, object or environment is the same, and performed in ways that only a rhythmically-oriented musician would.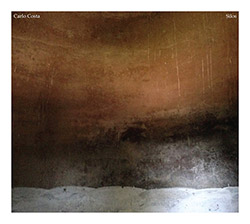 Carlo Costa: Silos (Neither/Nor Records)
While on vacation in Rome in 2018, NY percussionist Carlo Costa took his portable recorder inside a grain silo in the countryside north of the city, eschewing traditional percussion for found bricks, pipes, rocks and branches found nearby, recording in the resonance of the silo with the sounds of cicadas and other ambiance permeating the silo as he unfolds this engrossing, thoughtfully paced improvisation.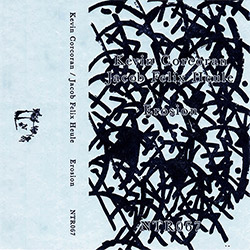 Corcoran, Kevin / Jacob Felix Heule: Erosion [CASSETTE + DOWNLOAD] (Notice Recordings)
An improvisational investigation into two bass drums over two extended recordings from West Coast experimental improvisers Kevin Corcoran and Jacob Felix Heule, as they apply an arsenal of unusual techniques and engage every inch of the drums with a diverse set of objects, evoking strange sounds, pattering rhythmic echoes, metallic cries and deep rumbling effects.
Writing about far-ranging percussionists, we were fortunate and delighted to present the first concert in Squidco's Hooked on Sonics series since March of 2019: a solo performance by Tatsuya Nakatani. His work uses gongs, a very small kit, bowls, cymbals and other percussive devices to create a sonically charged environment, into which he steps for rapid, unorthodox and occasionally outlandish expressions, taking his extended performance full circle back to a contemplative mood through bowed and slowly struck gongs. Long a fan, and having presented him several times here in Wilmington, it was a hopeful moment to see Nakatani's van arrive from his tour, drawing together an enthusiastic audience captivated by his performance.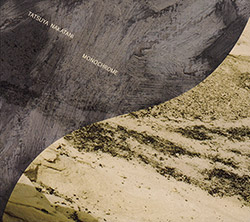 Nakatani, Tatsuya: Monochrome (self-released)
As much a solo percussion album as a collection of large-scale compositions, Tatsuya Nakatani created hundreds of recordings of his collection of gongs, meticulously capturing each instrument's voice and arranging them into seven large works, maintaining the character of each instrument as material for these wonderfully dramatic and resonant works of silence, space and texture.
---
Ordered and Upcoming Albums
The last couple of weeks have brought some very interesting records into our catalog, and the next few look to do the same. Here's what we've ordered, that are on their way to us currently. You should start seeing them show up on our website in our Just In Stock Section beginning next week.
Jennifer Allum / John Butcher / Ute Kanngiesser / Eddie Prevost: Sounds Of Assembly (Meenna)

Achim Kaufmann / Ignaz Schick: Altered Alchemy [2 CDs] (Zarek)
Ignaz Schick / Oliver Steidle: Ilog2 (Zarek)
Schick / Zeger / Beins: Perlonex - Perlonoid (Zarek)

Pitsiokos, Chris: Carny Cant [VINYL] (Eleatic Records)
Cp Unity (Pitsiokis / Smiley / Fraser / Nazary): One Eye With A Microscope Attached (Eleatic Records)
Cp Unit ((Pitsiokis / Lisabeth / Fraser / Nazary): Riding Photon Time (Eleatic Records)

Anne-F Jacques: Poudrerie [CASSETTE] (Winds Measure)

Itaru Oki Quartet: Live At Jazz Spot Combo 1975 [VINYL] (Nobusiness)
Frode Gjerstad / Kent Carter / John Stevens: Detail-90 [VINYL] (Nobusiness)
Lao Dan / Deng Boyu: Tutu Duo [VINYL] (Nobusiness)
Liudas Mockunas / Christian Windfeld: Pacemaker [VINYL] (Nobusiness)
Masayuki Jojo Takayanagi / Nobuyoshi Ino / Masabumi Puu Kikuchi: Live At Jazz Inn Lovely 1990 [VINYL] (Nobusiness)

Golding, Binker / John Edwards / Steve Noble: Moon Day [VINYL] (Byrd Out)
Lewis, James Brandon / Red Lily Quintet (Lewis / William Parker/ Chad Taylor / Kirk Knuffke / Chris Hoffman): Jesup Wagon [VINYL] (Tao Forms)
Ferreyra, Beatriz: Canto+ [VINYL] (Room40)
Sica, Mako / Hamid Drake (Feat Tatsu Aoki / Thymme Jones): Ourania [VINYL] (Feeding Tube Records)
Toop, David/Akio Suzuki/Lawrence English: Breathing Spirit Forms [CD & BOOK] (Room40)
Slapp Happy: Acnalbasac Noom [VINYL] (Our Swimmer)

Peter Brotzmann: Along The Way [BOOK] (Corbett Vs. Dempsey)
Taylor, Cecil: Corona (Corbett Vs. Dempsey)
Prehn, Tom Quartet: Centrifuga & Solhverv (Corbett Vs. Dempsey)
Rudiger Carl / Joel Grip /Sven-Ake Johansson: In Early November (Corbett Vs. Dempsey)

Roscoe Mitchell : Dots Pieces For Percussion And Woodwinds (Wide Hive)
Hamid Drake & Ingrid Schmoliner: Awon Ona [2 CDs] (Klanggalerie)

Violeta Garcia, Chris Pitsiokos: Uanmortaim (Relative Pitch)
Erin Rogers: 2000 Miles (Relative Pitch)
---
The Bumpy Road of Domestic, EU & UK Postal Packages:
You may have noticed some increases in domestic Media Mail packages, owing to a 10.85% increase by the US Post Office at the end of August. Our other packaging costs have remained stable, and at present we are only passing on our increase in media mail shipping rates. The Post Office is planning more increases in First Class and Priority Mail closer to the holidays, and we will modify our rates accordingly.
continued...