October 18, 2019: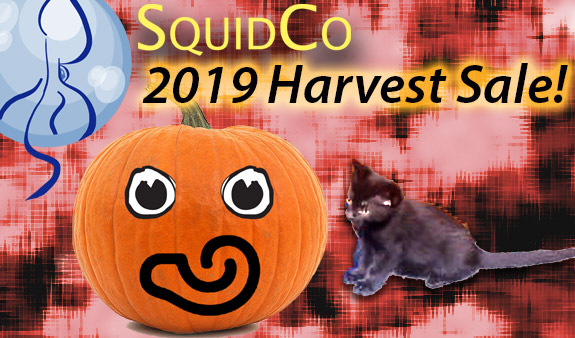 Today we launched our 2019 Harvest Sale. A friend asked me: "where do you harvest vinyl records?" to which we both laughed, imagining a large field of molten plastic forming into discs. But I also explained that this summer was a surprisingly busy summer of new releases, reassuring anyone who wonders if new music is still be pressed to physical formats: there is, fortunately, no end of new releases being pressed to vinyl, CD or cassette. So the music we "harvest" in this sale was building up through this summer from a crop of established and new musicians who continue to create and captivate us with their approach to music and sound. Regardless, there was a bit of silliness behind the choice of this sale's name, and a fairly arbitrary title to signify that it was time for a sale! For those curious, the eyes in the pumpkin in the picture above are from the very first Squidco logo from 2002, and the mouth is from the Squid's Ear logo, turned on its side. The kitten is, of course, our very own Cassette, who is growing at a very quick pace!

Meanwhile, the last couple of weeks have been busy and productive here at Squidco, with a large number of purchases in motion or just arrived. I also spent a good amount of time taking control of our review process at The Squid's Ear. 2019 has seen several new writers join our magazine, and without realizing it we built up more than 50 unpublished reviews in the editing queue. I don't like to rush a review to the web, preferring to take time to edit carefully, and to sequence our review publishing in a manner that provides diversity to our readers. That said, the new methods I implemented to track submitted reviews will see an increased pace of publishing on the site. As an aside, one of our distributors remarked to me recently that few record stores publish reviews these days, reminding me of Cadence and their determination to review and disseminate quality information about the music they sold. I hope that our magazine is as useful, not only to Squidco customers, but to anyone looking for serious insight into improvised and composed music, and the many shades of intention in between.
---
One of the albums from this month's releases I've spent quite a bit of time with is the most recent Confront Core album, the trio of Max Eastley, Fergus Kelly & Mark Wastell. The instrumentation is as mysterious as the music they make, consisting of an arc electro acoustic monochord, invented instruments, found metals, electronics, tam tam, metal percussion, and piano frame. According to Wikipedia, the electro-acoustic monochord is an instrument Eastley developed from an aeolian sculpture, that consists of a single string stretched lengthwise across a long piece of wood (around ten feet long) which can be played with a bow, fingers or short glass rods. Like acousmatic music, it's hard to determine where or from who any sound emanates from on this album. The trio's coherence, pacing and similar attitude keep this album fascinating, surprising, but never histrionic or overdone. Subsequent listens reveal details previously hidden, appropriate as the album unfolds like a shared secret closely held and spellbinding to those who learn its meaning.
Eastley, Max / Fergus Kelly / Mark Wastell: The Map Is Not The Territory (Confront)
The 8th release on Confront's Core series of factory-pressed CDs brings together improvisers Max Eastley, Fergus Kelly and Mark Wastell, employing electroacoustic devices, invented instruments, metal percussion, a piano frame and tam tam to create a rich and mysterious sound world, darkly hopeful emanations in a nighttime traversal across unknown lands.
---
We continue to catalog a great set of new albums on Boston's Evil Clown imprint, run by reedist/multi-instrumentalist/composer David Peck, aka PEK. PEK's approach to composing allows large groups of musicians to follow a framework that explains each musician's approach to each piece, without requiring rehearsing before performance or recording. This works with the calibre of musicians he attracts, and the availability of spaces in which they can record or perform. I was saddened to read, and very sympathetic to, the comments accompanying the Virtual Particles album, where PEK explains that Boston's "Union Square has been gentrifying and our host Susan can't pay the landlords rent hikes, so she has closed it down." Having lost our last space two years ago to gentrification, I understand the difficulties in finding a new location to continue work that is important and that one is driven toward. Virtual Particles is the last album in that particular space, presenting 3 distinct groupings from the collective, and is a great starting point for anyone interested in learning about their very distinctive strategy to improvisation.
Leap of Faith Orchestra & Sub-Units: Virtual Particles [2 CDS] (Evil Clown)
An octet version of the Boston improvising ensemble Leap of faith Orchestra, in a 3-part work using composer and multi-reedist, multi-instrumentalist David Pecks' timed segments, guiding the musicians through the piece while keeping the performance exuberantly controlled and intensely focused, finding unusual paths for creative statement.
---
One of the more fascinating albums I've been listening to is Paul Gallio's deluxe double-LP/CD/download album, Glassware and As If You Were Here. The music on Glassware, commissioned by XXXX, is a wonderful mix of lyrical modern jazz and improvisation, electronic and ea-improv moments, and narrative asides. It's joyful, not dark but sometimes mysterious, sometimes pensive or introspective, but always leading back to an optimistic sound. The second album, As If You Were Here, takes the material from the first album and reworks it into a new series of compositions, laid out on 3 sides of a double LP set. Here Gallio's power as a composer and editor are in the foreground, and the treatments and arrangements take the original material into directions one would never suspect. As someone who works with computer composition, and who envies those who can improvise with virtuosic technique, I find myself an enamored listener. The quality and volume of that quality in this release, priced in a very reasonable manner, will likely make this one of my picks of the year.
Roadworks (Gallio / Streuli): As If You Were Here / Glassware [2 LPS + CD + DOWNLOAD] (Percaso)
A deluxe 2 album release: "Glassware" on CD was composed by Swiss saxophonist Christoph Gallio for a commission by the Art Council Of The Canton Aargau, performed with Raphael Loher (piano), Ernst Thoma (synth), Dominique Girod (bass), and Nicolas Stocker (drums); then reworked into something creatively experimental in the 2 LP "As If You Were Here"; engaging and spellbinding!
---
I suppose it's unfair to group any musicians into the sphere of another when each has such a vital career of their own... but PauL Dunmall provides an easy category to associate the playing of a great number of UK and European free improvisers,. Such is the case with the recent album The Visitors where frequent Dunmall associates Philip Gibbs and Neil Metcalfe join with Remote Viewers saxophonist Adrian Northover and drummer Marcello Magliocchi. You'll hear Dunmall, Gibbs and Metcalfe on the Sun Inside album from 2011, as well as 2014's The Ravens Look where they perform as a trio, or 2015's I Look At You, or 2018's Seascapes. Of course, the other way to look at The Visitors is that three of these musicians — Gibbs, Metcalfe and Northover — are core members of The Runcible Quintet (which is further associated with the London Improvisers Orchestra!) Regardless of the focus, the UK has a vital set of improvising musicians who associate in a variety of groups, for which our ears are much richer.
Gibbs, Phil / Neil Metcalfe / Adrian Northover / Marcello Magliocchi: The Visitors (FMR)
Bringing diverse experience to collective improvisation, including various associations with Paul Dunmall, the quartet of guitarist Philip Gibbs, flutist Neil Metcalfe, saxophonist Adrian Northover on alto and tenor, and drummer Marcello Magliocchi are heard in six passionately restrained and technically superb improvisations beautifully recorded in the studio.
Dunmall / Gibbs / Metcalfe / Rogers: Sun Inside (FMR)
The quartet of Paul Dunmall on soprano sax and bass clarinet; Philip Gibbs on guitar; Neil Metcalf on flute; and Paul Rogers on 7-string bass; a unique orchestration with impressive improvisational results.
Dunmall, Paul / Philip Gibbs / Neil Metcalfe: The Ravens Look (FMR)
Paul Dunmall performs on soprano sax along with clarinets and contra bassoon, in a give and take album with flutist Neil Metcalf and guitarist Philip Gibbs, a trio that allows space and a free melodic approach to guide their intelligent discourse.
Dunmall, Paul / Phillip Gibbs / Alison Blunt / Neil Metcalfe / Hanna Marshall: I Look At You (FMR)
Blending free and compositional players, saxophonist Paul Dunmall leads the quintet of Neil Metcalfe on flute, Hanna Marshall on cello, Alison Blunt on violin and Phillip Gibbs on guitar for a refined and sprightly set of extended improvisations recorded at Birmingham Conservatory.
Dunmall, Paul / Philip Gibbs / Neil Metcalfe / Ashley John Long : Seascapes (FMR)
Long-time collaborators, saxophonist Paul Dunmall and guitar Philip Gibbs are joined by Neil Metcalfe on flute and Ashley-John Long on bass for a concert at the Victoria Rooms, in Bristol, England in 2017, six collective improvisation of spectacular technique and inventive playing, often at very fast tempos, but always resolving to an inner calm and beauty.
continued...