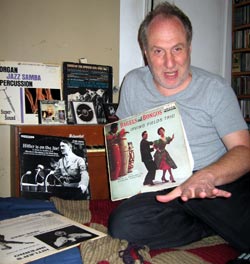 [Photo by Kurt Gottschalk] 

OK, here goes...My bottom shelf...well, first, a little cultural philosophy: Back in the day, there was some kind of frisson connected with liking/loving/being influenced by music that was outside of whatever was considered culturally acceptable. Jazz inched its way in slowly but surely, starting in the early '30s - and now it's part of a good Liberal Music Education. And I remember those great early days (in the '80s) where David Garlard (on WKCR at that time) would shock by announcing a "work" by Ferrante and Teicher or Esquivel with the same gravitas that another would give to the names "Mozart" or "Beethoven." But those days are over...WFMU, Zorn, Post-Modernism (in its decadent phase - if that's not a redundancy) changed all that. My Bottom Shelf is downright canonical.

How could I have found the perfect soupcon of Romantic Irony to counterpoise the weight of the mournful Sephardic songs in my Sephardic Tinge project if wasn't for the revelation of Irving Fields' Bagels and Bongos (Decca 8856). Magnificently cheesy arrangements for trio - Yiddish hits "Latinized." The version of "Belz" changed my life (in a small way). Why isn't this on cd? Fields glides over the keys with not one iota of Jazz feeling In (George) Lukacs-ian terms, that's what makes his version more "authentic" than my brooding cover version, redolent as it is with all kinds of references. He has a couple of perfectly played klezmer clarinet riffs that function as signifiers throughout the disc. I've stolen them all. He's like Ahmad Jamal - he just knows what will work on piano in a trio context and what won't. The master!

My used copy of Organ Jazz Samba Percussion by Andre Penazzi (Audio Fidelity DFS 7020) comes from the discard of the library of a Montreal radio station - CHOM. On the back is hand written "A bit of a nothing set - But???" A nothing set??? Philistines! They don't have any idea how long I looked for this one. It was a major item on the playlist at Soho Music Gallery, the record store where I worked in the late '70s/early '80s (along with Zorn, Tim Berne, Anton Fier, etc...). A nearly indescribable melange of rhythmic virtuosity, unbelievable facility with the variety of the stops available on that magificent dinosaur of an instrument - the '60s electric console organ. And a resolute, unbending, almost ascetic schlockiness. A footnote: For years this was one of the only Brazilian albums in my collection. I say that with neither pride nor shame - it just was.

Next - a whole series of discs connected to some sort of unhealthy but complex German fixation; I'll start with the most complex: Songs of the Spanish Civil War Vol. 1 (Folkways FH 5436). Let's face it, I was a weird kid. I loved this record - I knew all the songs by heart. In a way, this isn't even a Bottom Shelf record, except in how it relates to the others in this sub-group. Ernst Busch was a stirring, moving great singer. The lines from "Freiheit!" ["Die Heimat ist weit/ Doch wir sind bereit/Wir kaempfen und siegen fuer dich: Freiheit! (Far off is our land/yet ready we stand/We're fighting and winning for you/Freedom!)] still (today!) give me goosebumps. And Eisler's "Song of the United Front" and "The Peat-Bog Soldiers" are both acknowledged masterpieces.

But still . . . at the distance where we are, communism and communist anthems (especially the humorless German variety) have something touchingly kitsch about them. No such exegesis is necessary to locate the perverse moment at the heart of Hitler Is On The Air! (Radiola 2MR-8889) or Hitler's Inferno (Audio Rarities 2445). Ialso had the second one of these as a kid, and all of these discs have inspired endless reflections (which continue to this day) about the nature of the Political in music - especially when you consider the music alone and try to put the text on the side for a second (as virtually no critic in the history of rock has - even for a second). The similarities between music from the Far Left and the Far Right. The differences. The mediation of a foreign language - how that aids reflection. How it impedes it. I could write a book... Somehow, you haven't quite lived until you've heard the Storm Troopers sing "Wenn Die S.S. und die S.A. Aufmarschiert" or the Hitler Youth sing "Die Jugend Marschiert," and "On The Air" was my first exposure to the phenomenon which is Charlie and his Orchestra - the Nazi propaganda swing band. Parodies of American big-band hits - lyrics like "I hate to see the evenin' sun go down/because de German, he done bombed this town" (St. Louis Blues) played by the best jazz musicians the occupied nations had to offer... indispensable! (some of the Ernst Busch tracks are available on the CD Der Barrikaden Tauber Barbarossa (EdBa 01303-2), all Folkways are available from Smithsonian/Folkways on special order, and Charlie tracks have been lovingly reissued on a series on Harlequin (I have HQ CD 03).

OK...I could go on all day. But I'll leave you with a masterpiece of horrendous '80s Yugoslav Pop. To continue the "canonical" theme, my cd Disco by Night would have been impossible without this music. It helped me escape the dangerous tendency to fetishize the "folklorical" as the only significant product of a culture. Within its totally commodified nature, this music told important truths about the Yugoslavia of that moment in time. If they would've listened to their own truths....People often say it sounds like Turkish pop. Well, not to me, although there's no shortage of terrifying Balkan-isms. Anyway, I promisedyou a masterpiece ... The oxymoronically - titled The Best of Lepa Brena Vol.5 (JVP Vertrieb CD 018) contains her magnum opus "Sitnije Cile Sitnije," produced (unlike most of her hits) by the Brian Eno of Yugoslav Pop, Kornelije Kovac. The difference between this and other tracks is in Kovac's clever dialectical manipulation of the Western and Eastern elements: The parade bass drum of the Balkan brass band, the clarinet and accordion, the Eastern scales...and then the handclaps, the synthesizer hooks. The touch of a poet. New Year's Eve, Belgrade, 1981 turns into 1982. The Top 10 Video Hit Parade. Number 1: "Billie Jean," Number 2: "Sitnije Cile Sitnije." Do I really have to say more?