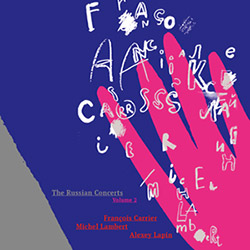 Although he has been releasing discs since 1994, it is only in recent years that Québec saxophonist Francois Carrier has begun to attract the sort of attention his music has long merited. The Russian Concerts Volume 2 and its companion volume figured on some writers' best-of-2014 lists. In the 2013 Downbeat Readers' Poll, Carrier deservedly made thirteenth on the list of top alto saxophonists ahead of such luminaries as John Zorn, Anthony Braxton, Tim Berne and Steve Coleman. Carrier describes his own music as "melodic abstract music", a phrase that accurately encapsulates his intentions and his ability to appeal equally to fans of jazz and of improv. His music is freely improvised — he describes it as "coming out of silence" — but it has the rhythms, melodies and flow of great jazz, an enviable trick to perform spontaneously.
Along with his long-time associate and drummer Michel Lambert, Carrier is a widely-travelled citizen of the world who seeks out playing opportunities wherever he goes, leading to a string of impressive collaborations in his burgeoning discography. Their trio with St. Petersburg pianist Alexey Lapin is one such, with The Russian Concerts Volume 2 being the fifth release in four years from the threesome. The first three of those dated from a December 2010 mini-tour of Russia, but the latter two were recorded in concert in April 2013, the tracks on the current volume having been captured in Moscow and St. Petersburg.
Given the years they have played together, often as a duo, it is no surprise that Carrier and Lambert have a near-telepathic understanding of each other's playing, being able to move, think and play as one. More remarkable is that Lapin has been able to slot into this trio with them and sound as if he has always been there. As well as being a testament to the pianist's skills, part of the explanation for that must lie in the structure of the music which has its own irresistible sense of logic and rightness. Although being freshly created in the moment, it sounds like music one ought to know already as it evolves at its own pace without any undue shocks or non sequiturs. If heaven exists (a big "if") this is music one could happily listen to for all eternity. More, please.
Comments and Feedback: