The eight-night After Yodel festival, curated by the Swiss-American turntablist Christian Marclay, was a part of the larger Swiss Peaks festival, three months of concerts, films and gallery exhibits displaying the best of Swiss art and architecture at 25 venues across the city. More than two dozen performers came from Switzerland to perform with New York musicians at the festival, which ran from March 21- 29 at Tonic in Manhattan's Lower East Side. The following overview was written by Kurt Gottschalk, with Brian Olewnick pinch-hitting on Day 7.
Day 1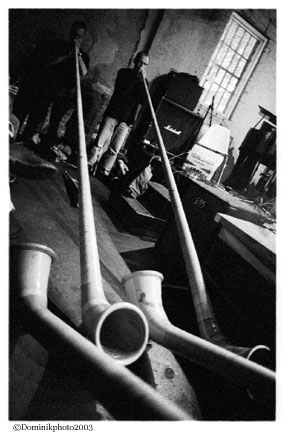 MYTHA

If the blowing of 10-foot-long wooden horns isn't a traditional Swiss invocation, it's easy enough to pretend it is. In any event, it was with this festival and Mytha's first set opening night.

My penchant for the front row proved frightening; I was far closer to the bells of the huge Alpine horns than were the players themselves. Opening with a pleasant drone, they moved into jazzy arrangements, then into vaguely baroque settings, then New Orleans march, all within the first 15 minutes. It's easy, foolish and Amerocentric to imagine a group living in a mountain cabin, farming yaks and ordering World Saxophone Quartet cds from Amazon, wishing they had saxophones and making do with their granddad's big horns. Xenophobic, even, and I know it. But hell, this whole Swiss exchange program already has me imagining cultural mythologies.

In any event, the Alpine horn is a real instrument and a dynamic one, able to mimic soft trumpet lines and with a chamber resonant to make for an effective pe rcussion instrument as well. But it's a pitched instrument, without keys or valves, which limits the range. Some other use might be more interesting than Mytha's jazz combo stylings.

Before long, they'll no doubt be putting their horns through Powerbooks. The Alpine horn might be the only instrument left that hasn't been run through a laptop. I was excited to see Stephan Wittwer , and am still excited to have seen him, although why the wango tango of his electric guitar needs to be funneled through a Powerbook was not clear from his opening night set.

More of a revelation was Dorothea Schürch, who I'm adding to my shortlist of evocatively avant vocalists. (That list so includes Jaap Blonk, Shelley Hirsch, Catherine Jauniaux, Makagami Koichi, Phil Minton and David Moss.) Schürch demands less attention than those other vocalists, even with the pastryknot of hair atop her head. She doesn't command the proceedings, but listens and responds intently.

The local participant in the trio set with Schürch and Wittwer was Japanese expat Toshio Kajiwara. Someone had to hold the house together, and the turntablist seems to be a stonger improviser every month.

They were followed by another Wittwer trio, with Alan Licht and Lee Ranaldo. Notable for Wittwer's volume, Licht's fancy Flying V replica and Ranaldo playing bass (though perhaps not much else).

Day 2

Jacques Demierre opened his solo set in a fascinating fury. If I've ever before described someone as playing piano like a drum, I knew not of what I spoke. He worked the instrument over, inside and out, and it didn't fight back. He made sounds from parts not designed to make sounds. He chewed it up and spit it out.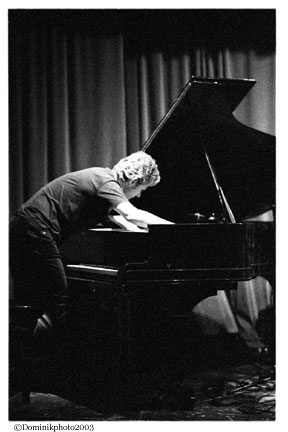 JAQUES DEMIERRE

I didn't get such a feeling of volatility from his duo recording with Sylvie Courvoisier (Deux Pianos on Intakt). He's capable of beautiful playing, but during this set I couldn't help feeling he was mad about something, mad at the country he was in, mad that there were only 15 people in the room, many of whom were also playing in the festival.

Demierre didn't leave the stage after his ferocious set. He just invited Min Xiao-Fen to the stage and began their duo without a break in energy. Xiao-Fen's thin, delicate pipa had a rough time keeping up with Demmere's intensity until she began, for the first time I've seen, applying a variety of electronic effects to her instrument.

An unstoppable force, after their set came to a conclusion Demierre motioned to Xiao-Fen for one more, and returned to some of the more delicate passages of the evening. For an acoustic player, he covers an incredible dynamic range. He's plays quiet like the wind and mighty like a hurricane.

Koch-Schütz-Studer don't waste their time with music. Instead, the horn-cello-drum trio is occupied with displays of simpatico. The idea of a solo would be ludicrous in this music; the stew is too thick for any ingredient to rise to the top (unusual when there's a horn in the mix - Hans Koch plays soprano saxophone and bass clarinet). The group isn't afraid of repetition, syncopation or simplicity. Nor are they above a balls-to-the-wall blowout.

Day 3

A nicely flowing set of static and tone, pop and chime from the dual laptops of Ralph Steinbruechel and New York's o.blaat, with the two seated at small tables in front of the stage, facing each other. One can't help but wonder if cubicles will b e the next stage setting for electronica improv. If the cycle of car alarms wasn't so predictable, the noise from outside would have fit in beautifully.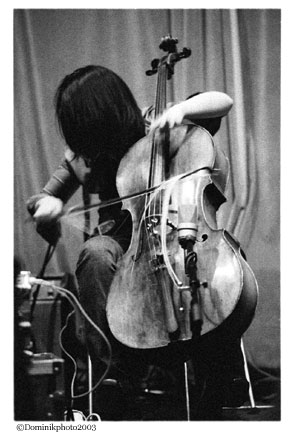 OKKYUNG LEE

Following was a cello dual committed by Okkyung Lee and Martin Schütz. Lee left it to the latter to open, with a scrape, a pop and a long bowed note, then weighed in with her quick hammering. It took the pair all of two minutes to explode into a barrage of extended technique and mutual challenge, like two people playing speed chess without taking turns.

Lee is a great player, and Schütz pushed her as hard as anyone has. If this were a match (and it might have been), smart money would have been on Schütz, if only for his greater years of experience. But the duo met head-on, on equal footing, varying dynamics but never easing up. Lee's bow was threadbare and had to be replaced after the first 20 minutes.

Somehow it was with the trio of Schürch, Schütz and Wittwer that I finally felt deep in the heart of Zurich. While it's understandable that musicians coming to play in town want to play with New Yorkers, it can be disappointing to so rarely see visitors able to explore familiar ground. These three clearly know each other, and their familarity showed. Shards of sound fell in place, they didn't interrupt. Like a good basketball team, they knew where each other were and where they were headed without having to check. Wittwer's splinter metallics, the blasts from Schütz' electrified and effect-plied cello and Schürch's dramatic, understated vocalizing continually wove around each other without tying each other in knots.

Attendance was the lowest yet tonight. Are the Academy Award s really that interesting?

Day 4

An evening of improv resulted from some originally booked electro players not coming to town in protest of US actions in Iraq, resulting in the most total music meeting of the fest so far. Electronic duos and trios with Steinbruechel, Norbert Moslang (of the now defunct Voice Crack), Günter Müller and New York turntablists Christian Marclay and Toshio Kajiwara. Marclay and Müller started the night with a melding of sounds, as opposed to the previous nights meeting (and clashing) of styles. If Schürch, Schütz and Wittwer were an immersion into the Swiss aesthetic, Marclay and Müller were a melting of regionalism.

Electronics and turntables, perhaps, lend themselves to that loss of ego. The mechanized production of sound and the inability to always tell who's playing what blur distinctions of culture, predilection, instrument. It's a very different kind of free improv, like a string quartet jamming underwater, with a storm passing overhead.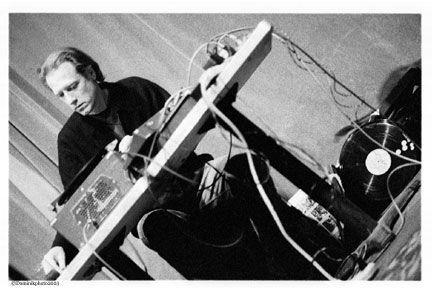 CHRISTIAN MARCLAY
The night, in a sense, replaced the "open combinations" midnight sets which had been advertised but canceled, and the short sets had the feeling of a suite, one group picking up where the last left off. Müller was surprisingly loud (though of course still not loud) with Marclay, a dizzying mesh of grind, scratch, stutter and musical utterance. Marclay hadn't been scheduled to perform, but sat in for the missing Swiss.
Spoke with Schürch after the show, who said That the musicians who didn't come out of protest shouldn't be replaced, that their protest should be respected with gaps in the program. Besi des, she said, "I like gaps sometimes."
Following Marclay and Müller's great duet was a NY trio, breaking the festival theme or perhaps just the hole in the cheese. Maybe it was homefield advantage, but Marclay, Kajiwara and Shelley Hirsc h l aid down one of the most powerful, charismatic sets of the night.
The home team took the next inning as well, with Marclay, Kajiwara and DJ Olive delivering a strong five-minute burst before bringing Steinbruechel and Müller up to join them and finish the night, Marclay playing plastic and ceramic cups on his turntable.
Confronted at the end of the night by Schütz. "I looked at your Web site today. There is nothing about this?" You've got to give me a little time to write, I said. I'll do one piece when it's all over. "You should do it immediately, get it up there," he said. "That's important. Like us, we are naked when we're up there."
Day 5
176 keys and 176 strings. Four hands, ten fingers. Half the stage filled with piano, two baby grands like two giant onyx tortoises sleeping side by side.
Demierre and Sylvie Courvoisier woke them, gently tickling and prodding them, surprisingly gently for two such physical players. They opened with a brief, pastoral piece before moving into extension, caressing the Baldwins' innards. Pretty, really, like Chopin is pretty (only, of course, not).
The percussive pianist duo was followed by a purely percussion duet, with Raz Mesinai on hand drums and Fredy Studer on kit, interesting because they're both such syncopated players but both strayed so far from steady rhythm during the set. Studer played with his hands, matching Mesinai's delicate taps. Studer played muted high-hat runs while Mesinai sang into his drum. Mesinai played hand bells to Studer's fast snare rolls. They held at low volume, listening intently to each other, allowing for constant shifts in sonority.
Mesinai's drums are generally quiet, but he creates a fairly massive feedback machine by placing a microphone inside his instrument. Studer clearly enjoys volume, and together they conjured a tumultuous storm in the second part of the set, p e rhap s not meshing well (Mesinai's feedback drum has been used in other setting to better effect), but Studer still rose to the occasion, banging a large, heavy cymbal to meet Mesinai's attack. If a drum duet sounds like something only a drummer would love, Mesinai and Studer proved the setting to be rife with possibility.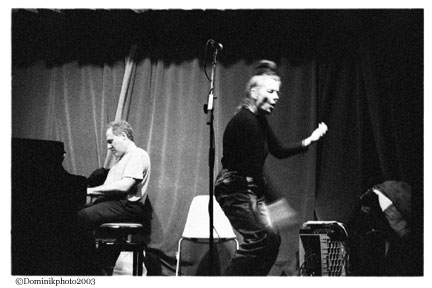 DOROTHEA SCHÜRCH & ANTHONY COLEMAN

Schürch and Anthony Coleman had never met before the day of the performance, but should definitely meet again. They seemed to bring out the best in each other. Coleman is strongest on the acoustic keyboard anyway, and his playing (both inside and outside) on the baby grand was inspired. Schürch's two previous sets in the fest were understated, but here she waxed distracted, drunk, bored, confused and contemplative, all to positive effect. They took advantage of the dual pianos, Schürch leaning on one and looking perplexedly at the instrument, putting her weight on the keyboard as if unaware it would produce a sound. Coleman responded with his textbook knowledge of piano style, giving her decades to which she could respond.

The real storm moved in for the final set, Wittwer's rough-hewn guitar up against Elliott Sharp's looped sax and slab, tortured strings and unholy overtones, all drenched in effects. The loudest thing in the fest so far, though not loud enough. Wittwer matched Sharp's algorithmic complexities with a raw primitivism. He doesn't shy from feedback and seems to revel in mishap. While Sharp reeled out algebra, Wittwer waved his guitar in front of his Marshall stack and slightly twiddled the volume knob, making a wash of feedback. The space where they met was electric.

Day 6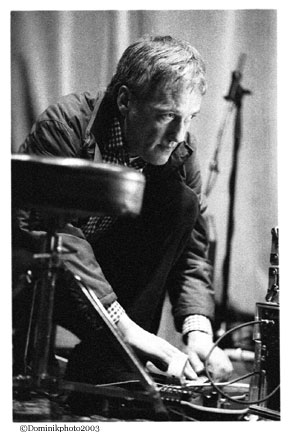 STEPHAN WITTWER

Wittwer walked around the back of the room for a good 20 minutes, playing unamplified guitar to himself while his laptop whirred along, playing a lovely piece of dark ambience from the stage. The room was dark save for candles onstage and around the small table where his laptop sat. He sat at the table, facing the stage with us, and began playing along with the computer-generated soundtrack. The piece he played was harsh but delicate, like a spun glass doily. It was the subtlest thing he'd offered during the week, and far from the intensity I'd expected from his 1990 Intakt release World of Strings, though one can hardly expect an artist not to change over 13 years. The phonemes from his past were present, the metallic scrapes and abrupt interruptions, but it was, well, modern. The attack is the new element. At times the solo piece still sounded like guitar music, but at other points the guitar would submerge entirely into the static pulses shooting from the PA. Directly in front of him at center stage (and also illumed by candles) was his Marshall stack, creating a rich stereo field with the suspended house speakers. The song remained the same, but the density doubled, for the next set, a duet by Wittwer and New York drummer Charles K. Noyes. In tandem, however, Wittwer's ideas didn't seem to congeal so readily.

The lights went up and the sound turned airy for the trio of Müller, Koch and Tomas Korber. Koch must ra nk among the top in individually melding electronic and acoustic sounds. Across the fest, he displayed a prowess for creating his own textures over which to quietly play his soprano sax and bass clarinet. Müller, of course, is a master at listening and at building his own electronic fields.

What's in ter esting about listening to electronic improv, however, is also what's difficultabout writing about it. There's no such thing as saying "the trombonist played a beautiful solo, picking up right where the pianist left off." After Yodel proved a crash course in discerning some distinct European voices, but those voices can still remain elusive in the context of generated sound fields. Korber, heavily processing an electric guitar laid across his lap, found his pocket in a strong whole created by his seniors, but it was only when he slowly picked his 6-string that I heard his restrained voice.

If there was a supergroup to be found in this festival, it was surely the pairing of Müller and Ikue Mori, two watermarks for electronic sound who had never worked together before. The set they played was fast, energetic, exciting after an evening of ambience. They seemed to propel each other forward, putting an electric current in the air.

What they share is a feeling for natural sound, even when they're dealing largely with patches, loops and delays. What they produce is not otherworldly. Rather, they are like an aural microscope: gravel, water and wind at 1000x.

Mori works primarily with processed patches from her drum machines; the organic quality is purely in her hand. Müller, however, relies on two large, handheld microphones to pick up the sounds of struck and bowed metal and soft mallets on a single drum and cymbal, the soft acoustic sounds looped, sped and slowed through a pair of Digitech delays, among other devices. Unlike Mori, he does deal (to an extent) in acoustic sound. It was to Mori's credit that - as in Mephista, her excellent trio with Courvoisier and drummer Susie Ibarra - her computer never sounded like an interloper.

Day 7

After Yodel: New Swiss Music
March 21-29, 2003

Day 1
Mytha; Norbert Moeslang & Marina Rosenfeld; Dorothea Schürch, Toshio Kajiwara & Stephan Wittwer; Wittwer, Lee Ranaldo & Alan Licht

Day 2
Jacques Demierre; Demierre & Min Xiao-Fen; Hans Koch, Fredy Studer, Martin Schuetz; Koch,Studer, Schuetz & I-Sound

Day 3
Ralph Steinbruechel & o.blaat; Schuetz & Okkyung Lee; Schürch, Schuetz, & Wittwer; Schürch & Demierre

Day 4
Christian Marclay, DJ Olive Norbert Moeslang, Toshio Kajiwara, Gunther Müller combinations; Marclay, Kajiwara & Shelley Hirsch

Day 5
Demierre & Sylvie Courvoisier; Studer & Raz Mesinai; Schürch & Anthony Coleman; Wittwer & Elliott Sharp

Day 6
Wittwer; Wittwer & Charles K. Noyes; Müller, Koch & Tomas Korber; Müller & Ikue Mori,

Day 7
Korber, Müller & Moeslang; Steinbruechel; Steinbruechel, Taylor Deupree & Richard Chartier

Day 8
Jim O'Rourke and Mytha; Lawrence D. "Butch" Morris conductions


Friday's slate presented an intriguing selection of improvising, electronic musicians that featured some grizzled veterans of the genre along with a few representatives of the younger vanguard.

The first set was a trio with the rock-solid Müller, Moslang and o.blaat. The first of the two pieces got into the sort of rut that's all too common in this field: the establishment of a drone-based bed on top of which is sprinkled a variety of higher pitched a nd more atonal crackles and other noise. The result is an attractive but ultimately bland product that leaves little lasting impression. Toward the end of the improv, more angular blocks of sound were hewn and tossed back and forth among the musicians, making for a livelier, more substantial section. The second piece began with one of Moslang's patented light-activate d sou nd sources, this one triggering a deep bass throb with each bright flash. The improvisation was far more pared down and tightly focused, the initial dark mood morphing into lovely keening tones and eventually subsiding into a quiet tick-tock before closing. Quite nice.

Next up was guitarist/electronicist Korber, a musician of startling imagination still in his early 20's. Beginning with his guitar flat on his lap, he gently tapped the body while adjusting its various knobs and detuning the strings, producing some wonderfully atmospheric but subtly disturbing sounds. After only five or so minutes, he seamlessly moved to a primitive looking electronics set-up and created a series of delicate, smoky washes that sometimes sounded like broom-sweeps picking up errant static pops and clicks. Korber, learning an important lesson early, kept the piece at precisely the proper length (about 20 minutes) and when "it" chose to end, so did he. Clearly someone to keep and eye on.

The same might not be said of Ralph Steinbruchel, who gave a solo laptop performance of meager substance and harrowing length. Working with a basic, tonal drone of no great interest, he overlaid it with the de rigeur crackles and bell tones heard all too often nowadays (a rationing law of some kind might be in order) and went on far, far longer than could possibly be justified.

The best was saved for last, however, as Müller and Moslang joined up with Korber for a trio improv that was much more in the "tradition" of Müller and Moslang's quartet poire_z (with Andy Guhl and Erik M): all ro ugh slabs of noise, garrulous interplay and the emergence of torrents of unexpected sounds, radio captures, feedback, etc. The swirling unpredictability was intoxicatingly pleasurable but when Müller began to draw his violin bow across his padded mics, the resulting siren-like wails made subtle and frightening allusion to current events. This was what good free improv is all abo ut: de pth , surprise, intelligence and sheer creativity.

Day 8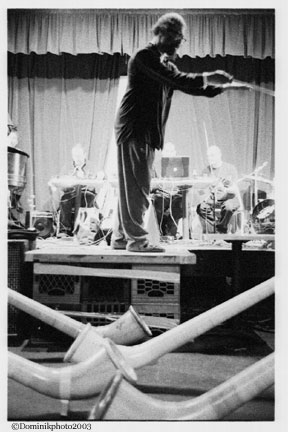 BUTCH MORRIS

Despite their unusual instruments, Mytha was by far the most conventional band of the festival. They took the stage again on the last night, crossing their long horns in front of the stage and blowing their deep, courtly arrangements. Electronic hums slowly filtered in, although collaborator Jim O'Rourke was hidden from view (he was perched high in the back of the club, making his offering from the sound board). Mytha were more interesting playing an extended piece than the short arrangements they performed on opening night, and seemed at times to be improvising and working with the acoustics of the room.

The music was still a little tame, perhaps because of the constraints of the instrument, which creates a resonant tone but has a limited scope. When they moved from drone to their jazzy heads, they left no room for O'Rourke's interjections. By the end, O'Rourke was as far removed from the Alpine horn quartet musically as he was physically. There was, however, the only hint of a yodel throughout the week.

In a setting of unusual music, Mytha seemed to need not just collaboration but guidance, which is what they got during the first of two Butch Morris conductions that closed the festival (save for an impromptu set by Demier re, Korber and Andrea Parkins at the end of the night). Morris was just the man to take the group by the hand and walk them through impressionistic music. With an excellent nonet on stage (Koch, Studer, Schütz, Schürch, Müller, Korber, Dermierre, Steinbruchel and Moslang), Morris focused much of his attention on the Alpines, working with the harmonic drones of the instruments and leaving the group' s ja zzy tendencies behind. The rest of the ensemble were aflame, a remarkably responsive ensemble for Morris' real-time scripting.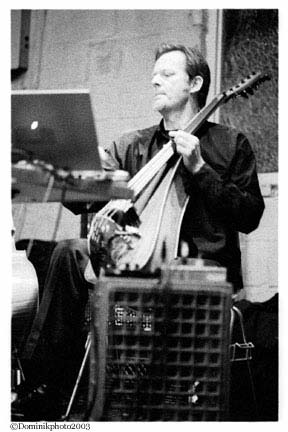 MARTIN SCHÜTZ

With four people on various electronics, there was more of a squall than in many of Morris' conductions (at least stateside). But the contrast between the electronics and the necessarily harmonic Alpine horns was striking, and gave Schürch yet another chance to shine. She rarely steps in front of the sound, fitting in more like one of the instruments than any other improvising vocalist I've heard.

continued...