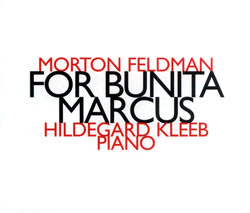 As much as John Cage is celebrated as a champion of quietude, his lifelong friend Morton Feldman was at least as much a worthy proponent, a sort of silent partner in the venture. But where Cage dispensed of (or tried to) the ego in his composing, Feldman embraced it; creating great beauty without intention is a tall order, and there is much beauty in Feldman's work, especially his pieces for solo piano.
Composed in 1985, For Bunita Marcus is one of Feldman's final works, and is a relatively brief one (this recording clocks in at just under 72 minutes). Feldman's solo piano pieces are, in general, his most effective, and Hildegard Kleeb plays it beautifully in this 1990 recording. It is, even for Feldman, a very quiet work, yet it is filled with potential, forever folding on itself and then moving forward; like sped-up films of flowers opening, it seems to exist without a time frame. The internal logic of the piece is apprehended in a way that feels magnified, and yet, to mix metaphors, still microscopic.
That internal logic is what makes Marcus not just a composed but a richly composed piece. The intention, the ego, is more than apparent.
Comments and Feedback: