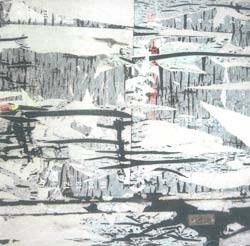 Each of these musicians is an accomplished artist in his own right. But combined, they're a powerful creative team. Captured live in June last year at Vancouver's Western Front (an acoustically warm and resonant older building in the older part of town) during that city's innovative international jazz festival, the six pieces here are inspired interactions with lots of momentum and imagination.
The most fascinating feature is the variety of timbres and effects the trio can coax out of their instruments. John Butcher's tenor and soprano saxophones sound at times like flutes, clarinet, percussion instruments, birds, streams and eerie electronics. Bassist Torsten Muller can make the double bass sing and speak in ways you would never expect from the instrument; he achieves this with nuances of bowing, as in the opening "häufig eine hydraulsiche Metaphertendenz" but also with a pizzicato approach that plays on overtones. Drummer Dylan van der Schyff — like Muller a Vancouver resident and fixture of that city's creative music scene — is up to his usual tricks with the sticks, brushes and hands, keeping the percussive ball rolling, with all kinds of non-traditional sounds from the drum set, augmented by blocks and bells. This is risk-taking drumming, as cymbals are scratched, drums slapped and a continuous flow of ideas shows that imagination rules.
The tunes have distinct characteristics, aptly alluded to by their titles, which, since this is improvised music, may have come after the fact. The energy levels fluctuate, as do textures and emotional content. Among the high energy pieces are the opener already cited and the minimalist "Gone, Goner." Other pieces, like "Taktgebertendenz," maintain a slow burn. "MagiC ClocCK maCHine" is the most cacophonous of the bunch, where the musicians go for the jugular of creative expression — this is a piece that bites and fights until its wrestled the muses to the ground, yet they still take flight, without either musician or muse ever giving up. "Sharpening the windings until they roll up, roll up, roll up and snag on the point of the tear" is probably the motliest piece, building from some rhythmic scraps through rich harmonic textures to some keening counterpoint. The subtleties of the music are all beautifully resonant, because, although this is a live recording, the sound is studio quality, due in no small part to the Western Front's acoustics and to sensitive microphone placement and editing.
Comments and Feedback: