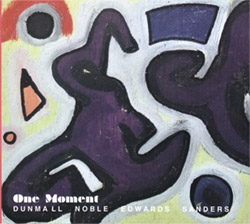 Adding to UK tenor saxophonist Paul Dunmall's catalogue of exceptional music is this single-track live improvisation. This time, Dunmall, who records frequently with multiple young and veteran players, stretches sonic boundaries with musicians as accomplished and busy as he is. Pianist Liam Noble plays with stylists as different as Julian Siegel and Ingrid Laubrock. Bassist John Edwards and drummer Mark Sanders are arguably the kingdom's busiest rhythm team, affiliated with numerous UK, US and Continental players.
A perfect blend of light and dark, fast and slow motifs, this fully integrated quartet music rides waves of timbral inspiration, poking and exploring every unexpected nuance of tone and turbulence without perturbance. Expressing harsh overblowing, altissimo shrills and bugling call-to-arms with the same facility as nipped nasal squeezes and doleful phrasing, Dunmall never allows technique capability to surpass thematic commentary. Entwined with his expositions, free-flowing dynamics are preserved by Edwards' churning string pressure, emphasized strums or echoing slices. Sanders' splashing ruffs, subtle paradiddles and spot-on rim shots arrive at appropriate junctures. Furthermore, as the saxophonist advances the piece with repeated melismatic splutters, slap tone phrasing and authoritative lyrical asides, Noble meets him with laid-back comping, ostinatos that could come from a celeste, or aggressive inner-piano string strokes.
Following the set an emcee compared this group to the classic Coltrane quartet. It may offer the same power and sophistication that combines the abstract and the ambulatory, but this 43-minute Moment is also exceptional in a singular fashion.
Comments and Feedback: