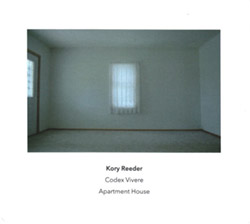 Composer and performer Kory Reeder was born in Nebraska in 1993 but is now based in Denton, Texas. Having moved to study for a Ph.D. at University of North Texas, he also now teaches composition and electronic music there. Codex Vivere is his fourth album release, the first having been the much-praised Love Songs, Duets (Edition Wandelweiser, 2019); the Wandelweiser catalogue also lists scores for some fifty-five compositions by Reeder, the earliest dating from 2018 when he would have been twenty-five years old. Altogether, this is clearly a young man who is going places.
Codex Vivere is a nine-part 2021 composition with a total running time of about seventy-three minutes, the longest part lasting thirteen minutes, the shortest just over four minutes. It was recorded in December 2021, at Goldsmiths Music Studio, London, by Simon Reynell. It is performed by a seven-member version of Apartment House for whom it was written; they are credited with playing piano, two violins, viola, cello, bass clarinet and bass flute. Reeder's own comments are positive, "Another Timbre is my absolute favourite label, and I'm honoured to have my work in such amazing company, performed by Apartment House... the best contemporary ensemble around."
Although he modestly does not say so in that quote, Reeder's composition sounds completely at home on the label and in the capable hands of Apartment House who are effectively the label's house band. Codex Vivere (Code of Living) is actually the second part of a series of Codex pieces, following the fourteen-part Codex Praxis for quintet, and preceding the eight-part Codex Symphonia for symphony orchestra. Despite the different instrumentations across the three Codex pieces, the music of the three is unmistakably by the same composer, evolving slowly and gently with an ever-present sense of melody which makes it compelling listening and handsomely repays repeat visits. Yes, we shall be hearing much more of Kory Reeder in years to come.
Comments and Feedback: