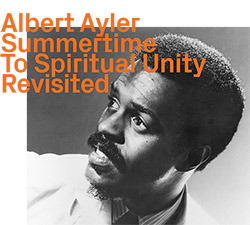 In recent years, the ezz-thetics label's "Revisited" series has increasingly become a treasure trove of first-rate jazz albums from the '50s and '60s with such five-star classics as Jimmy Giuffre's Free Fall, Eric Dolphy's Out to Lunch, John Coltrane's A Love Supreme and Andrew Hill's Point of Departure all appearing on the label. Now that mouth-watering bunch is joined by an album which is just as revered and cherished by jazz aficionados: Albert Ayler's Spiritual Unity. As with other "Revisited" releases, sonic restoration and mastering by Michael Brändli has ensured the recording sounds better than ever before, and the inclusion of another album's tracks make the release good value.
So, Summertime to Spiritual Unity Revisited opens with two tracks from My Name Is Albert Ayler (Fontana, 1964) which was recorded in Copenhagen, in January 1964, with Nils Bronsted on piano for the first track, Nils-Henning Orsted Pedersen on bass and Ronnie Gardiner on drums. The opening track is a version of Gershwin's "Summertime" with Ayler's tenor sax mainly hogging the solo opportunities. Next up is "C.T." an Ayler composition most probably titled for Cecil Taylor; again mainly showcasing Ayler, it serves well as an hors d'oeuvres for Spiritual Unity.
Recorded in New York City, on July 10th 1964, with Gary Peacock on bass and Sunny Murray on drums, all of Spiritual Unity's tracks were Ayler compositions. That trio had already recorded together, at Cellar Café on June 4th 1964, but that recording was not released until 1975, as Prophecy. Straight from the start, it is obvious that this trio was unlike any sax plus rhythm section trio. All three members played throughout, interacting with each other and clearly paying attention to what their bandmates were playing; if that sounds reminiscent of an improv trio, the opening fanfare of Ayler's "Ghosts: First Variation" makes it obvious this group played compositions rather than freely improvising from the start — a point hammered home by "Ghosts: Second Variation" which is longer but undoubtedly the same composition. The end product is thrilling music which effectively straddles the border between free jazz and free improv. Despite the decades which have elapsed since the original release of Spiritual Unity, it retains its ability to make listeners sit up and take notice, and to raise their pulse rates. A perennial classic.
Comments and Feedback: