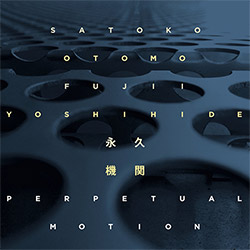 Because it memorializes Otomo Yoshihide's initial encounter with pianist Satoko Fujii, this concert is historically important. The day this recording at Tokyo's Pit Inn took place — January 10, 2022 — was in fact the first time these musicians played together despite having known each other for years. Stephane Berland's Ayler deserves praise for providing us with this stimulating document, among many from the esteemed French imprint.
The creative souls of Fujii and Otomo seek and recognize themselves from the very outset. Primarily via the exploration of silence, plumbed through the strings of the instruments in such a way as to take advantage of the natural reverberations of the room. Next, the inherently compositional structure of the improvisation attempts to emerge, where Fujii inserts oblique arpeggios and concatenations of phrases, to which Otomo responds with an integration of clean notes and dissonant designs bathing in overdriven tones.
The combination ignites quickly as it begins to burn. The flare-ups, however, while brought about by the overlapping of heftier figurations, by no means portend an anarchy of geometries that, in this specific context, could have resulted in a loss of significance. In contrast, Fujii and Otomo rapidly regain control of the reciprocal listening aspect by conjuring up peaceful atmospheres again, albeit still tinged with a restless undercurrent. Small eruptions occur throughout yet remain within the range of intelligibility. The two appear to be fighting quite stubbornly at one point, amassing intensely hammered keyboard and distortion. As the duo abruptly enters a rather visceral realm, this may be the performance's most inaccessible and dense episode. But when the floods slow down, the landscape transforms once more.
And so it continues with lots of peaks and valleys, plus rhythmic and timbral clashes that must be heard "from the inside" to distinguish the concealed subtleties. Beyond the sporadic instants of unsure direction, Fujii and Otomo get the most out of intuition at any given time, expertly and intelligently handling acoustic tension. Their musicianship is of a caliber that not only keeps the ship afloat, but also provides an audience with multiple uh-ohs. Even a single headphone listen to some of the guitar-derived corrosion and resonant piano rumbles is worthwhile. In conclusion, the pair slowly return to the opening calm, the statement that seals an occasionally enlightening protracted conversation.
Comments and Feedback: